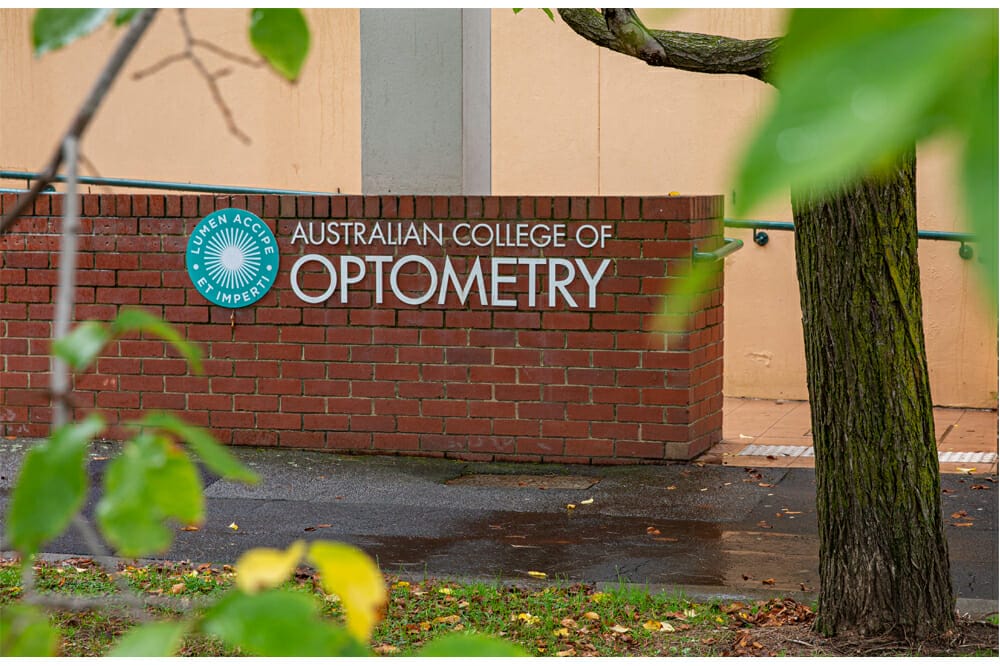 The world of optometry is vast. Post-graduation, a new optometrist's options lay stretched out before them. To start out in clinical practice, or pursue a career in research? Get involved with outreach programs, or explore options in education? Remain in your comfort zone, or challenge yourself with more complex cases?
Even experienced optometrists are presented with these same options – it's never too late to pivot.
At the Australian College of Optometry (ACO) such variety falls under one umbrella. With opportunities in clinical service optometry – including outreach and education – optometrists, new and experienced, are exposed to it all.
mivision spoke to ACO optometrists about their careers, what led them to the ACO, and what it's like working in public health.
As a multi-faceted, not-for-profit organisation, with a commitment to improving the eye health and wellbeing of Australians through quality, affordable eye care and world-class research and education, the ACO is uniquely positioned to provide public eye health to the people of Victoria, and beyond.
We encourage new graduates to develop their skills and find the clinical area they wish to pursue
The ACO provides clinical services – bulk-billed through Medicare for consultations – and receives funding from the Victorian State Government through the Department of Health to manage the Victorian Eyecare Service (VES) – a state-wide programme to support people experiencing disadvantage with easy, or no-cost, access to services and glasses.
"The ACO directly provides services where we see people who are experiencing disadvantage. We ensure they have access to quality eye care and visual aids at a basic price point," Neville Turner, Director of Clinical Services, told mivision. "Through our outreach model we look to help Aboriginal communities, refugees, asylum seekers, and people experiencing homelessness. Then, through our fixed clinics, we see anyone who meets the broader criteria, from people holding a pension or health care card, through to anyone else doing it tough."
Being a part of the ACO can involve a range of responsibilities. Optometrists can be involved in clinical service, seeing patients in the Carlton clinic, and across various other metropolitan satellite clinics; teaching and education, which involves working with optometry students who visit the ACO from around Australia; and outreach programmes, where services are provided to meet the needs of disadvantaged groups across metropolitan and remote areas of Victoria and in Mount Gambier, South Australia.
In fact, Mr Turner's own career at the ACO is evidence enough of the potential for growth in multiple areas. Having taken a position straight out of university, "thinking it would be a three- or four-year job," he realised there was still more to be done and, now in his 31st year at the ACO, has a wealth of experience under his belt.
"I first got involved in a range of teaching roles, both lecturing and running some prac classes for the University of Melbourne. I was lucky enough to have a Manager and Deputy Manager position in our Broadmeadows clinic in the 90s," he said.
Afterwards, his role expanded to include management of IT, the reception and dispensing team, followed by the operational aspects in the clinic, working in business development roles, and playing a part in the opening of interstate clinics.
PATHWAY FOR NEW GRADUATES
For a new graduate entering the workforce straight out of university, there are a plethora of opportunities.
"We encourage new graduates to develop their skills and find the clinical area they wish to pursue. They get exposed to a range of different environments through primary care clinics in Carlton, as well as across the metropolitan clinics. We also encourage them to be involved in our outreach programmes, as well as the more advanced clinical services areas like contact lenses or paediatrics," said Mr Turner.
It's a challenging clinical environment that allows staff to continue to develop their areas of interest while providing high level care to patients in need
"In order for them to develop a better idea about what their career pathway could look like, we look for opportunities to get them involved in some leadership positions, through involvement in metropolitan or satellite clinics."
Mina You is one of the ACO's recent graduates. Having completed her degree at the University of Melbourne in 2019, she began working as a full-time optometrist with the ACO in 2020 and is currently fulfilling three roles – Chair of the Optometrists' Representation Group, member of the Clinical Care Working Group, and Clinical Educator – on top of her work as a staff optometrist.
Through these respective roles, Dr You assists the optometry team in the communication of ideas, feedback and concerns to improve patient care; she helps enhance and develop models of clinical care; and supervises optometry students who come to the ACO for clinical placement.
"I put my hand up when I see the opportunities arise. I think getting involved in these groups is more rewarding and adds an extra layer to my everyday clinical care role," said Ms You.
Mr Turner acknowledged the work of an equally driven experienced clinician, Varny Ganesalingam, whose interest in the area of dry eye treatment and how to support dry eye patients, led to the recent establishment of the dry eye assessment and treatment clinic.
"It shows that staff can apply a range of different skills, if they so choose. If they want to see patients, there is a lot of opportunity for that, however, if they also want to get involved with decision making, or the direction of the organisation, we always try to facilitate that too. The practitioner viewpoint is so important."
There are a range of working groups that all ACO staff can become involved in, at any stage throughout their career. These groups allow staff to provide input into decision making, whether that be in relation to equipment, how to evolve the teaching clinics, matters of clinical governance, or how to provide care into the future.
FULL SCOPE PRACTISE
Having spent 15 years in corporate optometry, a year ago Lisa Wise reached out to the ACO in search of more challenging, complex eye care. She was not disappointed.
"At the ACO I've experienced so many things I hadn't seen in the first half of my career. I've learnt so much by being exposed to so many different cases. I feel like my knowledge of optometry is much broader now.
"I love that we provide affordable glasses and eye care to the most vulnerable members of our community. As well as the satisfaction of getting to manage really complex cases that challenge my knowledge as an optometrist."
When Ms Wise first started with the ACO she was living in Pascoe Vale and worked between the Carlton, Braybrook and Broadmeadow sites. When the time came for a sea change, there was no interruption to her work life.
"Being with the ACO meant that I didn't have to leave because they've got all these satellite clinics. It gave me flexibility to move house and still stay with them, which was really good."
Ms Wise is currently acting manager at the ACO's Frankston site, which services a large proportion of elderly patients, many who, due to immobility or the burden of other health conditions, struggle to access public ophthalmology care in further afield locations, such as at the Eye and Ear Hospital in East Melbourne. This demographic also commonly presents with more complex cases, making work for Ms Wise and her colleagues all the more valuable.
Public health optometry is a real career path for optometrists. There are so many fantastic opportunities
"We have a general clinic as well as retina and glaucoma clinics at Frankston," said Ms Wise. "Many of our patients are unable to afford the local private ophthalmology care and since we are quite far from the hospitals with public ophthalmology departments, this means we are managing a lot of challenging cases at our clinic."
"We also have a retina clinic where we see patients who have been identified as having more complex conditions. Being exposed to all kinds of pathology in daily practice makes for very rewarding and exciting work. I get to see things that I learnt about in university but never saw a lot of in more standard practices."
Mr Turner says as well as being older, the ACO's patient demographic is comprised of people from lower socioeconomic backgrounds, who generally have comorbidities.
"It is very unlikely that we get a regular patient just coming in for a check-up. It's a challenging clinical environment that allows staff to continue to develop their areas of interest while providing high level care to patients in need," he noted.
NO DAY LOOKS THE SAME
Having transitioned to optometry after ten years as an orthoptist, Joseph Waterman said it was always his goal to work with the ACO.
"I wanted to work in public health because I believe it is the way health care should be. We should be trying to make the system the best it can be. I didn't want the commercial pressures that a lot of optometrists have, so the ACO was an excellent fit."
Throughout his five-year tenure at the ACO thus far, Mr Waterman has been involved in outreach, travelling from Mount Gambier to Orbost and anywhere in between, and in teaching.
"We do outreach in a lot of different settings – to different sites around the state, and in Melbourne. It depends where your day is, it varies a lot. It's nice to get out-and-about to a range of external sites," Mr Waterman told mivision. "In particular, I enjoy getting to know the staff and the patients who I may see repeatedly over time and become familiar with. Often optometry can be a bit the same, but that's not the case with my work. There's lots of variety within your week."
A wide variety of clinical presentations affords ACO staff the ability to pick and choose aspects that best suit their interests; to explore new areas of eye care they may not have been exposed to in other settings, and to travel to fulfill such roles.
"What you are involved in in the afternoon can be quite different to what you're doing in the morning," says Mr Turner. "Most staff will have a different day every day. Even at the same site, because of the way we manage our patients, our optometrists could be doing primary care services, and then more specialised advanced care services, such as paediatrics, contact lenses, glaucoma, and retina, all in the same day."
This is certainly the case for Dr You who works across several clinic sites – in Carlton, Dandenong and Knox Eye Care. Her day-to-day clinical work involves providing comprehensive primary eye care to the public, especially those who experience barriers to optimal eye care.
"My role involves providing a range of public eye care services through the general clinic and through advanced clinic areas such as advanced contact lenses, dry eye, ocular disease, retina and glaucoma. I'm also excited to be more involved with paediatric care soon. No day is the same because of the vast array of clinical presentations and diversity of patient profiles."
OUTREACH
To deliver care where it is needed, the ACO works with a range of welfare and support agencies, providing optometrists with the opportunity to travel and practice in different environments, with different patient demographics who require different levels of care.
During her time at the Carlton clinic, Ms Wise was involved with outreach, providing eye care to people experiencing homelessness. These patients did not necessarily present with complex needs, rather they had lost their glasses and were limited in their ability to obtain them via traditional means – that is, by visiting a regular store.
"We would take our equipment out to their temporary accommodation facility and do eye tests and organise glasses to be sent to them. Providing them with new glasses enables them to see again, which then impacts other aspects of their life," said Ms Wise.
A significant element of outreach involves managing the cultural needs of patients to ensure they feel comfortable attending clinics. To achieve this, the ACO partners with other health services, such as the Victorian Aboriginal Health Services (VAHS), to appropriately navigate the needs of various communities.
The ACO recently partnered with the Asylum Seeker Resource Centre to embed a clinic in their health service, a model which mirrors that of VAHS, and "will support asylum seekers with access to eye care in an environment they feel comfortable in," said Mr Turner.
Mr Waterman echoes these sentiments. "It's about taking the service or the care required to where it's needed," he says. "We go to places where it's more suitable and culturally safe for patients, so that they feel comfortable. Otherwise, they may not access eye care at all."
EDUCATING THE NEXT GENERATION
Further ensuring that no day looks the same, alongside his heavy involvement in outreach, Mr Waterman is also involved in teaching. With experience as an orthoptist dealing with ocular disease in a hospital setting, he says being able to support students in ACO's ocular disease clinics is a great opportunity.
"We have a range of teaching clinics for optometry students. There's a big demand but that's great. Teaching is a great way to help the next group of optometrists while also improving your own optometry," said Mr Waterman.
An optometrist's involvement in teaching usually begins in their third year at the ACO, a stage where Mr Turner says staff are invaluable in supporting and passing on their knowledge to the new students coming through.
"We have students come from the University of Melbourne and Deakin University, as well as students from University of New South Wales who come down for one week of placement, and students from Flinders University who attend both Melbourne and Adelaide based clinics," said Mr Turner.
"Students get to see real patients in the clinic. These are patients presenting for primary care services, or in the case of students at the end of their programs, they might be in the paediatric area, in contact lenses or glaucoma."
Clinical placements for students from Flinders University commenced in 2021 at Elizabeth Eye Care in South Australia. This clinic provides students an opportunity to experience an alternative clinic model locally, with the goal being to grow these opportunities as services expand in South Australia.
Optometrists – new and experienced – can also expand their knowledge in children's vision, glaucoma, contact lenses, ocular therapeutics, and in public health and leadership in eye care through the ACO's certificate level courses.
Having enrolled in the ACO's Advanced Certificate of Glaucoma, Ms Wise said, "I've been so appreciative of how the ACO invest in us expanding our knowledge in our areas of interest… I am so excited to learn more about such an important area of optometry."
For Dr You, the opportunity to complete a Certificate in Advanced Contact Lenses and more recently commence the Advanced Certificate in Children's Vision has been "incredibly helpful" in developing her skills.
"The support for clinical education through certificate courses really shows the ACO's core value for education and clinical excellence," she commented.
PROFESSIONAL SATISFACTION
As a strong believer in the importance of public health, Pete Haydon, ACO CEO, says working in the public optometry setting is "the best opportunity you can get to be really good at this job.
"There's the altruistic side to working in public health, but I think it's more than just that," he says. "It's about the real capacity to develop and work at the highest level of training that you've studied, and that doesn't seem to happen in some other contexts."
"Public health optometry is a real career path for optometrists. There are so many fantastic opportunities – it's not about us, it's about the downstream implications of our work."
Supporting those experiencing disadvantage, practising to your full scope, gaining new experiences and knowledge, and the professional satisfaction derived from all this – a career in public health ticks all the boxes.
The ACO is often looking for passionate optometrists to join the team. For more information visit: www.aco.org.au/careers.