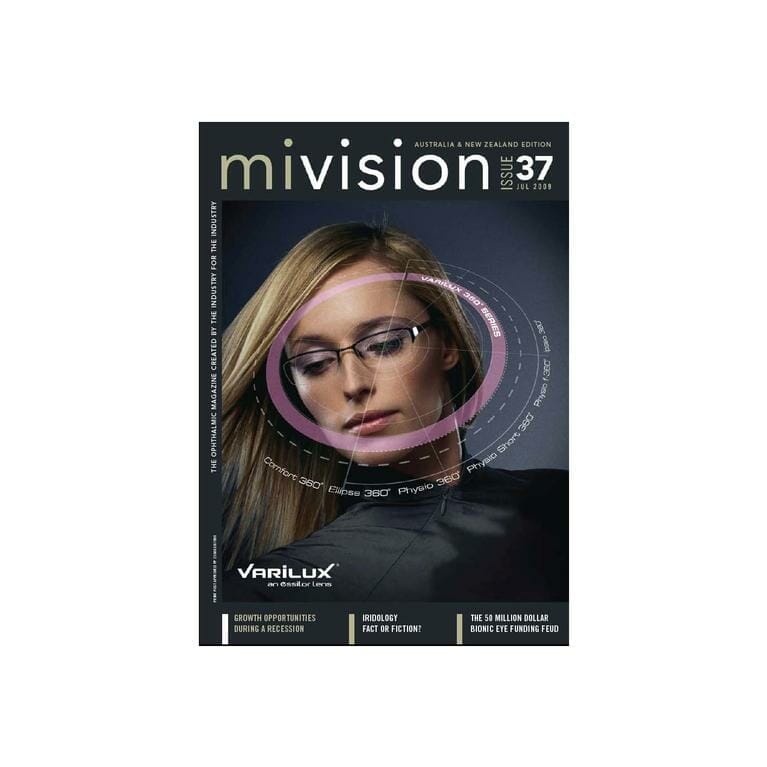 We've done it again! A team of Australian scientists is being hailed around the world following its breakthrough in restoring the vision in damaged eyes using stem cells from the patients' own eyes.
In this issue, a very proud and excited Dr. Nick Di Girolamo, from the Inflammatory Diseases Research Unit, School of Medical Sciences at UNSW, has spoken in some detail to mivision about the historic research, the success it has already shown in human trials and its possible future applications.
In this issue, we look at the 30 year history of Odmafair and how it became the premier optical show in the Southern Hemisphere. We also preview what this year's Odmafair has in store to not only meet the many needs of buyers, but also bring the finest names in optical products and equipment to the industry from Europe and the U.S. So if you think you've seen it all before – take another look!
This month sees Contact Lens Industry Council (CLIC) holding its two-day Clic Here 09 Conference. We tell you all about how the conference is targeting Australian optometrists who have a general interest in contact lenses but would not consider themselves lens specialists.
In his extremely popular column, optometrist and former international cricketer Geoff Lawson, previews what is shaping up to be a brilliant Ashes series in England and examines exactly what the Aussies must do to avenge the shock loss to the Poms in 2005. We think you'll find his expert analysis both interesting and informative.
Finally, it's a happy 50th birthday of the invention of Essilor's Varilux, the world's most popular progressive lens. We celebrate by recounting its origins and progress.
There is all this and more in this issue of mivision.
Enjoy.
Mark Cushway
Managing Editor
Contents – July 09 mivision
| | |
| --- | --- |
| | News– mivision presents all the news both locally and and from around the world. |
| | mistory– A team of Aussie Aussie scientists make a breakthrough in restoring the vision in damaged eyes using the stem cells from the patient's eye. |
| | mifeature– The Opportunity to Make a Difference: Over the last five years, optometrists and staff, optical corporations, the Optometrists Association Australia |
| | micolumn– As I see it: Bring on the Ashes: A view of the world from the optometrist and former Australian cricketer and former coach of the Pakistan cticket team, Geoff Lawson. |
| | mioptometry – Optometry Association :Reports Happenings and events from Australia and New Zealand's Optometry Divisions |
| | mievent – Odmafair An Eye into the Optical Market: mivision brings to you an event by Odmafair, and the lastest in eye care, eyewear technology, innovations and fashion trends. |
| | mieyecare – Opening Your Eyes to Contacts: Clic put on a two day contact lens and lens care education event, aiming to increase interest in contact lenses. |
| | milenses – Varilux Celebrates 50 Years: Marc Alexandre provides the lastest on Essilor, who celebrate the 50th birthday of their invention, the world's most popular progressive lens, Varilux. |
| | |
| | |
| | mibusiness – Effective Service Recovery Strategies: Neil Gailmard brings an exlusiveinsight into how to manage customer complaints by demonstrating empathy and a "can do attitude". |
| | mifashion – Potrait of Jono Hennessy Sceats: Sharon Smith writes about the Famous Jonathan (Jono) Hennessy Sceats, and how he is passionate about Australian eyewear and design. |
| | mievent – Todd Tai brings to you the latest mievent, where Queensland Vision QV 09 surges ahead with a near record attendance of 600 deleagates from Australia and NZ. |
| | mievent – Provision's Underwater Showcase: On the eve of SRC in May Provision attracted over 400 people to a preferred supplier trade event at the melbourne Aquarium. |
| | mievent – SRC 2009. A total of 1,065 people, representing all States in Australia attended the 2009 Southern Regional Conference. Writes Kirsty Machon. |
| | mievent – In this month's last event, Ian Breadon writes on a special reuinion held 30 years on, bringing you half the class of 1979 optometry graduates at the University of Melbourne. |
| | miproducts – mivision brings you a complete summary of the latest July 2000 products. |
| | The Last Word – One Step at a time. mivision examines the merit of taking one step at a time. |
[/vc_column_text][/vc_column]