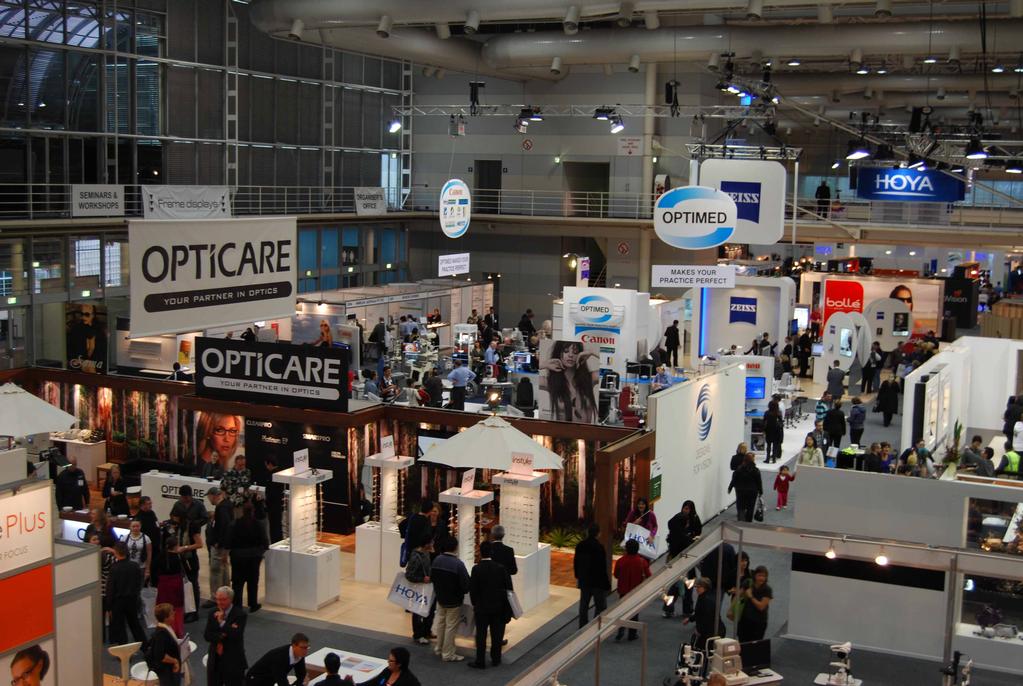 Here is a snapshot of some of the exhibitors at Odmafair 2009.
Odmafair 2009 was held at Darling Harbour Sydney from 10 July to 12 July 2009.
Allso Eyewear
Stand 235A
Snapshot: New brand segmentation being launched at Odmafair in MAKO Optical Frames are the MAKO Limited Edition, MAKO Premium Optical, MAKO Urban Range and MAKO Di Yi. Brand segmentation for the MAKO Sunglasses collection incorporates MAKO Fishing, MAKO Fashion, MAKO Sport, MAKO Classic and MAKO Urban range.

New Products: New brands will also be on show for the Linea Collection (memory/ titanium) and a new brand in the Allso portfolio being launched is 'Energie Eyewear' – sunglasses and optical.
————————————————-
Aviva
Stand 317
New Products: Progear Eyeguard Sports eyewear, Cocoons Low Vision Lens filters and Centrostyle Silicone Hand Tools. Will also have new models in all existing ranges.
Guests on Stand: Estr Brena and Giacomo Colombo from Centrostyle Italy; Karen Zappia and Ms. Michlle McIntire from Live Eyewear USA; Veronique Tjon from Edge-it, Hong Kong and Mr. Lak Cheong from Acuity Eyewear, Hong Kong.
Odmafair Special: Edge-it, buy two get one free on lens edging pads.
————————————————-

Awesome Fashion Designs
Stand 215
New Products: High-end European spectacle frames on show here. See the Leonardo D German range incorporating gold, diamonds and mammoth ivory alongside the very French, very elegant Henry Jullien range.
————————————————-
Big W
Stand 156
Snapshot: BIG W's big brands now include French Connection and employ over 75 optometrists, managers, technicians and assistants who get to utilise the very latest optometric, lab and computer equipment. If you're looking to join a company with a big future, stop by the BIG W Stand.
————————————————-
Bonastar
Stand 144
New Products: Bonastar's low-cost DigitalPro freeform progressive lenses and the new AOA crystal collection.
Odmafair Special: 40 per cent off a selected range of frames (Odmafair only) and win one of over 2,000 instant win prizes.
————————————————-
Briot-Weco Australia
Stand 302
New Products: Buchmann Instruments, EYECAD Dispensing Aid, WECO Edge 650 Lens Edger, WECO CAD 4 Centration and Blocking Device, Rodenstock AL5000 Auto Lensmeter, Rodenstock CX1500 Auto Refractor/ Keratometer with image capture.
Guests on Stand: From WECO Germany, meet Claudia Unger who will be presenting the new WECO Edge 650 edging system Laboratory Performance in a Retail Environment and from COTEC, Michael Fliendner – Laboratory Vacuum Coating Products.
Odmafair Special: Complete room packages for new or replacement refraction rooms!
————————————————-
Chemalux AR/Chemat Vision
Stand G11
Snapshot: Another newcomer to the Fair. Here you will see the patented Chemalux AR – "the only heat resistant and flexible AR in the world". Demonstrations on stand of this turnkey technology for ECPs, delivering premium high transmittance (AR) lenses in one hour. Chemalux's ic Clear semi-finished lenses have 50 per cent less reflection than regular lenses.
This affordable and compact system will enable smaller labs and superstores to produce AR coatings in-house that can be delivered to patients in one hour!
————————————————-
Cutting Edge Optics
Stand 315D
Snapshot: This is exciting stuff from an exhibitor new to Odmafair. Here you will see the best from high-end fashion labels: Ed Hardy, Christian Audigier, True Religion, Rock & Republic, Rebel Vision, Arvis Eyewear, Gunnar Optiks. Expect to see some pretty special guest appearances on this stand during the Fair too.
————————————————-
Dolomites Vision
Stand 223
Snapshot: New to the Fair and introducing Dolomites, developed in the North Italian holiday paradise with the same name, the X-ide range will be on show for the first time offering sophisticated eyewear for those who embrace the Italian attitude.
————————————————-
Domani
Stand 231
Snapshot: Always popular, Domani offer great Australian product that is being sold to the world!
New Products: Domani will be showcasing its new Domani Titano collection, crafted without compromise. Australia's very own frame design team showing off the latest in pure titanium and beta titanium with ionised plating.
Odmafair Special: Domani will be promoting special trade fair discounts together with an avalanche of giveaways for appointments made with sales representatives and orders placed.
————————————————-
Essilor
Stand 141
Snapshot: Essilor Australia is celebrating Varilux' 50th birthday with its presence at Odmafair 2009 and a birthday cocktail party on the Saturday night. Focusing on Varilux this year, the theme will evolve around Varilux' recently launched product range, the Varilux 360º series. Essilor will also use the platform of Odmafair to introduce additional new designs.
————————————————-
European Eyewear
Stand 316
New Products: New OiO TITANflex children's frames. New Brendel Man and Brendel Woman eyewear, new Humphreys eyewear. New stick-on bifocal adds to +40,00 diopter, New easypocket in diffraction optics. New, higher-powered Bright Field (visolette) illuminated magnifier.
Guests on Stand: Mrs. Jutta Dotzler, from Eschenbach Optik, Nurenburg, Germany.
Odmafair Special: a gift with quantity orders of Eschenbach Eyewear.
————————————————-
Europtica
Stand 122
Snapshot: Exclusive from OWP: Soft Waves. Soft, organic shapes and gentle natural shades define the look of the latest highlights in the OWP Collection. 'Soft Waves' is the name we have given to the acetate material used for the unusual temple, which is made exclusively for our company using a totally new procedure.
The highest-quality acetates of various different colours and structures are combined and elaborately turned into a gentle wave pattern or a rounded step design. The material can only be further processed after about two weeks. At the front, the frames look light, even though the generous lens depth can take progressive lenses.
This is due to the opening in the hinge arm and the use of nylor at the front. Both of these elements are subtle and unobtrusive, showing off the temples to excellent effect.
————————————————-
Eyes Right Optical
Stand 301
New Products: Launched in all major collections – none of which has been seen in Australia before, from Pro Design, OGA, Koali, Face à Face and Dana Buchman.
Guests on Stand: Nadine Roth a Director of Face à Face or Francis Morel, a Director of Morel the manufacturer of Koali and Oga. The Pro Design International Sales Director, Lars Toftdahl, will be on Eyes Right stand along with John Justice the Vice President of International Sales for Kenmark optical.
Odmafair Special: You enjoy being warm, pampered and beautiful, visit this stand when you arrive at the show for a special treat!
————————————————-
General Optical
Stand 212
Snapshot: As always, the General Optical passion for excellence in product, quality, service, people, and supply will be on show. You'll see the latest from leading brands including Airlock, Barbie, Catherine Deneuve, Calvin Klein, Ck, Coach, Converse, Disney, Emilio Pucci, Etnia, Fendi, Flexon, Gant, Guess, Jean Paul Gaultier, Jil Sander, John Varvatos, Karl Lagerfeld, Lucky, Michael Kors, Nautica, Nike, Sean John, X Games.
————————————————-
HD Optics
Stand 325
Snapshot: Newcomer offering boutique designer eyewear hand-crafted in Germany. Martin&Martin is a classy acetate brand for men (with lots of big sized models). Yabi-Spirit is a metal collection for ladies multi-focal wearers: colourful and elegant. Grotesque-Frame is 100 per cent boredom-free eyewear best described as 'groovy' glasses.
————————————————-
HICAPS
Stand 225B
Odmafair Special: Visit the HICAPS stand and go into the draw for your chance to win: 12 months free HICAPS terminal rental.
————————————————-
Jono Hennessy Group
Stand G02
Snapshot: Jono Hennessy, one of the first to introduce vintage and retro styles, has been designing frames for 25 years. The range and brand is for independent optometrists. As Jono states: "Together we are declaring independence from the large chain stores, and we have the styles and brand to make independent optometrists look different and stronger so people are attracted to their practice."
————————————————-
La Loop
Stand 218A
New Products: LOOOP, conceived this year as a bridge line between SportLoop and La LOOP. Customers kept asking for a product with the functionality and style of La LOOP, but not with the jewellery aspect of La LOOP. LOOOP is a line with the loop made of base metal (instead of sterling silver), rubber cords or base metal chains.
This new base metal Loop collection has a lower wholesale price point and fantastic suggested retail. It comes in a longer length to be put right over the head, available in five rubber colours, multiple base metal chain options, and has four different 30mm flat loop finishes: Antique Silver, Antique Gold, Burnished Copper, and Gun Metal.
————————————————-
Less Than Human
Stand 218A
New Products: All matte black frames with laser engraving. Less Than Human in Tokyo believe that there is a return to classic – black and tortoise shell colours along with classic shapes with a twist. People are playing it safe, like the economy – not taking risks. And Less Than Human is keeping prices of the collection down to match the economic times.
————————————————-
Mann Optics
Stand 151
New Products: You'll also see Centro Style products to be launched at the Fair including a revolutionary Spare Parts Laboratory System and a new Modular Silicon Tools Station. A four-piece kit of children's trial frames and new to Australia: See TV – Bino Specs for low vision patients.
Guests on Stand: Visit the Mann Optics stand to speak with representatives from Centro Style Italy on site to answer your technical questions.
————————————————-
Mirage Eyewear
Stand 331
Snapshot: Supplying independent practitioners since 1994, Mirage will have over 50 new models of ladies and gents acetates and metals on show. The focus here is not only on style but affordability to help practitioners' profit margins.
————————————————-
Occhio
Stand 306A
New Products: Occhio recently launched the Star Project brand, born and bred in Australia which is exclusive to independent optical stores. They'll be at Odmafair with an exciting, extended range of over 80 Star Project models, designed to cater to all markets – from Double Bay to Dubbo!
————————————————-
OP's Optical Products
Stand 305
New Products: OP's are pleased to announce the addition of Givenchy to their already extensive brand portfolio, with the official re-launch of the brand into both the Australian and New Zealand markets to take place at Odmafair 2009. The collection comprises of both optical and sunglass models and will be offered to selected stockists on an exclusive basis.
————————————————-
Optech
Stand G09
Snapshot: See the Heidelberg Retina Tomograph (HRT). Optech advise this is a:
"Proven, essential tool for detecting and managing glaucoma, especially for assisting in the identification of pre-perimetric disease and tracking progression. The Ancillary Study to the Ocular Hypertension Treatment Study (OHTS) demonstrated that optic disc analysis detected glaucoma conversion in 55 per cent of cases, before any detectable loss of visual function.
The HRT has proved to be a robust predictor of glaucoma. OHTS also concluded that the HRT recognised temporal superior defects which later developed into confirmed glaucoma in 40 per cent of cases – looking only at baseline measurements – then confirmed the diagnosis with an average of five years of follow-up.
Equally impressive was that 93 per cent of all HRT cases flagged as within normal limits at baseline remained within normal limits during the same time period."
————————————————-
Optimed
Stand 211
New Products: Optimed will be showcasing new imaging technology for retinal disease diagnosis, including the new Canon non-mydriatic digital retinal camera and the impressive HD 3D OCT Copernicus from Optopol, along with Takagi slit lamp digital imaging. Optimed are also introducing the new Accutome AccuPen handheld tonometer.
————————————————-
Piranha Eyewear
Stand 125
Snapshot: Sunglass specialists catering for specific markets of motorcycle riding, fishing and boating and safety eyewear who have extended their range to offer children's sunglasses, prescription sport frames and RX options.
Odmafair Special: Each child visiting the complimentary Odmafair crèche facility will once again be gifted Piranha children's eyewear, and spot prize packs offered in the 'Chill Zone'.
————————————————-
ProOptics
Stand G08
Snapshot: ProOptics, another newcomer to Odmafair, is the brainchild of Jacque Katsieris. Jacque has spent nearly ten years in a senior sales role within the Australian optical industry. During that time she has acquired a keen understanding of sales function and a passion for product development. Here you will see new ranges from William Morris London, Amici, Scotta and Betta.
————————————————-
Sight Station
Stand 330
Snapshot: Another first timer, Sight Station London has the latest in fashion styles for reading glasses, sun-readers and sunglasses direct from Europe. Many retailers are quickly realising that a stylish range of readers increases customer stickiness.
Sight Station has been in Australia for over two years and is growing rapidly within opticians, pharmacies, home and giftware stores as well as fashion boutiques. Within the U.K., Sight Station is the exclusive reading glass provider to Boots Opticians.
————————————————-
Smith Optics
Stand 106
Snapshot: First time in Odmafair, Smith Optics are based in Sun Valley, Idaho. Founded in 1965 with the creation of the first goggle featuring a sealed thermal lens and breathable vent foam.
Today, Smith is known for its diverse line of sunglasses, optical, goggles and helmets. Smith's devotion to excellence, innovation, performance and style has made them the choice of many action-sport athletes worldwide. Smith products are sold in more than 50 countries through sporting goods and specialty stores.
————————————————-
Tam Tam (Beausoleil)
Stand 218A
New Products: You'll also see the new range which includes 11 exclusive new acetate colours. The vintage collection has been freshened up with Golden horn and the three-piece rimless are replaced by frames in stainless steel and acetate combinations.
Guests on Stand: Visitors can meet Mr. Jerome Losi, Beausoleil's Marketing and International Sales Manager.
————————————————-
Visualise Eyewear & Fashion
Stand 112
Snapshot: Visualise Eyewear & Fashion is the sole importer and distributor of a range of optical frame ranges designed and manufactured in Italy including Cesare Paciotti Eyewear. This designer range comes in both metal and acetate and includes discreet use of crystal.
The Paciotti 4US range caters for the younger buyer by utilising latest fashion colours, also highlighted by crystals, while the Super Bike Optical frames constructed by the high performance material Grilamid TR90 which ensures lightness together with flexibility and resistance. Special technology is used for models with interchangeable lenses which can be replaced simply by rotating them.
Super Bike Sunglasses is a new line of sports sunglasses produced by the Italian company Demenego and launched at Mido 2008. The Stavai range offer clean line nyl rim frames with interchangeable Shell temples – a must for every fashionable colour-coordinated wardrobe.
[/vc_column_text][/vc_column]