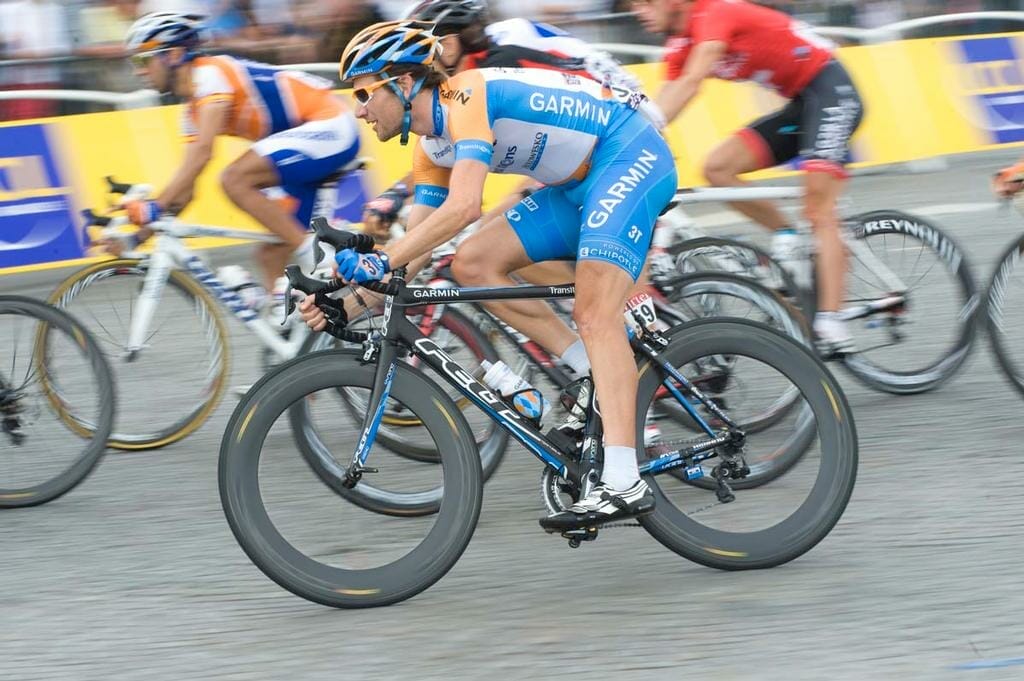 Team Garmin-Transitions, has successfully completed this year's Tour de France with their cyclists boasting several top-five stage finishes and a top-ten overall placing in the three-week long endurance event.
Lone New Zealand cyclist in the competition and Garmin-Transitions team member, Julian Dean, secured third place in the final stage of the race on Sunday 25 July. The great finale followed a second-place finish in Stage 18, resulting in Dean placing 14th out of 170 cyclists in the points competition and 157th overall.
American David Zabriskie (pictured) and Canadian Ryder Hesjedal also racked up top finishes for Team Garmin-Transitions. Zabriskie came fifth in the 52km individual time trial of Stage 19 from Bordeaux to Pauillac and after a gutsy performance in the mountain-top finish of Stage 17 and a strong ride during the individual time trial of Stage 19, Hesjedal secured the seventh place ranking overall in the Tour de France 2010.
These strong performances come at the end of a difficult Tour de France for Team Garmin-Transitions, which was been plagued by injuries forcing three team members to quit the race, including Christian Vande Velde, who suffered broken ribs after a grave collision in Stage 2.
Zabriskie came fifth in the 52km individual time trial of Stage 19 from Bordeaux to Pauillac…
Also sustaining injuries in the second stage, team sprinter Tyler Farrar tenaciously continued cycling with a broken left wrist and sprained elbow, securing a second-place finish in Stage 6 and third-place finish in Stage 11, until he was forced to abandon the Tour due to pain mid-way through Stage 12. Team cyclist Robbie Hunter also abandoned the race after breaking his arm during an accident in Stage 10.
Several of this year's crashes were caused by the conditions, difficult roads and blistering heat. Transitions Optical were pleased to provide Team Garmin-Transitions cyclists with the confidence of enhanced visual performance with the Transitions family of products, including Transitions lenses, and Transitions SOLFX sun lenses.
Being "equipped with Transitions lenses, the riders of Team Garmin-Transitions enjoyed the benefits of more comfortable vision, protection and enhanced visual performance while competing over hundreds of kilometres per day, continuously going through different lighting conditions," commented Transitions Optical Marketing Manager, Kate Mulcahy.
Transitions adaptive lenses have the ability to protect the eyes but also enhance vision in different lighting conditions. Their technology never fails to deliver darker lenses in sunny conditions and lighter lenses through shady patches.
Team members chose several different Transitions eyewear in Oakley frames for the competition, including new Oakley Clear Black Iridium Transitions SOLFX and Oakley VR50 Transitions SOLFX lenses. Frame choices included Oakley's popular Jawbone and Flak Jackets.
The Tour de France took place from Saturday 3 July to Sunday 25 July 2010 and consisted of one prologue and 20 stages and covered a total distance of 3,600 kilometres.