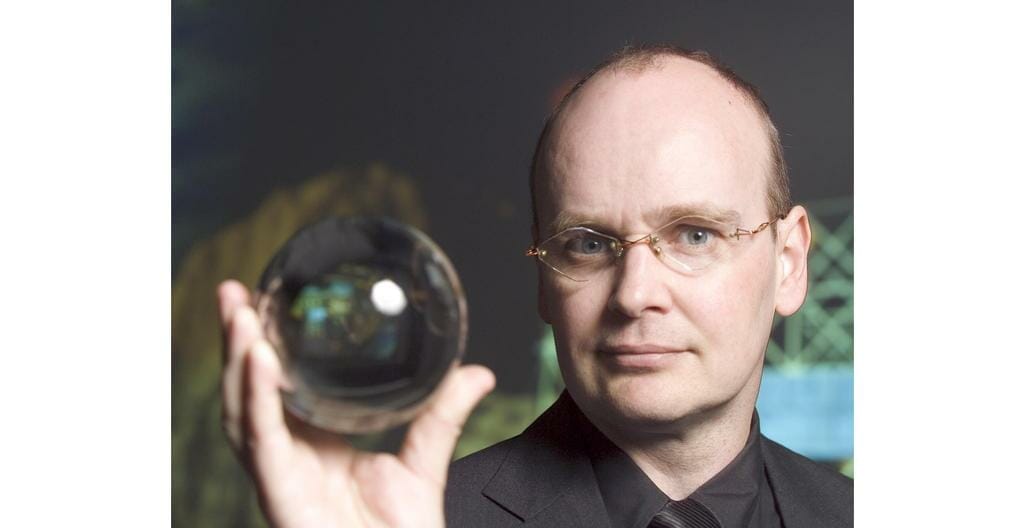 Augmented reality will play a significant role in shaping future lifestyle, but the most important differentiation between retail now and in the future will be how retailers integrate technological personalisation with human interaction. Dr. Ian Pearson, the futurologist who conceived text messaging1 for landlines more than 12 months before the first mobile text message was sent2, predicts the future of retailing.
In the future, technology and values will change, so adaptability by business is critical to success.
People are getting much more used to accessing all kinds of data all the time. With mobile access increasing in power, speed and scope, the incentives to create sites aimed at mobile people is increasing.
Technology will improve experience enormously but any company can use it – already we are seeing it virtually with smartphone applications. The differentiator will be how it is used to add value in physical stores via a partnership with good staff who really care.
The smart ones will be part of what I like to call the 'Care economy', integrating technological personalisation with human interaction
People will be able to do more 'chores' and errands online, enabling them to spend more time at physical stores that offer a unique and positive experience. In the end, the retailers who succeed will be those who fuse innovative technology and excellent service to engage and excite the customer in store.
When retailers look after shoppers in store and give them the best possible experience, they will keep coming back; it really is as simple as that. The relationship between customer and retailer will thus evolve.
In light of this, detailed below are some predictions on the trends we can expect to experience in retail in the coming decades:
FUSE Augmented Reality
The Future Ultimate Shopping Experience (FUSE) will be one of the big changes in retail.
Imagine a store built around you. As you enter, information tailored to your interests will appear in front of your eyes via your video visor or glasses showing you the products, features, prices and services that are relevant to you. Special 3D images will also appear to delight you and make the shopping experience immersive. This is called augmented reality and it will be key to retail change over the next decade.
Augmented reality has in fact been common in aviation and military usage for over two decades, and is becoming increasingly utilised through smartphones with the combination of GPS, compass, camera and user-data. This will eventually become commonplace in physical retail as stores adapt to the changing consumer.
Do you want to be greeted by a concierge to help you decide on the experience you want from the moment you walk through the door to when you leave? Would you like to see your purchases in a 360° interactive mirror so you can send images and seek second and third opinions from your friends and family on whether this is the best buy for you?
Intelligent Retailers
Intelligent Retailers will make it happen. Ambient intelligence is the local side of cloud computing, using store positioning systems and digital air alongside games technology to provide a powerful platform for shopping.
Gesture recognition, customer profiling and sensing of when shoppers want attention will all be commonplace for retailers. Emotion detection and intuitive – almost psychic – information will be given to reinforce the personalised process.
The BE Shopper
The BE (Bespoke Experience) shoppers of the future will demand excellent customer service and require a completely tailored experience that dovetails with their desires and interests. In an increasingly impersonal and individualistic society, consumers will crave caring and social interaction with retailers who display real 'human' skills. Tech and design are important, but people matter most.
The Care Economy
How can retailers serve the new generation of shoppers? The smart ones will be part of what I like to call the 'Care economy', integrating technological personalisation with human interaction.
These shops will offer a full, emotional human experience, seamlessly fusing the virtual and real worlds to develop an incredibly personalised shopping experience with an ongoing relationship with the customer. They will have a lifetime attachment to their customers, offering compassionate consumerism which extends from 'cradle to grave'.
Cyber Frames
Let's not just think about the store and staff – futuristic technology will transform the products themselves. For example, cyber frames will have built in IT functionality, making them look great while also being useful. These glasses will have multiple uses: they will be able to play a leading role in the wearer's social networking, able to broadcast personal data or provide a virtual aura, loaded with avatars that appear differently to each viewer. Cyber frames will also provide displays, change colour using thin film coatings, and even record what the wearer sees and hears. They will eventually be able to present emotional reactions, which intelligent salespeople will recognise via pupil dilation.
Cyber frames will become increasingly popular for people who are very self-oriented and want to present their ego via their glasses. You could call them i-focals or you-focals – this is not really about me, it is about you, reaching out to you through my accessories and showing you why I am so wonderful.
Eventually we will see glasses accessories, coatings and tints for these cyber frames. Nanotech features, alerts and medical monitoring and discreet audio enhancement will also be introduced.
My Guide
Robots and computers will play an important part in the future, but humans will dominate in adding value, simply because people will always value people above machines – or indeed any other organic species. The more value that can be derived from the human element, the less vulnerable a business will be from technology development. The retail assistants of the future will be My guides, able to add that all-important human touch by providing personal and caring service. Superstar shop assistants will differentiate the successful brands, providing a clear drawcard to consumers. They will also be the key element persuading customers to actually enter the store, rather than shop online.
An Exciting Future
The future of retail will be an exciting place. Companies will be more responsive to the needs of consumers and the community and be significantly more integrated into them. And when we once again know the staff and know they care about us, shopping can resume its place as a fun and emotionally rewarding part of our lives.
The more advanced the technology around us becomes, the more it forces us to focus on our human side.
Dr. Ian Pearson is a global futurologist with a proven track record of 85 per cent accuracy. He is a Mathematics and Physics graduate and has worked in numerous branches of engineering, from aeronautics to cybernetics and sustainable transport to electronic cosmetics. His predictions include text messaging (1991), active contact lenses (1991) and video intercoms (1993). For further information go to: www.futurizon.com.
References