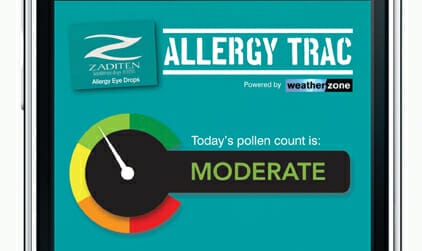 It's Spring in Australia, and with all its promise, it also brings with it the dreaded allergy season. This Spring Zaditen has come to the rescue with a brilliant new Allergy Trac pollen forecasting iPhone application!
Zaditen has developed this handy tool to help eye care professionals and your patients survive this Spring. The app, powered by Weatherzone, monitors the current pollen count in your local air space using iPhones' GPS technology. The app features up to date temperature, humidity and wind force information and is free until January 2011.
Log onto www.zaditen.com.au or the iTunes store to download your free Zaditen Allergy Trac app.