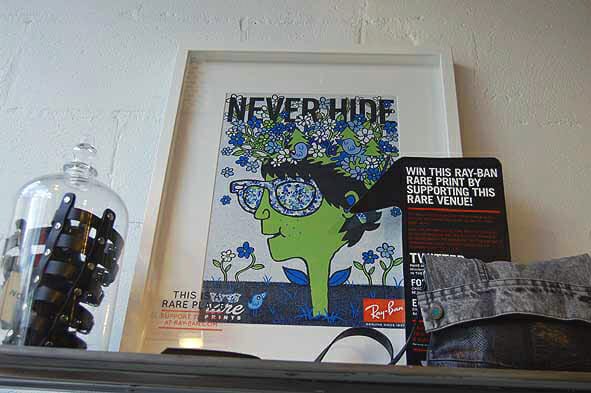 Ray-Ban's online marketing campaign, which encourages fans to take part in its 'Rare Places' social marketing experience, is gaining momentum. mivision's Melbourne reporter, Anja Barisic, checked out one of Melbourne's 'Rare Places', Melbourne fashion house, Nom D.[/vc_column_text][/vc_column]
Looking for a great experience in your own or another city? Ray-Ban's latest advertising campaign sees the sunglass company team up with 50 unique venues across Australia.
Once at these venues – or 'Rare Places' – consumers are invited to share the experience online through Foursquare and Twitter, to win prizes.
Nom D, in the Melbourne suburb of Fitzroy, is one such 'Rare Place' and the store is what you'd expect from the alternative Kiwi fashion label. Not so long ago, this grey, deconstructionist, mannequins-with-blindfolds world of design was considered avant-garde. Times have changed and this aesthetic has almost become part of the mainstream.
Ray-Ban's latest advertising campaign sees the sunglass company team up with 50 unique venues across Australia
Nom D helped make this happen and the street wear label continues to push the envelope with its own unique take on fashion and a style unaffected by fashionable whims.
Check Out Ray-Bans Rare Places and Win!
Just by visiting Ray-Ban Rare Places will give you the chance to win your own Rare Experience at the most celebrated Rare Place or your could win a Rare Print artwork from one of the Rare Places. All you have to do is discover it yourself!
The 50 most active consumers for each 'Rare Place' will win the framed limited edition poster on display. The posters are numbered and have been designed by top illustrators including Ames Brothers and Valhalla who have a cult following.
The rare venue that generates the most support (official Ray-Ban Rare online interactions) over the campaign period wins an official Ray-Ban campaign wrap party to the value of AUD$5,000.
Consumers who have supported the venue during the campaign may be eligible for a VIP invitation and priority entry to the party.
To support a 'Rare Place' and be in the chance for a rare experience:
TWITTER – make any comment via twitter and tag it @RARE and mention the venue name to go into the running.
FOURSQUARE – check-in to the venue and automatically be in the running to win.
EMAIL – email any comment or photo to rareplaces@raybanrare.com
For terms and conditions, visit www.ray-ban.com