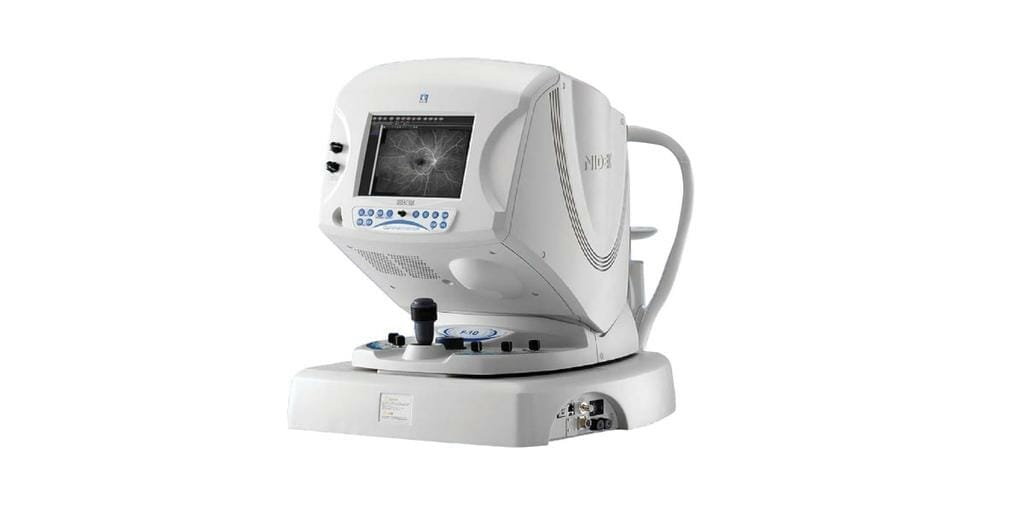 Described as the 'next generation' of scanning laser ophthalmoscope, the Nidek F-10 is designed to give ophthalmologists a high definition diagnostic imaging system.
The Nidek F-10 is a scanning laser ophthalmoscope (SLO), able to provide what the manufacturer claims is an "unsurpassed level of detail" in fundus imaging.
The F-10 has four different laser sources for various kind of observation (invasive and non-invasive) – Infrared, Red, Green, Blue – to capture retinal and choroidal images and video. A significant feature of the device is that it requires no flash in any of the imaging modes, making the process more comfortable for the patient.
The device is distributed by Designs for Vision and the company's ophthalmic specialist George Krokidis said "the SLO captures high contrast and high resolution, black and white images of the fundus (up to 60°), at a fast frame rate (26Hz), which allows real time video streaming, without loss of resolution."
Retro Mode uses an aperture with a modified central stop and angled light, then collects the light that is reflected off the sclera
Mr. Krokidis said: "the finest detail of retinal and choroidal tissues and capillaries can been seen, enabling exact localisation of any irregularities or changes.
"The F-10's optimised optics allows for clear peripheral images without distortion. Colour imaging is also possible, with the use of all light sources.
Nidek's NAVIS software allows for easy management of patient data, images and video."
Imaging Possibilities
The F-10 is capable of performing both invasive and non-invasive exams.
Invasive examinations available on the device are Fluorescein Angiography (FFA); Indocyanine Green Angiography (ICG) and simultaneous FFA/ICG Angiography (FAF). These require venous injection of either Fluorescein or Indocyanine Green by a medical practitioner. A timer is used at time of injection, and images are taken during early, mid and late phases of dye circulation through the bloodstream. Blood flow through arteries and veins, obstructions and leakages are documented and assist in diagnosis.
For non-invasive exams, the F-10 allows for non-mydriatic imaging using the Infrared (IR) light source. The Blue, Green & Red lasers, including Fundus Auto Fluorescence (FAF) and Colour Composite require mydriasis.
Retro Illumination (RI) and Differential Contrast (DCO) can be in conjunction with any of the aforementioned imaging modes.
Four different wavelengths are available, each applicable for various clinical applications.
The Blue laser light (490 nm) focuses on the superficial retina and is used in Fluorescein Angiography, Fundus Auto Fluorescence and nerve fibre layer observation. The Green light (532 nm) penetrates further into the retina and is used for Red Free imaging and retinal blood vessels observation. The Red light (660 nm) looks even deeper, for Choroid observation. Infrared (790 nm) has an infinite focus and does not involve the use of any bright lights. This is used in non-mydriatic imaging, as well as, Retro Mode, DCO and ICG.
All wavelengths can be used to create a colour composite of the fundus.
Video imaging during the early FFA can be very useful for accurate observations of pathologies, for example, aged related macular degeneration (AMD), fluid leakage and artery/vein occlusion.
Biological Auto-Fluorescence
Auto-Fluorescence is a phenomenon whereby natural properties of certain molecules within cells become highlighted when excited by a suitable wavelength of light.
Any physiological and/or pathological changes in the cells and tissue result in changes in auto-fluorescence characteristics.
Auto-fluorescence is a non-invasive analysis that does not require any drug injection or treatments (except for dilation drops) and so is comfortable for the patient. Yet it offers high quality images that are particularly useful for early AMD diagnosis.
Non-Invasive Retro Mode
Retro Mode is a new non-invasive technique, which can detect the pathology highly-sensitively and quickly.
Retro Mode uses an aperture with a modified central stop and angled light, then collects the light that is reflected off the sclera.
Since a normal fundus has transparent cells, the F-10 only highlights abnormal cells, which trap light in the retinal and choroidal vessels. The blood flow inside the vessels is also visible.
This confocal technique can help viewing degenerated and pathological cells as well as silhouetting spaces such as cystoid, and often outlines an area larger than what is seen with regular imaging.
Differential Contrast Ophthalmoscopy
Differential Contrast Ophthalmoscopy (DCO) is an advanced imaging technique, which amplifies the variant quantities of light (Δy /Δt signal) and converts this into an image signal.
This technique helps resolve vague borders/edge detection, which would otherwise not be visible, allowing better localisation of pathology.
Conclusion
In short, the Nidek F-10 provides high-resolution images and video streaming of the retina and choroid using both proven invasive methods as well as new non-invasive possibilities for diagnosis and monitoring of fundus pathology.
Early reviews have been extremely positive. Associate Professor at the Launceston Eye Institute, Dr. Brendan Vote said that by "providing high resolution simultaneous digital fluorescein and ICG videoangiography as well as autofluorescence", the device allows assessment of the full spectrum of retinal diseases.
Dr. Vote said he also found that data export was "quick and easy".
Another ophthalmologist to recommend the Nidek F-10, Dr Devinder Chauhan from the Vision Eye Insitute in Melbourne, said AutoFluorescence imaging now constitutes a "regular part" of his AMD review protocol "and is easily acquired".
"Simultaneous fluorescein and indocyanine green angiography is invaluable; the camera affords high contrast and resolution macular images as well as good peripheral views… it is extremely comfortable for patients.
"Videoangiography has been useful in diagnosing subtle retinal vascular conditions and is a great patient education tool," Dr Chauhan said.