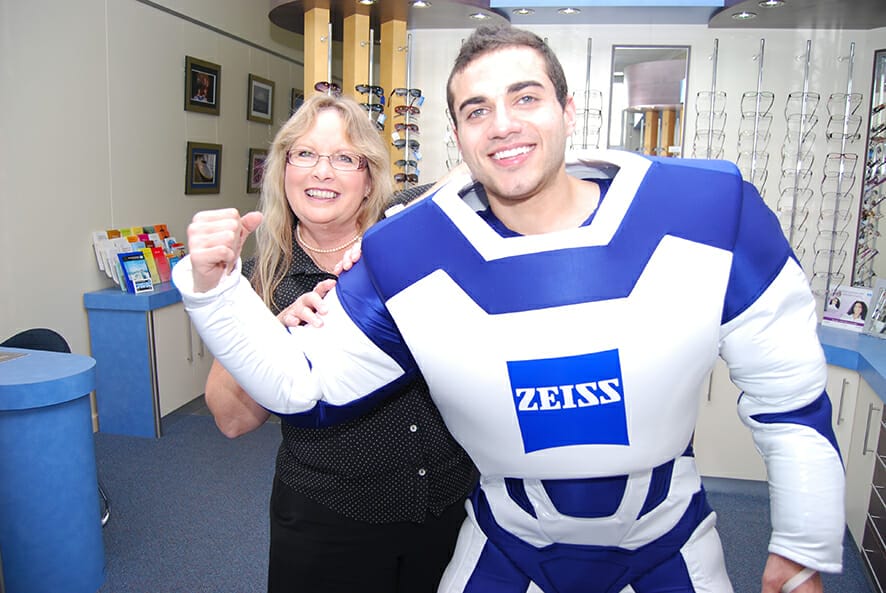 Click here to view all the pictures from this event
The lightening fast launch of PhotoFusion®, the new self tinting lens by Carl Zeiss Vision is happening now. ZEISS Man is flying into over 300 practices around Australia and New Zealand, and yours could be next!
ZEISS Man has super-strength is faster than a speeding bullet and offer protection to all. These qualities can also be found in PhotoFusion® lenses:
React up to 2x faster from dark to clear than previous photochromic lenses by Carl Zeiss Vision
Retain their performance for longer lasting durability
Demonstrate excellent colour consistency for natural sight
Provide full protection against harmful UV rays
Are very clear indoors yet very dark outside in sunlight ensuring optimum vision
The secret behind PhotoFusion® technology is patented photo-active molecules that react 20% faster than previous photochromic lenses by Carl Zeiss Vision. By combining these patented molecules with lenses by Carl Zeiss Vision, it has been possible to design a new generation of powerful self-tinting lenses that are guaranteed to demonstrate genuine improvements in comfort and performance.
React up to 2x faster from dark to clear than previous photochromic lenses by Carl Zeiss Vision