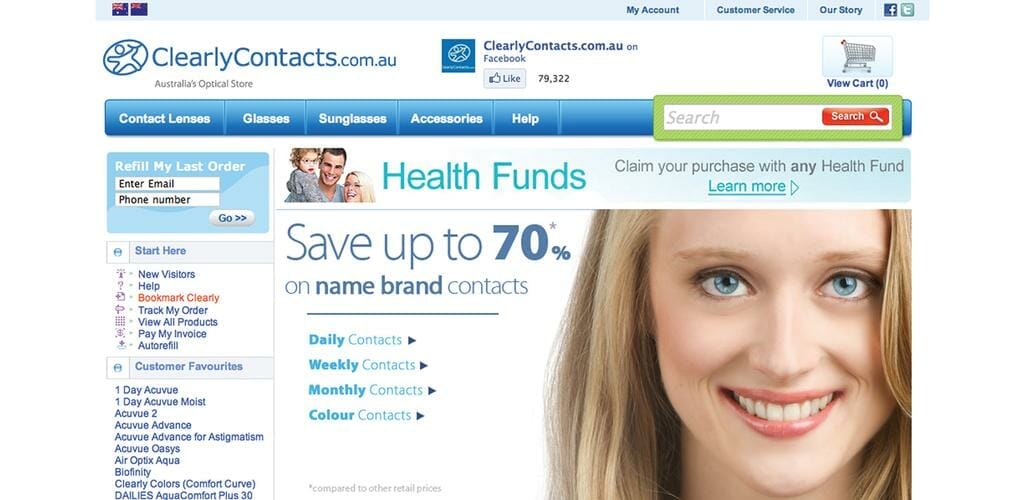 Investigations by a locally-based contactlens distributor have led to a Therapeutic Goods Administration (TGA) crackdown on the global online eyewear marketers, Clearly Contacts.
Paul Sheehan, a qualified optometrist and the Managing Director of Sydney-based YourLens (www.yourlens.com.au), an online wholesale distributor of contact lens to the profession, has called for increased vigilance, and an overhaul of laws surrounding the sale of contact lenses in Australia.
Mr. Sheehan purchased lenses from the company and spoke to staff about its practises. He became concerned about aspects of the company's business and lodged a complaint with the TGA.
"Now is the perfect time for the industry to lobby government and run a public campaign about the importance of buying only TGA-approved product," Mr. Sheehan said.
the website carried a company statement at the time saying: "We are unable to accept orders for contact lenses at this time"…
Clearly Contacts, which trades under the name Coastal Contacts Pty Ltd, had to withdraw contact lenses from its Australian online retail site www.clearlycontacts.com.au early last month (September), as a result of the official TGA warning.
The warning to Coastal Contacts was for breaches of the Therapeutic Goods Act 1989, which prevents anyone other than the 'legal sponsor' or an authorised distributor to import and supply a registered contact lens for commercial sale in Australia.
Although Clearly Contacts was distributing reputable brands, the products were sourced from international intermediaries rather than through local 'legal sponsors'. According to the TGA and associated laws only the 'legal sponsor' or an authorised distributor is permitted to import and supply a registered contact lens for commercial sale in Australia.
The company told the TGA it would comply with Australian legislative requirements and decided to cease importing and supplying contact lenses to Australian consumers from its Alexandria warehouse.
When consumers tried to order contact lenses from its Australian domain, www.clearlycontacts.com.au, the website carried a company statement at the time saying: "We are unable to accept orders for contact lenses at this time."
Clearly Contacts CLs Back Online
However, by the 21 September, Clearly Contacts was back online selling contact lenses to consumers. Mr. Sheehan, said he assumes that the company must be buying from, and being supplied by, local contact lens companies.
"But they're still not asking for prescription verification on their website, so they're still not playing by the rules," he commented.
"In the past, local wholesalers have made declarations that they won't supply resellers unless prescription verification is asked for. But they've gone ahead and done that – Clearly Contacts is being legitimised as a retail supplier – whether that was pressure from Clearly Contacts or their own head offices, I'm unsure… does this mean that no-one needs to ask for prescription verification anymore?"
Australians Undercut
Mr. Sheehan said by bringing in product from overseas, online optical retailers of contact lenses from overseas are able to undercut local distributors, which had been "put through all the hoops" to ensure they were compliant with all Australian requirements.
"It is disappointing. The industry constantly complains that it can't grow the contact lens market, and about competition from the internet, and yet the contact lens industry has done nothing but sit on its hands," he said.
He said the distribution of non TGA-compliant lenses in Australia, particularly by overseas companies selling direct to the consumer, was a huge public health issue. The industry itself needed to be more vigilant, and should lobby the federal government for increased protection, Mr. Sheehan said.
Strong Stand
Alcon Vision Care Business Unit Head, Andrew Jenkin, said the company, which now includes the Ciba Vision business, takes a very strong stand on the legal obligations and responsibilities of all retailers selling Ciba Vision products, including online retailers such as Clearly Contacts.
Questioned by mivision on whether Ciba Vision products sourced by Clearly Contacts from overseas would carry TGA approval, Mr. Jenkin said that without completing its own investigation, Ciba Vision could not immediately assess the compliance of any particular vendor with the Therapeutic Goods Act.
"Our contract with online retailers clearly requires authorised online retailers to sell Ciba Vision products in accordance with all applicable federal laws, rules and regulations of the respective countries and only to the extent such products are available for sale in those countries."
Any possible contractual breach of violation of local law would be taken "very seriously", he said.
"Ciba Vision will investigate such information accordingly and take any remedial actions deemed appropriate if we discover an authorised vendor is not in full compliance with applicable local laws, rules and regulations."
Mr. Jenkin said any patients reporting ocular pain, discomfort and/or vision problems to authorised online suppliers must be directed back to their prescribing eye care practitioner for evaluation and appropriate treatment.
He said Ciba Vision stood behind the quality of all its products, whether sourced locally or overseas.
Simon Cosgrove, Johnson & Johnson Vision Care's General Manager ANZ and Chair of the Contact Lens Industry Council (CLIC) said regulatory obligations for the import and supply of therapeutic goods such as contact lenses "are designed to protect patient health and safety" and that "parallel importation may raise important regulatory and safety issues".
"Parallel importation may raise concerns because importers are not always aware of these obligations and their non-compliance may risk patient health and safety and reflect upon the industry."
Mr. Cosgrove said "manufacturers have no ability to monitor unauthorised importers and can provide no assurances that their handling, storage and dispensing practices are appropriate. If an adverse event is reported, parallel importation may also make it more difficult for manufacturers to trace potentially
affected batches."
For these reasons, he said, CLIC has serious concerns about parallel importing by a company operating and supplying in Australia who is not the legal sponsor or authorised distributor. He urged all eye care professionals to educate patients about the risks of purchasing contact lenses from unauthorised online retailers.
It is estimated Clearly Contacts held approximately 7 per cent of the Australian contact lens market.
mivision tried on numerous occasions to obtain a comment from Clearly Contacts, however despite having a listed address in Alexandria, Sydney, the calls are diverted direct to the company's head office in Canada. No response was forthcoming.