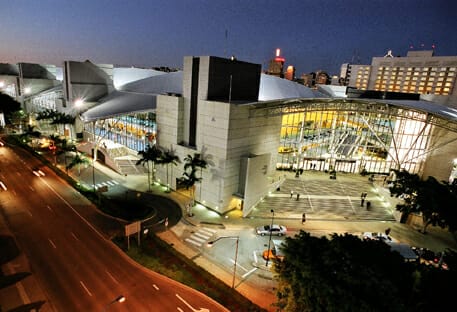 In a surprise move, The Optical Distributors and Manufacturers Association of Australia (ODMA) has announced that its bi-annual exhibition be staged at the Brisbane Convention and Exhibition Centre. Additionally, Expertise Events, a Sydney based exhibition company that currently manages 30 exhibitions across the country each year, will take over management of the event.
A blueprint for ODMA 2013 has been prepared and will be presented for discussion at a series of stakeholder meetings over the coming weeks.
Finola Carey, Chief Executive Officer of ODMA, told mivision she is confident the new venue, along with a host of new features and offers will be embraced by exhibitors and visitors alike.
"ODMA 2013 will be absolutely vibrant – completely re-energised," said Ms. Carey. "We've dealt with all the issues expressed in the past to improve the exhibition layout and visitor flow for exhibitor stands. We'll have improved feature areas, educational components and a Noodle Lounge on the central floor to address visitor concerns about onsite catering."
Gary Fitz-Roy, the Managing Director of Expertise Events, said the decision was made following analysis of comprehensive visitor and exhibitor research conducted after the 2011 event. He told mivision, "the surveys showed a number of themes; one was a desire to see the event alternating around the country, another was a very high level of accompanying-visitors as compared to other similar trade events. The industry has a strong concentration of family businesses and the desire to see a destination allowing a post event holiday option was evident in the feedback."
To meet this request, the exhibition has been scheduled from 5-7 July 2013 to coincide with eastern seaboard public school holidays.
World Class Facilities
Mr. Fitz-Roy said that while venues around Australia had been considered for ODMA 2013, the Brisbane Convention & Exhibition Centre (BCEC) was selected because "it is internationally acclaimed, consistently recognised among the three best centres in the world and provides a platform to service one of the fastest growing population bases in the country."
The Centre, which has received a total of 119 awards, has been officially ranked among the top three convention centres world-wide on three separate occasions by AIPC (International Association of Congress Centres).
As well as choosing a world-class venue, Mr. Fitz-Roy said several innovations, including choreographed fashion parades on the exhibition floor, will add excitement and flair to the exhibition.
If all goes to plan, the educational component at ODMA 2013 will be boosted with a merchandise / visual display presentation where experts, teachers and students can provide insights into visual merchandising techniques. A Professional Development Corner will provide a hub for professional and career development resources, networking and advice for exhibition and conference attendees. The area will be made up of table exhibitors representing the various authorities and educational outlets, who will pay a minimal cost to be present.
ODMA 2013 Exhibitor Costs
Mr. Fitz-Roy said in moving the ODMA fair from the Sydney's the Sydney Exhibition and Convention Centre at Darling Harbour to Brisbane, one of the primary considerations was the cost to exhibitors.
"Cost is an issue on every level, and as a business owner, I appreciate that like many of our exhibitors.
"For an early commitment (by 30 April 2012) we offer a 7.5 per cent discount off the 2013 rates making it cheaper than the 2011 event. After 30 April there is a small price increase in the 'nominal' price from 2011 to 2013.
"We have also changed the model for booking – a flat deposit of AUD$350 is required to secure the space until August 31, 2012 when an installment of 30 per cent (less that AUD$350 paid) is due. Previously the deposit was about 20 per cent of the overall cost.
"We have also introduced large modular stand packages and the BCEC will provide specially built storage facilities to exhibitors."
He said more initiatives will be announced over the next six months including the consideration of a hosted buyer program to attract key visitors to the event, and a comprehensive CPD Program designed to earn delegates 40 points while attending the Fair.
…and a comprehensive CPD Program designed to earn delegates 40 points while attending the Fair
Darling Harbour Exhibition Centre to be Demolished
The move from Sydney to Brisbane overcomes a massive logistical problem that will affect all exhibition organisers in 2013. That's when the Sydney Exhibition and Convention Centre will be demolished in preparation for a new Centre that won't be complete until at least 2018.
Ms. Carey said the NSW State Government has been slow in clarifying plans for the re-development, which has made it difficult to plan ahead. "The government hasn't provided detailed plans and they continue to change construction dates. All we know for sure is that the Centre at Darling Harbour will be demolished."
Experienced Management
If their history is anything to go by, Expertise Events knows how to run successful exhibitions. From 1998 through to 2000 the company was the sole appointed exhibition company to work with the Olympic Co-ordination Authority (OCA) in the preparation for, and establishment of, infrastructure for the 2000 Sydney Olympics Games. Additionally, Expertise Events has worked with the Australian Broadcasting Corporation to launch and manage the Gardening Australia Expos and has managed the Jewellers Association of Australia Trade Fair since 1991.
ODMA is scheduled for 5-7 July 2013. For information contact the event organisers on (AUS) 02 9452 7575 or ODMA by email: exec@odma.com.au