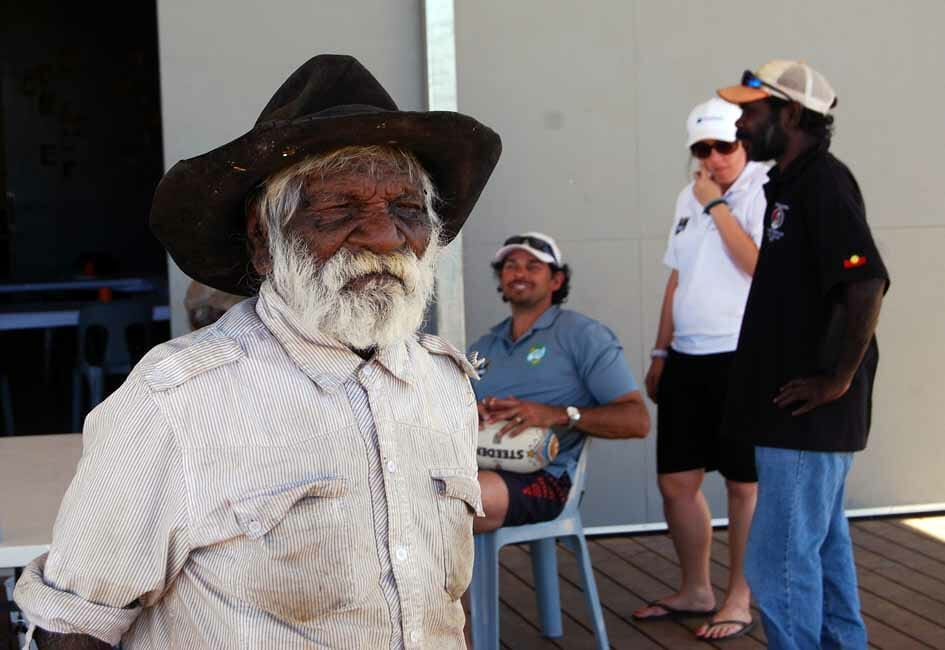 Against a backdrop of growing public concern over the poor living standards endured by many within our Aboriginal population, leading organisations and individuals from the optical profession are stepping in to deliver essential eye health services.
While we all have a social responsibility to contribute in every way we can, fortunately there are large corporations with the capacity to make a significant difference, fast. One organisation doing this is OPSM's OneSight. I recently travelled with the OneSight team to the town of Doomadgee, in far north-west Queensland to witness its work.
Flying over the vastness of the Gulf of Carpentaria, into Doomadgee, it's hard to get a true sense of how isolated this tiny town is, but when you consider that the closest town is Mount Isa, 475km away, you get an inkling.
On the surface, this former mission station looks well set up, with a hospital, police station, roadhouse, bakery, and a primary and secondary school making up the core of the community. The temperature is tropical savannah – it has a distinct dry and wet season – is prone to cyclones and, as it's a flood plain, flooding.
Melinda struggles to hold back her tears as she talks about the enormity of the problem of Aboriginal eye health…
It's August and we're in the middle of the long dry.
Today it's 37 degrees. The grass cracks under our feet as kids run around in the sun kicking a footy with former rugby league greats David Peachey and Mario Fenech.
Both of these men had stellar careers and now, as National Rugby League ambassadors, travel the country speaking with kids at schools about their careers and how to live a healthy life. They're passionate about helping to change "one individual life at a time". The local kids follow them everywhere and hang off their every word.
In the OneSight makeshift clinic pitched on the oval outside the local Police Citizens' Youth Club the team is doing vision screenings. Mario calls out for the kids to get their eyes tested and they all run into the tent.
OneSight Foundation launched its 'One Vision Indigenous Eye Health Program' in February this year. It aims to address the enormous gap in the eye health of Aboriginal people, highlighted in the report – The Roadmap to Close the Gap for Vision – prepared by Professor Hugh Taylor AC of the Indigenous Eye Health Unit, Melbourne School of Population Health at the University of Melbourne.
Professor Taylor said at the time, "one in three Indigenous adults have never had an eye exam due to a lack of access to services in remote Australia and 94 per cent of vision loss experienced in Indigenous communities is preventable. OneSight Foundation's program is exactly what is needed to begin closing the gap in Indigenous eye health".
The eyesight of Aboriginal children is five times better than their non-Indigenous counterparts; however, as they get older and lower living standards and less access to healthcare take their toll, they are six times more likely to become blind.
Battling Isolation
It's Naidoc week in Doomadgee. There's a great energy in the air as rides and sideshows are being set up on the rest of the oval. But it's not always like that here.
Aside from their geographical isolation, locals who live in Doomadgee also feel emotionally isolated.
Doomadgee has very high unemployment and drug and alcohol addictions have taken a huge toll on its residents.
Hospital admissions for assault related causes over the past 10 years; each year has been consistently around 23 per 1,000 people (compared to the Queensland average of 1.2 per 1,000). School attendance is at 60 per cent (compared to the 91 per cent average). There is a very high number of 32.8 per 1,000 children subject to substantial notification of harm and, as a result, have been admitted to child protection order.
Last year 14 people in this small community took their own lives and in the first couple of months of this year, another four committed suicide.
People here don't hold out a lot of hope for the future.
Derek Flucker, Waanyi Nation Aboriginal Corporation Manager told the ABC in February that the community was in crisis and because of its isolation, the severity of the problem is ignored.
"We have 1,200 people living in that community and those sorts of numbers are just out of control. If it was in any other community there'd be a state of emergency. It's basically total despair. There's a lot of mental illness, there's problems with drugs and alcohol," he said.
Federal Member for Kennedy Bob Katter said the problem in Doomadgee was further proof that the Government "has failed completely" in its efforts to close the gap on Indigenous disadvantage.
Professor Taylor's report highlighted the lack of access to eye care services as a significant factor contributing to poor eye health of Aboriginal people in remote communities.
This is something OneSight's program aims to change.
The OneSight team started planning its trip to Doomadgee at the beginning of the year. Most of the optometrists, optical dispensers and general staff that make up the team of 26, have worked on a OneSight clinic previously – either locally or overseas – and they're absolutely aware of the complex logistics involved.
Well ahead of the clinic, they met with leaders in Doomadgee to work out a time when the program and service delivery would best meet the needs of the community.
Equipment, including a Digital Retinal Scanner, stored at Mt. Isa, was driven up the dirt highway to Doomadgee. Staff flew into Cairns for cultural awareness training on the Monday before being flown on to Doomadgee to run the clinic over two days.
Two Days, 322 Eyes
In the clinic tent, a couple of optoms lead the team to put adults and kids through a number of different screening protocols.
An initial visual acuity test for myopia was followed with a +1.50 to check for hyperopia, and then a stereo acuity test to check binocular vision. Then a number of other tests were undertaken, including one for colour vision. If any of these tests were failed the recipients went on to have a full eye examination.
At Doomadgee, over two days, the OneSight team checked 322 sets of eyes – nearly one third of the small town's population. From the initial screening, 127 people were given full eye tests and of those, 74 people received prescription glasses.
There were a number of cases of Pterygia identified and most adults aged over 50 had cataracts with three requiring immediate referral.
Timothy and Muriel
Timothy and his wife Muriel, who've lived in Doomadgee for most of their lives, are two of the three being referred to an ophthalmologist.
When Timothy is asked how old he and Muriel are, he just laughs and shakes his head. He has no idea when exactly they were born but believes it was some time during the Second World War.
Melinda Toomey, the Regional Eyecare Manager OPSM Queensland, says Timothy has a very dense opaque cataract in his right eye and fibrotic scar tissue in his left eye as a result of an IOL.
"He really can't see very much at all. He'd be looking at the world through a blur," said Melinda. "It really is heart breaking".
The story is better for Muriel. Although she has cataracts in both eyes she'll be fitted with a pair of bifocals that will be sent to her home address in about a month. Her right eye was corrected from 6.60 to 6.21 and her left from 6.30 to 6.12, so she'll now be able to see well enough to drive legally and the TV will be reasonably clear.
OneSight will work with GP Queensland to organise a referral pathway for Timothy and Muriel to see an ophthalmologist. Instead of waiting a few years in the public system, by going through the Foundation they may see an ophthalmologist in a matter of months.
Melinda struggles to hold back her tears as she talks about the enormity of the problem of Aboriginal eye health. "It's so sad when you think that we live in a first world country and these poor people have these problems."
A Slither of Hope
The impact of the OneSight program on small communities like Doomadgee can provide a slither of hope.
Jason Singh, Senior Director and Head of OneSight globally who has flown over from Cincinnati, Ohio, USA to see how the program in Australia is being played out, says OneSight aims to create a long term vision care solution for Indigenous communities in Queensland.
"We don't just want to service the local people we want to provide local capacity and infrastructure so that the people have a long term solution to meet their needs," he says.
"In Gambia about 18 months ago we partnered with the government and local NGOs to provide long term eye health solutions. There we went into a hospital and set up two permanent eye exam rooms. This has resulted in people being seen by someone from OneSight and getting a brand new pair of glasses made by a local person."
This is the sort of model Dr. Singh believes could be rolled out in other developing countries. Similarly, Dr. Singh feels countries like Australia, with its Gidgee Healing eye care clinic, based in Mt. Isa, are leading the way in long-term sustainable programs.
They're big plans but not insurmountable. A corporate the size of Luxottica has the capacity and, from what we could see in Doomadgee, the intent to deliver on its mandate to make "primary vision care a reality for everyone."
They're making a start on helping to close the gap in Indigenous eye health one eye test at a time.
Thank you to OPSM's OneSight for inviting me to join the team on this trip to Doomadgee. And, thank you to the residents of Doomadgee who provided me with permission to take their photos.