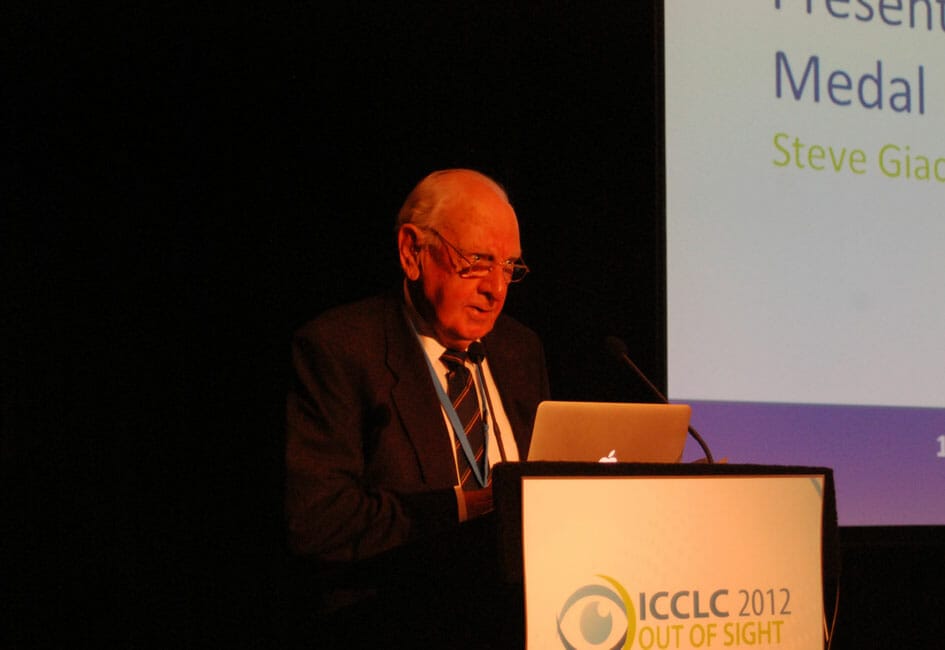 More than 30 international and local speakers delivered presentations across 10 key anterior eye-based themes at the official conference of the Cornea and Contact Lens Society of Australia (CCLSA) in October.
The 14th International Cornea and Contact Lens Congress (ICCLC) was held from 12-15 October at the Shangri La Hotel in the historical Rocks area of Sydney. Subject areas included cutting-edge research in contact lens materials and designs, myopia control, anterior ocular therapeutics and specialty contact lens fitting for the irregular cornea. This year there was also the opportunity for delegates to attend one of seven workshops, with highly-focussed case-based presentations on key contact lens subject areas that included the use of optical coherence tomography in contact lens practice, corneal topography and anterior segment disease management.
An extensive trade exhibition accompanied the congress program, allowing delegates the opportunity to chat with industry representatives and to trial the latest optometric equipment. The event attracted significant corporate support, with Diamond level sponsorship provided by Bausch + Lomb and Alcon, and Gold level sponsorship by Johnson & Johnson Vision Care and Abbott Medical Optics.
The conferences included two official social functions; a welcome reception on the Friday night provided an icebreaker to meet new acquaintances and reconnect with colleagues.
Professor Charles McMonnies detailed the significance of precautionary advice to minimise intra-ocular pressure-elevating activities in patients with keratoconus
Following on from the success of the 2010 event, the conference Gala Dinner was held on the Saturday evening at the Waterfront Restaurant on The Rocks, allowing sensational views of the Sydney Harbour Bridge and Opera House. The dinner was an ideal opportunity for delegates to mingle with speakers and industry representatives; for those wanting to demonstrate their dancing skills, a live band and dance floor were the perfect combination.
Expert Clinicians and Researchers
The conference featured lectures from expert clinicians and researchers, covering topics ranging from contact lens compliance to dry eye and anterior segment disease.
The CCLSA National President, Stephen Giacon officially opened the congress. In conjunction with Kenneth Bell, he presented the prestigious Kenneth W Bell Medal to Professor Helen Swarbrick in recognition of her outstanding contribution to the field of contact lens research and education.
Professor Swarbrick is currently Head of the Research in Orthokeratology (ROK) group at the School of Optometry and Vision Sciences, University of New South Wales. Her primary research interest areas include: understanding the corneal response to orthokeratology for the correction of refractive error and the application of orthokeratology for myopia control. She has a distinguished career in contact lens research, with an impressive number of peer-reviewed publications and has been the recipient of significant grant funding from the Australian Government. In her acceptance address, Professor Swarbrick provided an insight into her personal journey through research, from the early influences of her family until her present position as an academic leader. She described the influence of her senior mentors on inspiring her to pursue a career in research, and also the enjoyment of teaching and assisting her students through their postgraduate research endeavours.
International Perspectives
International perspectives on contact lens fitting were provided by two overseas keynote speakers: Professor Jason Nichols from the University of Houston College of Optometry, USA and Dr. Jennifer Craig, Senior Lecturer in Ophthalmology from the University of Auckland, New Zealand. Professor Nichols opened the lecturing program with a presentation on the current global trends in contact lens prescribing.
The contact lens industry was reported to have a global worth of approximately AUD$6.8 billion per year, with almost half of current lens wearers worldwide being prescribed monthly disposable soft contact lenses. Interestingly, only about 5 per cent of Australians wear contact lenses, despite almost half of the population requiring some form of spectacle correction, indicating a significant untapped market
of potential contact lens wearers.
Dr. Craig's presentations focussed upon the ocular tear film and best-practice for the management of meibomian gland dysfunction. The use of different clinical and research methods, and their relative reliability for assessing the tear film were comprehensively discussed in Dr. Craig's opening lecture on tear film evaluation. Tear film osmolarity was reported to be the current gold standard for the detection of dry eye disease, being the most effective single measure for dry eye diagnosis. Dr. Craig also discussed research relating to the most appropriate clinical management strategies for lid disease and evaporative dry eye. More than 80 per cent of patients with dry eye disease were described to have an evaporative component that requires consideration in planning an appropriate management strategy. Treatment modalities such as warm compresses, lid scrubs, phospholipid sprays and lipid-containing artificial tear supplements were all reported to be potentially useful in the daily management of the condition.
The topic of orthokeratology featured in a number of lectures. Edward Lum presented his PhD research findings on the impact of orthokeratology on the cornea, including some fascinating observations relating to alterations to the morphology of the sub-basal corneal nerve plexus. Orthokeratology was also discussed in the context of the 'Myopia Correction and Control' themed session, which opened with a lecture by the local keynote speaker, Professor Brien Holden.
He reviewed the evidence behind the value of optical strategies for the induction of myopia control. Clinical perspectives on myopia control were also provided by local practitioners who discussed the application of strategies to delay myopic progression in private optometric practice. Myopia control is an exciting and rapidly developing area of clinical optometry that without doubt will continue to be of particular interest to optometrists as further evidence evolves regarding the benefit of innovative contact lens designs for young myopic patients.
Recognised Local Experts
A number of recognised local contact lens experts lectured on a variety of subject areas, including presbyopic contact lens correction, rigid gas permeable lenses, hybrid contact lenses, contact lens prostheses, paediatric lens fitting and the rehabilitation of the ocular surface through the application of scleral lens designs. An intriguing lecture, entitled "The baropathic nature of the keratoectasias," given by Professor Charles McMonnies detailed the significance of precautionary advice to minimise intra-ocular pressure-elevating activities in patients with keratoconus.
Professor Fiona Stapleton provided an evidence-based update on modifiable risk factors for contact-lens related microbial keratitis. She highlighted the importance of ensuring that patients follow appropriate cleaning and replacement schedules for lens storage cases, with one of her recent studies indicating that attention to storage case practises could reduce the incidence of corneal infections by up to 62 per cent.
A thought-provoking lecture on the future of contact lenses was delivered by Professor Eric Papas. He described the potential future application of contact lenses for monitoring various diseases including cancer, glaucoma, diabetes and dry eye. The ability to utilise contact lenses for ocular enhancement, telescopic viewing systems and visual augmentation were also highlighted as likely areas of development by the contact lens industry.
The congress clearly demonstrated to delegates that the field of contact lenses is one of the most exciting and innovative areas of optometric practice. The next Congress promises to be even bigger and better; it is expected to be held in 2015.
Further information about the CCLSA and ICCLC can be found on the CCLSA's website: www.cclsa.org.au.
Dr. Laura Downie BOptom, PhD(Melb), PGCertOcTher, FACO, DipMus(Prac), AMusA is a clinical optometrist and contact lens specialist. She is a Fellow and Head of Cornea and Contact Lenses Services at the University of Melbourne, Department of Vision Sciences. Dr. Downie has published several peer-reviewed scientific papers and is a regular contributor to mivision.