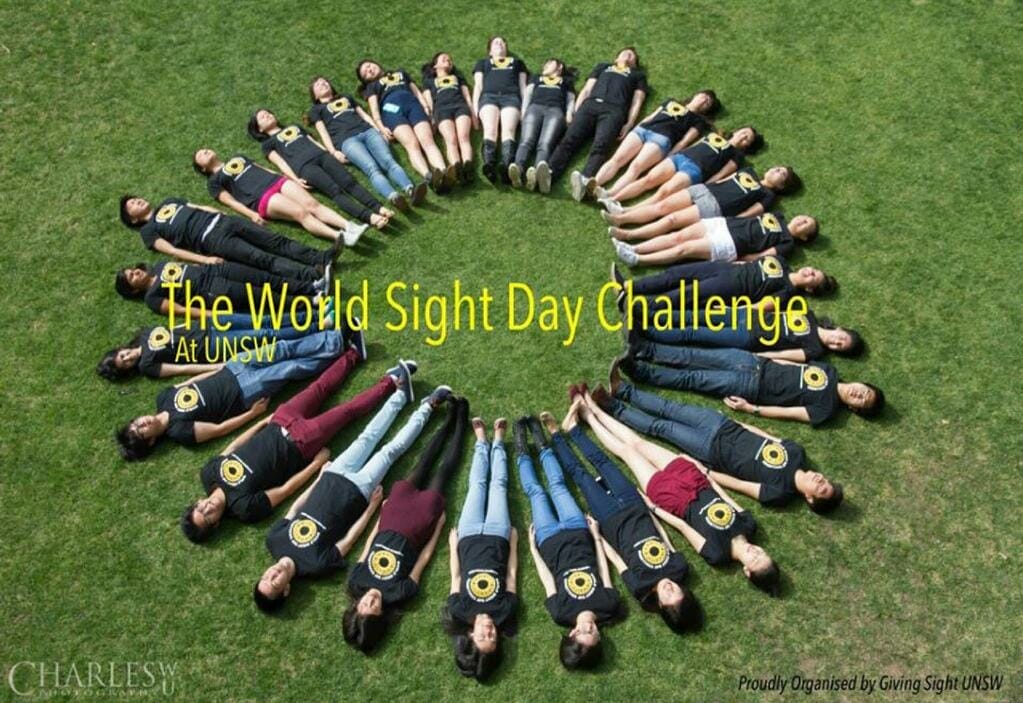 Australian practices, companies and optometry students have joined thousands from around the world to make the 2013 World Sight Day Challenge (WSDC) a global success.
Showing that fundraising is limited only by imagination, participants baked, partied, donned sumo suits, walked, rode and even jumped from planes to raise money for the annual campaign, held in conjunction with World Sight Day in October each year.
World Sight Day, designed to focus global awareness on blindness and vision impairment, is coordinated by the International Agency for the Prevention of Blindness under the Vision 2020 Global Initiative. The theme for the 2013 WSDC was "Universal Eye Health" with a specific call to action: "Get your Eyes Tested".
The World Sight Day Challenge is coordinated by Optometry Giving Sight (OGS). While final fundraising numbers were still being tallied at the time of print, OGS said participation rates and current predictions show it could be the most successful year to date.
In Australia, the winning practice of the 2012 WSDC, Sure Optical in New South Wales, showed it was determined to keep the title, with another 'Highballs for Eyeballs' cocktail event held in October. The team raised AU$4,479 – blitzing last year's effort.
Eyecare Plus practices in the NSW towns of Taree and Gloucester embarked on a 50km walk to top off a month-long fundraising drive that has raised more than $1,000. Hanks' Optometrists – which has multiple practices in New South Wales and Queensland – collectively raised $6,220 from consultation fees and donations from patients.
Optometry students from around the country continued to bring a creative flair to the WSDC. Students from the University of NSW held numerous bake sales and BBQs; optometry students at Victoria's Deakin University held a colourful carnival day featuring sumo wrestling suits; and Melbourne University's Optometry Students staged a comedy night.
'It's great to see the future optometrists in Australia are not only committed to helping people through their profession, but also to raising awareness for public health issues related to optometry," said Mr. Ron Baroni, Optometry Giving Sight country manager.
"Every year we are amazed by the dedication that students put in to raising money during the Challenge."
Australian companies also got behind the WSDC.
Alcon held a combination of raffles and activities, with the company's national key account manager, Mark Halling reporting it raised $4,641 through a combination of raffles and activities.
"While I realise it's a small amount, in the big picture of the challenge that all who are working towards eliminating refractive blindness are facing, we hope it can help," Mr. Halling told mivision.
Other companies that held special fundraising events included Capricornia Contact Lens, CooperVision, Essilor, Eyecare Plus, Gen Optical, Hoya, Maui Jim, Mimo, ProVision, Rodenstock, Safilo and Zeiss.
"It's fantastic to have such widespread support for the World Sight Day Challenge throughout the optical industry in Australia," said Mr. Baroni.
"Everyone who has taken part in the Challenge can be proud that their efforts, and donations will help many people in urgent need of eye care."
Globally, the World Sight Day Challenge has seen an array of interesting events including international bicycle rides, fun runs and even a charity sky dive.
Donations to the World Sight Day Challenge can still be made online at: www.givingsight.org/get-involved/world-sight-day-challenge.html