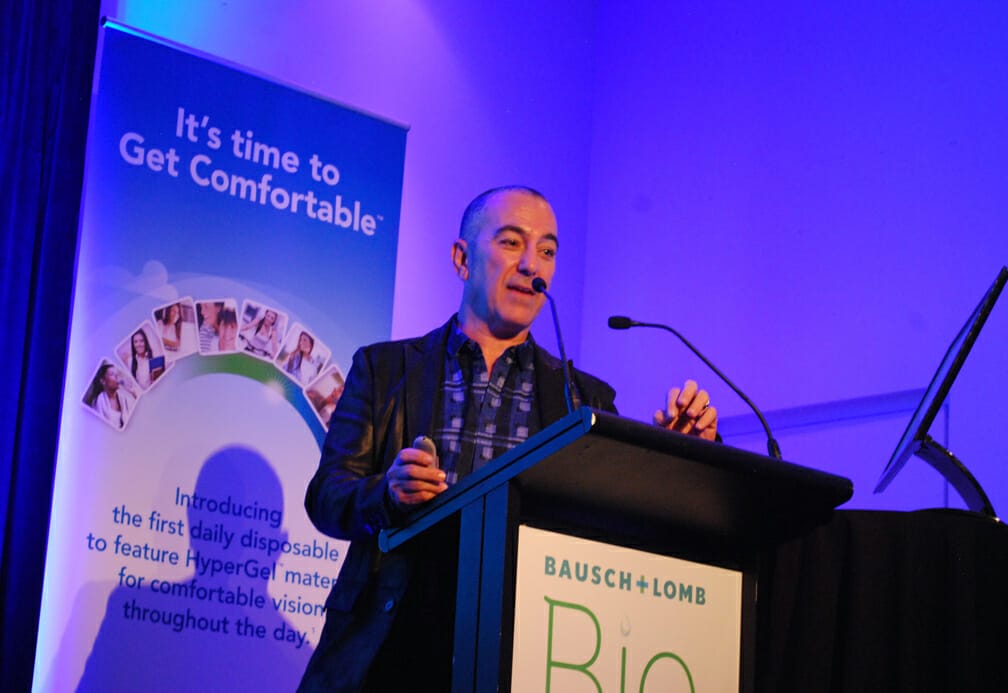 Having achieved an 80 per cent success rate when fitting Bausch and Lomb's new HyperGel daily contact lens 'Biotrue Oneday', Sydney optometrist Emmanuel Calligeros says he's convinced that these new lenses are "a good choice for daily users and exceptional for patients who have become intolerant to silicone".
In a busy Newtown practice where the customer base is discerning and always in search of the latest and greatest new product, Emmanuel Calligeros says cutting edge technology is essential to remain ahead of the game.
Mr. Calligeros was speaking to an audience of more than 90 optometrists at the launch of Bausch and Lomb Biotrue Oneday lenses at Sydney's prestigious Ivy Sunroom.
He said BioTrue Oneday lenses are cutting edge and while they "aren't for everyone, they are certainly an option that should be offered to patients".
"In general I'd recommend daily contact lenses to occasional wearers who are after a premium product featuring the latest technology, and ultimate convenience." Additionally, he said, daily contact lenses have the benefit of being safer than weekly or monthly lenses, citing a recent US study reported in mivision which found at least one pathogen in two thirds of 30 storage cases used by 16 people. "It's not just rinsing we need to be worried about when it comes to contact lenses," said Mr. Calligeros, "storage containers puts patients' eyes at risk of contamination too. Dailies don't have to be stored – so they don't carry the same risk of contamination."
Solid Selling Points
Mr. Calligeros said while there are many technical features that scientifically make this lens superior to its hydrogel and silicone hydrogel predecessors, he was more interested in the clinical observations having fitted the lenses to a number of patients.
"The HyperGel lens has 78 per cent water content – equivalent to the water content of the human cornea. That's a great selling point when you mention it to the patient and from my experience that's perhaps why the lens stays pretty well comfortable throughout the day," he said.
He said the Dk/t of 42 compares extremely favourably to other lenses as well. "But to me the Dk/t doesn't matter, what matters to the patient is how much oxygen is available to the cornea – and the Biotrue Oneday has a much higher oxygen transmission than other currently available non-silicone daily disposables."
Mr. Calligeros said the modulus and surface quality of a contact lens is integral to its comfort for the lens wearer, its ease of handling and the ability for the lens to retain its shape over the day. In the case of the Biotrue Oneday, which has a modulus of 0.49mPa, the result is impressive. "I've seen these lenses after eight hours and after 10 hours – and they're still wet. It's a property of the material used that seems to keep the lens wet all day.
"One patient told me he found the lens easier to handle than higher modulus lenses. Another patient, who previously experienced discomfort by 6pm having worn contact lenses all day, told me she could continue wearing her Biotrue Oneday lenses through until 10pm. A third said the quality of his vision was better at night and in the day using Biotrue Oneday lenses, and a young patient said the quality of his vision with the lenses was better than with his glasses, which was great because he is a keen basketballer – that's a credit to the optics of the lens." He cautioned that about 20 per cent of patients switched back to their former lens having tried Biotrue Oneday lenses without success.
Mr. Calligeros said while he has never been a true believer in the importance of contact lenses that protect the eyes from UV, in the light of constant media attention on the need to protect the eyes from the sun, the UV blocking feature incorporated into Biotrue Oneday lenses "is definitely a selling point… Being blind at 90 won't be much fun so we need to protect our eyes as much as possible," said Mr. Calligeros.
Never Give a Patient a Lens to Try
Mr. Calligeros cautioned optometrists to take time to properly fit patients with any contact lens. "The practice of optometrists giving patients a new lens to try without a thorough fitting devalues our expertise," he said.
"I never give a patient a lens to try – I fit them and get them to come back after a week, preferably late in the day when they've been wearing their lenses all day – that's when you can really assess the fit and comfort."
He concluded the presentation by saying that having fitted patients with the Biotrue Oneday lens over a period of three months, and achieved 80 per cent success, "I'm pretty happy with that".