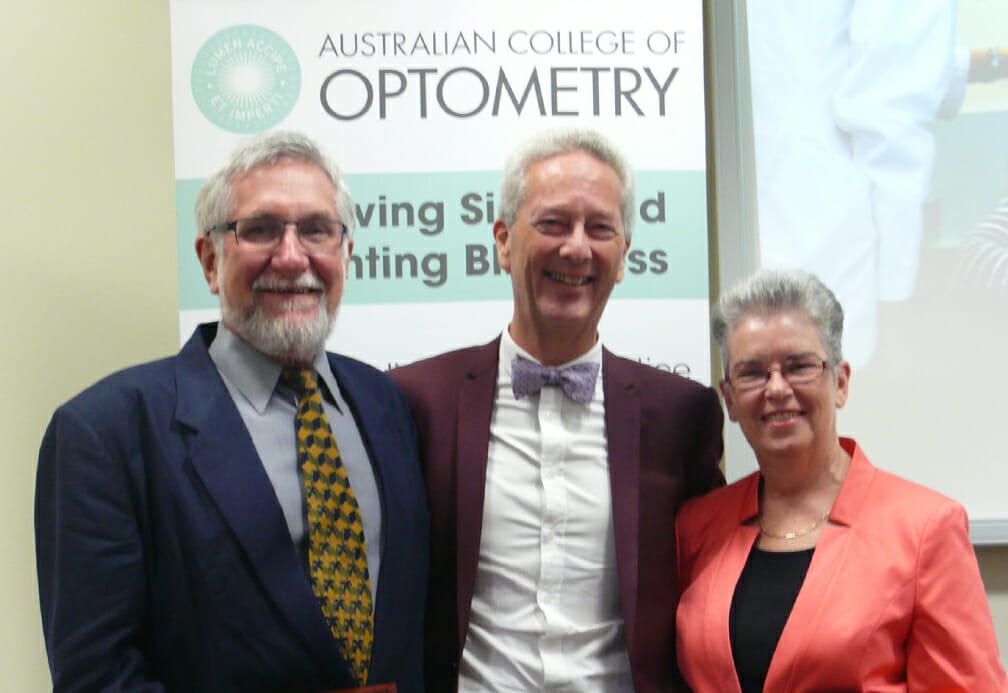 Professor Ian Bailey and Professor Jan Lovie-Kitchin (pictured either side of Professor Nathan Efron) have been awarded Honourary Life Membership of the Australian College of Optometry in recognition of their outstanding service to the College and to the profession.
In the 1970s, their research at the National Vision Research Institute (now a division of the ACO) generated the LogMAR system for visual acuity charts, which they described in their seminal and greatly cited paper in American Journal of Optometry and Physiological Optics in 1976. The LogMAR system became internationally accepted as the standard scale for visual acuity both in clinical practice and clinical trials.
Professor Lovie-Kitchin said the LogMAR system of scoring visual acuity, which is still in use, "changed the way researchers in particular measured, scored and analysed visual acuity and changes in patients' visual acuity; these are often the most important outcome measures in vision research".
"Unfortunately, the LogMAR System is still not as widely used as it should be. At Vision 2014 (The 11th International Conference on Low Vision, Melbourne 31 March–3 April) there were still a number of researchers and clinical practitioners using decimal acuity. It is OK to report one-off clinical measures of visual acuity in decimal or Snellen notations but these are not suitable for research as they do not give accuracy or precision for calculating averages or changes in visual acuity," she said.
the LogMAR system …changed the way researchers in particular measured, scored and analysed visual acuity
and changes in patients' visual acuity
Professor Lovie-Kitchin said she was "surprised, honoured and delighted to be awarded life membership".
Over a long career, she said one of the highlights was the number of under-graduate students she has taught and post-graduate research students she has supervised who have gone on to work in low vision clinics or research and teach in low vision around the world. "There were five of my PhD graduates presenting their research at Vision 2014 along with a number of other colleagues who I have collaborated with and mentored over the years," she said.
She said other highlights included the establishment in 1993 of the Vision Rehabilitation Centre in the Optometry School at QUT to facilitate low vision patient care and low vision teaching; the world-wide use of the Bailey-Lovie visual acuity charts and the logMAR system of scoring visual acuity, and the influence she has had as a clinical practitioner, teacher and researcher.
"Being able to give back to the profession and to low vision patients in various ways, especially as a Board Member of Vision Australia has also been very satisfying," said Professor Lovie-Kitchin.