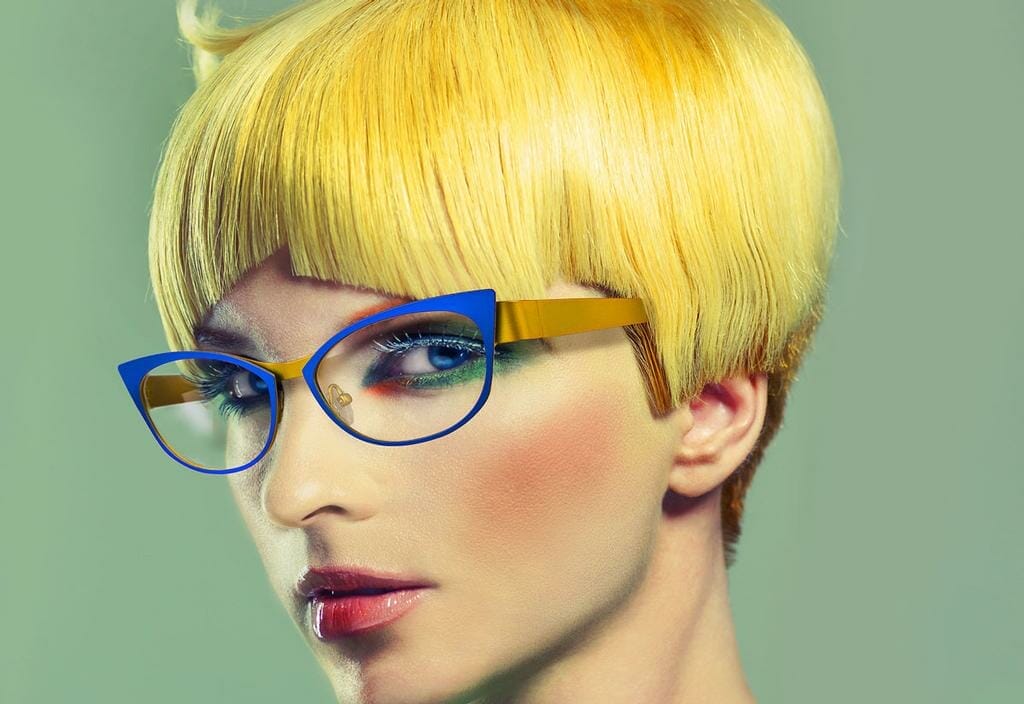 European eyewear has always been exciting in its design and structural qualities. Now a renewed and united focus on design innovation could see the eyewear coming from this culturally-diverse continent claiming even more market share.
Throughout history, Europe has taken prime position at the cultural and creative heart of the world. From this continent, we've seen the emergence of the most significant movements in art and architecture from Greek and Hellenistic arts through to the Italian Renaissance, baroque, romanticism, impressionism, and expressionism, surrealism, post modernism and deconstructivism…
Today, with over 400,000 professionally-trained designers from diverse backgrounds working in a wide range of variety of industries, this part of the world continues to be internationally recognised as a
leader in design.
Steeped in a history of craftsmanship, eyewear from European embraces fashion forward design and the latest technology…
And interestingly, design is becoming increasingly recognised by Europe's leaders "as a key discipline and activity to bring ideas to the market, transforming them into user-friendly and appealing products or services".
As parts of Europe struggle to emerge from its long running economic and social crisis, the European Commission, the executive body of the European Union, has announced that it will draw on its peoples' long held strength in this area to reignite growth.
Europe's political leaders have agreed that to ensure competitiveness in a global world, and to restore prosperity and wellbeing, all forms of innovation need to be supported. In response to this, a united commitment to the 'Innovation Union' will see design and manufacturing sectors such as fashion and accessories – including eyewear, one would imagine – supported in ventures to expand and find new efficiencies, allowing them to market to the world.
As Annette Vilhelmsen, Minister for Business and Growth in Denmark said: "Design is a key source of innovation and therefore part of the solution to the growth challenge Europe is facing."
No Surprises in Renewed Focus
Fashion directly employs five million of the 739 million people across Europe. They work for 850,000 companies. The fashion industries return EUR525 billion to the European economy and make up a significant portion of the output of high-end products for which this continent is renowned.
As the European Court of Justice described: "the quality of luxury goods is not only the result of their material characteristics but also of the allure and prestigious image, which bestows on them an aura of luxury". In essence, the cultural and artistic qualities associated with these high end products have become symbolic of Europe's culture, creativity, innovation, craftsmanship, and excellence. Put simply, when we think Europe, we think luxury.
Even throughout the most recent times of turbulence, Europe has managed to maintain that aura, and hold its position as the international leader of the high-end goods market. Products from Europe in the 'high-end' category – which includes fashion, perfumes, luxury watches, cars and yachts, designer furniture, hotels and leisure, wines and spirits, gastronomy… and of course eyewear… make up 70 per cent of the global high-end goods market and contribute over EUR400 million to the economy.
To further enhance its strength in design and innovation, the European Commission is co-financing the implementation of the European Design Innovation Platform (EDIP).
The platform was launched in Brussels in late March with the aim of:
Promoting understanding of design's impact on innovation;
Promoting design-driven innovation in industries to strengthen Europe's competitiveness; and
Promoting the adoption of design to drive renewal in the public sector.
It will be interesting to see, in a few years' time, the impact this platform has on all areas of design, including of course, eyewear.
European Fashion Now
In the meantime, there is plenty to appreciate about the eyewear – both optical and sun – coming out of Europe. Steeped in a history of craftsmanship, eyewear from European embraces fashion forward design and the latest technology while holding on tight to the highest ideals of manufacturing excellence.
The embodiment of French style and sophistication is Inès de La Fressange. A descendant of one of the oldest families of the French aristocracy, her collection is manufactured by the Paget Group, one of the last eyewear companies to have its factory in Morez, France's historical home of spectacle manufacturing in the Jura Mountains.
De La Fressange knows fashion and style. She has been a model since the age of 17 and has paraded on international catwalks for labels including Christian Dior, Jean-Paul Gaultier and Christian Lacroix. At the request of Karl Lagerfeld, she became the face of Chanel House and is its world ambassador for the ready-to-wear, accessories and fragrance collections.
Another brand to come from Europe in recent years is Hawk Union. Handmade in the Styria region of Austria, designer Katharina Plattner says her eyewear "targets a particular group of people for whom their eyeglasses are precious accessories". The initial optical collection is soon to be expanded to include sunglasses.
From the UK comes Oliver Goldsmith, which has one of the most influential design heritages of any eyewear company still in production. Established in 1926 this family run, quintessentially British eyewear brand has been instrumental in opening people's minds to the idea that sunglasses are a key accessory to any outfit. The V&A Museum kindly describe Oliver Goldsmith as the "originator of fashion eyewear", and as being "to eyewear design what Vidal Sassoon is to hair and Mary Quant to clothes".
The international re-launch of the brand in 2005, led by Claire Goldsmith, Oliver Goldsmith's great granddaughter has seen the brand's timeless designs reappear in high-end fashion boutiques and retail destinations worldwide. It's now worn by the likes of Lady Gaga and Kate Moss.
Australians Manufacturing in Europe
Of course it's not only European designed eyewear that is manufactured in Europe. Australian label (h)AZE is truly international with its optical and fashion eyewear handmade in France from Italian Mazzucchelli acetates and finished with German hinges.
Australia's iconic Paul Taylor also chooses to have his eyewear manufactured in Europe. "European eyewear is made with passion," Taylor told mivision. "I've used many different manufacturers over the years including our own homemade facilities, but the quality coming out of Europe has led me on this path. It's been so much easier to run my business and my stockists love it. Having no warranty issues whatsoever is a huge 'win-win' for everyone right through to the wearer.
Taylor has his Timeless Collection, which is available in more than 20 colours, manufactured in France. "They are also handmade, which adds to the character of collection," he said. Designs for his more recently launched Black Label Collection are made in Italy from Mazzucchelli acetate.
References
http://ec.europa.eu/enterprise/policies/innovation/policy/design-creativity/index_en.htm