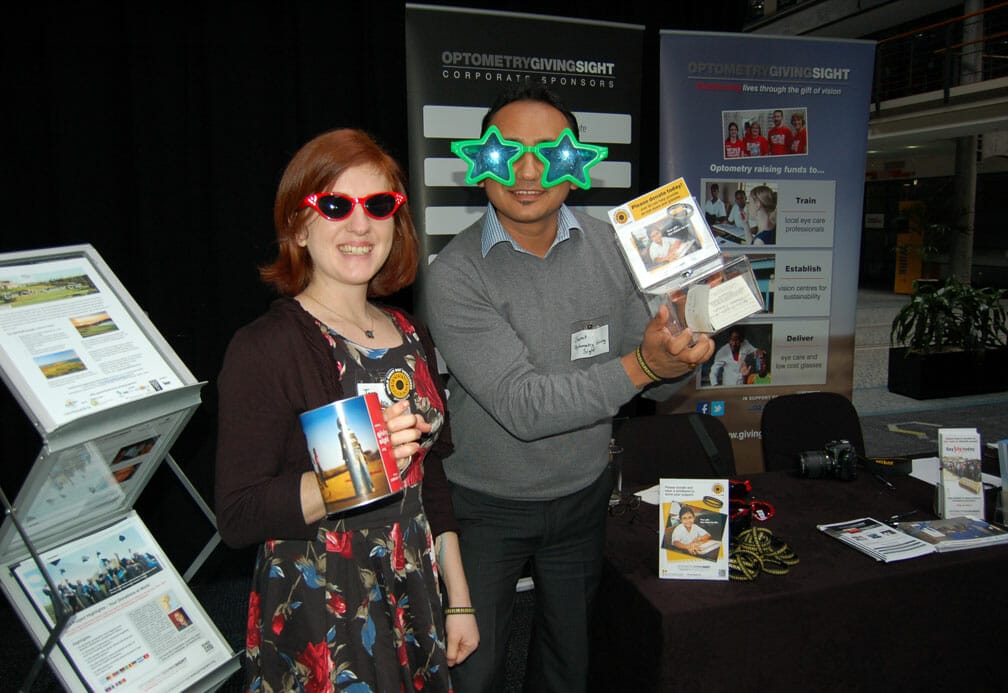 One day jam packed with 30 CPD points, two education streams, a focused exhibition from suppliers, and the convenience of a city fringe location all added up to make the third annual Super Sunday a huge success.
A massive 520 people attended Super Sunday on 15 June 2014, proving that the one day conference format is the way of the future, according to organiser and CEO of Optometry New South Wales, Andrew McKinnon.
Mr. McKinnon said the comments he received from delegates were all positive. "People thought it was really relevant and very directly targeted at people in clinical practice which is exactly what we wanted to hear. Our mantra when organising the program for Super Sunday is 'can they take the knowledge they gain away and use it when they walk into the practice on Monday morning?' That's how we try to pitch every part of the program."
He said unsurprisingly Professor Simon Chen's lecture on 'demystifying the peripheral retina' filled the auditorium while presentations delivered by Dr. Angus Turner from the Lions Eye Institute in Perth also attracted solid crowds. "Angus Turner's presentations were a little out of the box for most of our delegates who come from Sydney and the State's other metropolitan areas but they attracted good numbers. Fifty delegates attended his presentation on delivering Aboriginal eye care to remote regions of Western Australia and the Northern Territory. His presentation on Telemedicine attracted 150."
…presentation on elevated optic discs was particularly interesting because it's not a trendy topic that is often offered at conferences…
Dale Rolfe from Eyecare Plus in Foster travelled to Sydney to attend Super Sunday for the first time. "Being in Foster, it's as easy to travel to Sydney for a conference as it is to travel to Brisbane or Melbourne, which is what I've done in the past. Eyecare Plus had a members meeting in Sydney the night before Super Sunday so it made sense to do both," he said adding that having attended, he will definitely be back again.
Mr. Rolfe said his primary objective for attending Super Sunday was education. "I particularly liked the stream one presentations because there were a lot of health topics – the disease oriented lectures interested me, particularly the presentation on angle closure glaucoma which was delivered by Tim Roberts in a way that was very easy to understand – that's particularly important.
"I also liked the format of the conference, with continuous lectures, no big breaks and food served all day long." He said the only downside of this format is the lack of opportunity to catch up with old friends and colleagues. "But that's the sacrifice you make to get more educational points in a short period of time."
Ashley Seeto from Eyecare Plus in the northern NSW town of Maclean, agreed that the opportunity to pack significant educational content into a short period of time was well worth the effort of travelling to Sydney. He said Super Sunday was one of the best conferences he'd attended.
"Super Sunday was really run efficiently – the presentations ran to time, the way the assessments were handled worked well and there was plenty of variety in the content – I found something interesting in every session.
"I practice in a regional area where I see a lot of patients with pathology so I found the therapeutic presentations really beneficial in terms of updating and reinforcing my training.
"Clare Frazer's presentation on elevated optic discs was particularly interesting because it's not a trendy topic that is often offered at conferences," he said.
As a father of two small children (aged one and three), Mr. Seeto said the opportunity to acquire 30 CPD points in one day was invaluable. "There's not so much time to mingle and talk to colleagues and representatives at Super Sunday (compared to two and three day conferences, but for the stage of life I'm in, the one day format is perfect."
One optometrist who was particularly interested in spending time with suppliers was Martine Berman.
"I am in the process of taking over an existing practice in Edgecliff so I wanted to speak to suppliers about new equipment," she said. "The format of the program, with back to back lectures worked well for this purpose. I looked at the program carefully before the day and picked the speakers I wanted to hear then spent the rest of my time in the exhibition area. At most conferences, where there are set breaks for lunch, morning and afternoon tea, the exhibitors are harder to speak to, at Super Sunday they were relatively free to spend time.
"There was a good representation from suppliers of equipment and lenses but I would have liked to see more frame suppliers," she said.
Ms. Berman said in terms of speakers, highlights included Simon Chen; "he's brilliant at what he does" and Michael Chilov who presented a "very educational" lecture on AMD.
She said, "Super Sunday is a long day, but you can work it how you want to by adjusting the schedule to suit your needs".
The location of Super Sunday earned another big tick from delegates who appreciated Eveleigh's intimate and ultra-modern conference centre which is set within historic surrounds of Sydney's oldest railway workshops on the edge of the city's CBD. "It was easy to get to by train, taxi, or car compared to conferences in the middle of the city," said David Rolfe.
Mr. McKinnon said next year's Super Sunday will follow the same format but will take place on the third Sunday of May, "when the weather's a little warmer and we're well out from school holidays… that's the slot we'll hold for the foreseeable future," he said.