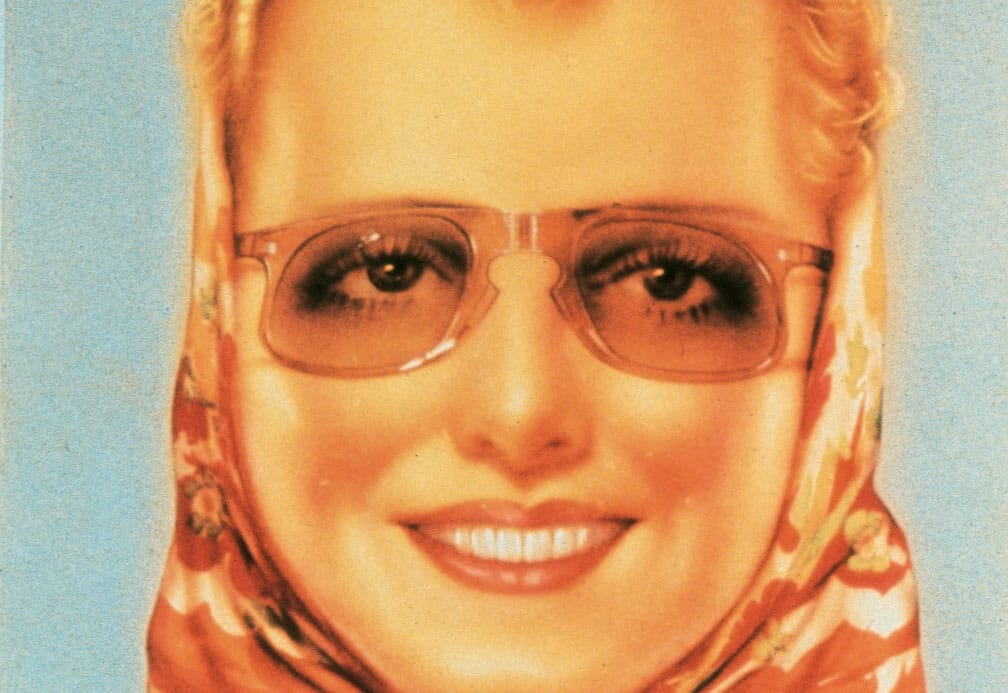 As Safilo celebrates 80 years, we look back on how this Italian company has grown to be one of the world's largest manufacturers of luxury, fashion and sports eyewear, selling to over 80,000 retail stores across the globe.
When Australia's own Marc Newson was invited to design an exclusive capsule collection to celebrate Safilo's 80th anniversary, he jumped at the chance, choosing the company's historical UFO collection as his inspiration.
Newson, who was included in Time magazine's 100 Most Influential People in the World, has received numerous awards and distinctions.
Speaking of the collaboration, Newson said "For a designer, collaborating with such an iconic brand as Safilo, with its strong DNA and history of excellence presents an extraordinary opportunity to explore new stylistic directions, combining the heritage of the brand with a fresh and innovative perspective.
"I enjoy teaming up with this large professional company that is properly industrialised and disciplined in the process of bringing the product to market, as well as a true expert in craftsmanship."
Despite having just turned 80, Safilo's "industrialised and disciplined" process was initially established well over 100 years ago – when the first Italian industrial complex for the manufacture of lenses and frames was founded at Pieve di Cadore in 1878. That complex was acquired by Guglielmo Tabacchi in 1934 and Safilo S.p.A was born.
Growth and Expansion
Tabacchi had no intention to stay small, though he executed his growth strategy carefully and over time. In 1964, he opened a plant in S. Maria di Sala, Venice to undertake the production of cellulose acetate frames.
During the 1970s, distribution and administration moved to a Service Centre in Padua with a view to expanding internationally, then, in the 1980s sales offices were established in European countries including Belgium, Spain, Germany, France, and Sweden.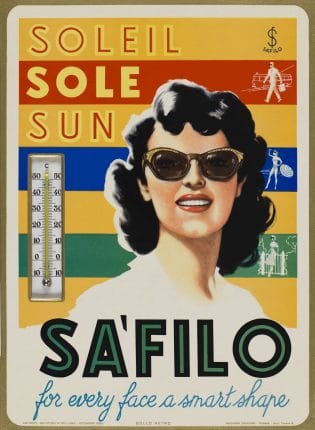 1950s
Despite having just turned 80, Safilo's "industrialised and disciplined" process was initially established well over 100 years ago…
The 80s was an exciting period in eyewear, as it increasingly became perceived as a fashion accessory as opposed to a vision tool. Consequently, Safilo continued its expansion into Europe and entered the United States with the acquisition of a controlling interest in Starline Optical Corp., one of that country's most important commercial eyewear firms.
Throughout its long history, Safilo has continued to strengthen its competitive position through strategic partnership and licensing agreements with leading luxury and fashion brands that include: Gucci (1988), Pierre Cardin (1991), Christian Dior (1996), Max Mara (1997), Fossil (1999), Kate Spade (2000), Yves Saint Laurent (2001), Bottega Veneta (2002), Alexander McQueen (2002), Marc Jacobs (2004), Juicy Couture (2005), Marc by Marc Jacobs (2006), BOSS (2006), HUGO (2007), Max & Co. (2007), Jimmy Choo (2008), BOSS Orange (2010), Tommy Hilfiger (2010), Céline (2012) and Fendi (2014).
Brand acquisitions have also been instrumental to growth: In 1996, Safilo acquired the Austrian company Carrera Optyl, becoming a leader in sports eyewear (sports sunglasses and ski goggles). In 2002 it acquired the Solstice chain and in April 2012, Polaroid Eyewear – a world leader in optics and polarised lens technology.
Focus on Innovation
Along with its investment in brands and efficient business systems, Safilo's focus on continuous development of design and technology have informed its success.
Launched in 1967, the Elasta double spring hinge is still used today, albeit with enhancements – the hinge now includes more modern versions, including 'Forte' – which compresses when open and expands when closed to ensure maximum elasticity and resistance.The evolution of ultra-light Optyl resin, patented by safilo in the '70s is used today for ultrathin frames that weigh no more than 10 grams.
A Fusion of Old and New
Both ultra-lightweight Optyl and the new revolutionary Elasta 80 hinge have been used to reinterpret the historical UFO collection for the exclusive celebratory capsule collection created in collaboration with Marc Newson.
1960s
In particular, the new capsule collection stems from revisiting the historical model personally chosen by Newson and has resulted in five different variations, through five specific materials and technologies, based on the original shape from the Safilo's archive. The assortment will consist of five optical frames and two sunglasses.
Luisa Delgado, CEO of Safilo Group said the capsule collection perfectly blends Safilo's rich history with the present and future. "Safilo celebrates 80 years of genuine passion for trendsetting eyewear. We want to share our unique story of cutting-edge Italian heritage, savoir faire, quality and innovation through an exclusive partnership with Marc Newson. Marc is one of the most eclectic and gifted creative minds of his generation. He has blended the richness of the past with the present and the future, through an exquisite capsule collection expressing an inspiring story of trust, excellence and timeless design."
Major Player
Today Safilo is the second-largest manufacturer of eyewear products worldwide in terms of turnover and the world leader in the premium eyewear segment. It is also one of the top three sports eyewear manufacturers and distributors. Sold in around 130 countries, through its own 30 subsidiaries and through more than 170 independent distributors in the other countries. Each sales branch coordinates a consolidated network of local sales representatives, who primarily operate under exclusive contracts, reaching a customer base of over 80,000 points-of-purchase, including optical dispensers, optometrists, ophthalmologists, distribution chains, department stores, and other specialised dealers.