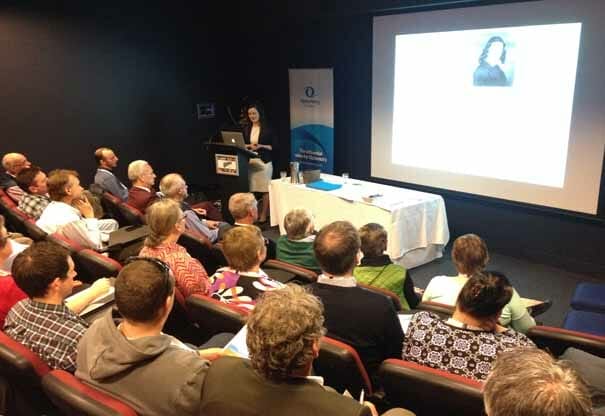 This year saw Optometry Tasmania celebrate a decade of Tasmania's Lifestyle Congress. TLC X, as it was dubbed, provided a unique opportunity for delegates to hear some of Australia's leading optometric educators in an intimate setting, all situated right on the historic Hobart waterfront.
As is tradition, this year's TLC started with an opening cocktail party on Friday evening. It's a nice, quirky arrangement, unique to the Tasmanian conference, and gives the delegates a chance to talk to the weekend's speakers, as well as spend some time with suppliers in the trade display. The TLC Trade Expo continues to be a highlight, because with only 100 delegates, but all major companies represented, it provides one of the best opportunities in the country to try out new equipment and learn about new products. The big ticket items this year were the scanning laser ophthalmoscopes and OCT machines, and company reps were kept busy demonstrating the ever-increasing versatility of these devices.
Since its inception, TLC has been held at The Old Woolstore Hotel on Hobart's waterfront. This unusual hotel is built within the shell of an historic wool storage shed, and is within walking distance of the world famous Salamanca Market. As a venue, the Woolstore works extremely well. The food at the opening drinks showcased some of Tasmania's best produce, including, of course, seafood. The wine and beer were all, naturally, Tasmanian, which is a nice touch. This year, as well as TLC, the Woolstore was hosting the entire North Melbourne Football Club, who were playing Adelaide at Bellerive Oval that weekend. There was certainly a lot of blue and white to be seen.
Following the drinks, delegates moved into the Theatrette for some Friday night education. The Woolstore Theatrette is one of the reasons that TLC works so well. A small, tiered seating venue, it allows the small-scale event to still have that 'conference' feel. Friday night lectures are more relaxed, and this year kicked off with former Australian test cricketer, and current ABC radio commentator Geoff Lawson presenting in his role as ambassador for Optometry Giving Sight. OGS is the official charity of Optometry Tasmania, and Geoff, who is also an optometrist, is a popular speaker who has been to TLC before.
Dominic's laid-back brand of folk-rock was perfectly suited to a conference based around the 'Tasmanian Lifestyle
Leading Tasmanian ophthalmologist Dr. Paul McCartney spoke next. Dr. McCartney is a regular at TLC, and this year he presented his experiences with the femtosecond laser as a surgical instrument, both for cataract surgery and other procedures. Femto is a hot topic in ophthalmic surgery at the moment, and using a large series of patients, Dr. McCartney was able to show both its benefits and its limitations.
Piers Carozzi from the Australian College of Optometry made his return to TLC. Piers co-ordinates the Outreach Services of the College, which provides eyecare to some of society's most marginalised people. His presentation 'Case Reports from the Fringe' was a series of incredibly personal stories of extremely unconventional eyecare, set against the backdrop of Melbourne's homeless. As usual, Piers proved to be both funny and thought provoking.
Rounding out Friday night, Melbourne contact lens specialist Jessica Chi gave a fascinating presentation on methods of improving contact lens comfort in order to retain more patients in lenses. Jessica focused on the factors behind discomfort, and on the modern breed of daily disposables which, via differing technologies, attempt to solve the problem.
European Eyewear Low Vision Seminar
On Saturday morning TLC takes a break, and the European Eyewear Low Vision Seminar fills the gap. This 'conference within a conference' is now in its sixth year, and is fast becoming the 'go to' gathering of low vision practitioners in Australia. It was pleasing to see so many of the regular TLC delegates attending the specialised low vision lectures. The quality was high, with well-known Australian low vision experts Dr. Sharon Bentley and Dr. Alan Johnston being joined by Australia's king of magnifiers, Graham Sheil. Dr. Bentley, who is currently at Deakin University, spoke on the issue of falls in older people with low vision, and on the psychosocial aspect of low vision, something that is rarely considered in private practice. This dovetailed nicely with Graham Sheil's entertaining talk on aging and low vision. Dr. Johnston gave a comprehensive review of complex telescope systems for low vision, many of which were on display in the trade expo.
Keith Mackriell Lecture
The highlight of TLC is always the Keith Mackriell Lecture, named in honour of the first CEO of Optometry Tasmania, and presented by an Australian optometrist. This year, the University of Melbourne's Dr. Laura Downie gave the Mackriell Lecture, and took delegates on a journey through time, following the development of the contact lens. It was both interesting and comprehensive, and Keith Mackriell was on hand to thank Dr. Downie and make a small presentation. It is always great to see the former ABC journalist, and author of the history of Tasmanian optometry, back at TLC. Keith was the driving force behind the first Congress a decade ago, and invented the unique name to go with a unique conference.
Saturday also saw the first of three presentations by the keynote speaker, Professor Nathan Efron from QUT. Prof Efron needs no introduction to Australian audiences, and as he mentioned at the start of his very first talk, it had been 28 years since he last lectured in Tasmania! He certainly made the most of this opportunity. His first talk detailed his 15 years of experience using the corneal confocal microscope to look at the effects of contact lens wear. Talking about the technique that he pioneered, Prof. Efron posed the question "Are we really any wiser about the effect of contact lens wear on the human cornea?"
Rounding out the day were Adrian Bell and Paula Katalinic, both of whom were giving the first of multiple presentations at TLC. Adrian will be well known to Queensland optometrists, but this was his first time lecturing in Tasmania. An extremely engaging and entertaining speaker, his first talk explained what he has learnt about children's eye examinations after 30 years, and in a nutshell the answer was 'a lot'! Paula is from the Centre for Eye Health in New South Wales and spoke at length about the diagnostic techniques available for macular degeneration, and how often we should be reviewing our patients at risk of MD.
Congress Dinner
This year, the Saturday night congress dinner was at the historical Henry Jones Art Hotel, situated in the former IXL Jam Factory on the waterfront. Clearly converting old buildings to hotels is a Hobart phenomenon! For the first time in a while, the dinner featured live music. Hobart singer-songwriter Dominic Frances performed original songs from his two albums, using an amazingly diverse collection of guitars, banjos and ukuleles. Dominic's laid-back brand of folk-rock was perfectly suited to a conference based around the 'Tasmanian Lifestyle'. In an evening relatively devoid of formalities, Hobart optometrist and former OAA national President Micheal Knipe received a certificate of merit for services to optometry and the association.
Focus on Contact Lenses
Sunday started early, at least for some, with the contact lens breakfast, co-sponsored by the Tasmanian chapter of the Cornea and Contact Lens Society. Once again, Professor Nathan Efron was both entertaining and provocative, as he dealt with the emergence of daily disposable lenses, and asked, in 2014, what reason is there to fit a lens that is worn more than once?
The rest of Sunday was a mix of ocular pathology and paediatrics. Adrian Bell returned to talk about the visual implications of the use of handheld technology by kids. Dr. Laura Downie summarised the current research on nutrition and macular degeneration. Paula Katalinic talked about the CFEH's long experience with the relatively new technology of ultra-wide scanning laser ophthalmoscopes. There were also two very popular newcomers to TLC – ophthalmologists Dr. Xavier Fagan and Dr. Andrew Traill. Dr. Fagan, from Melbourne, spoke on retinal vascular disease and anterior uveitis, and Dr. Traill, who is based in Hobart, gave a presentation on vitreoretinal surgery that was chock full of videos of the many procedures he has done.
TLC X certainly lived up to its theme this year, which was "'The New Century: New and Trusted Techniques for Young and Old". And during the Sunday sessions, delegates were treated to a video announcement from the USA, via the magic of YouTube, where popular past presenters Dr. Joseph Sowka and Dr. Lori