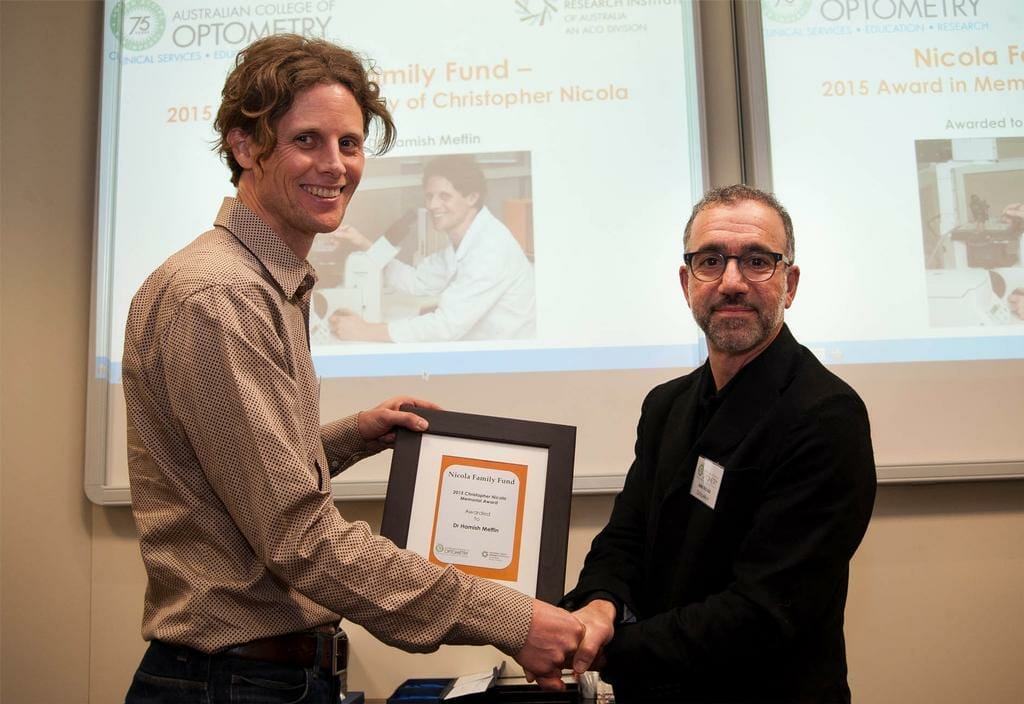 The Australian College of Optometry (ACO) has announced the establishment of the Nicola Family Fund to support young researchers as they begin their career in vision research. The announcement was made at the College's Annual General Meeting in May at which time certificates were also awarded to graduates of Australia's first online course in ocular therapeutics.
Maureen O'Keefe, Chief Executive Officer of the Australian College of Optometry told the audience the Nicola Family Fund had been established as a result of sponsorship of optometrist John Nicola's commitment to run in the Marathon de Sables, an ultra-marathon through the Sahara Desert that Mr. Nicola withdrew from earlier this year for family reasons. She said more than 70 people sponsored Mr. Nicola including family, friends, supporters and members of the national and international optometry community.
Following Mr. Nicola's decision to withdraw from the marathon, sponsors elected to contribute their donations to a capital fund that will exist in perpetuity. She said the fund would be open to accept further donations, allowing the fund to grow over time to further support and encourage the next generation of researchers. Each year a member of the Nicola family would be invited to present the award.
Ms. O'Keefe said the ACO was "very grateful to John, his wife Sammy and family for their support of the ACO and its research through the National Vision Research Institute".
Mr. Nicola presented the inaugural award to Dr. Hamish Meffin, a senior research fellow in the NVRI, funded by the Australian Research Council Centre of Excellence for integrated brain function. Dr. Meffin, who is trained in mathematics, physics, and neuroscience is conducting research that involves two main themes combining theoretical and experimental approaches to understanding how neural circuits in the brain give rise to visual perception. Additionally he is researching the development of a bionic eye to restore vision to people with degenerative diseases of the retina.
The award will fund travel to attend and present at a major science conference in Europe later this year.
Prof Ian Gutteridge, ACO Certificates in Ocular Therapeutics (COT) Director congratulated 41 inaugural graduates of Australia's first online course that enables Australia's registered optometrists to gain credentials to endorse and prescribe scheduled medicines and pharmaceuticals.
The course, which Professor Gutteridge described as "rigorous" engages 31 lecturers representing ophthalmologists from Victoria, New South Wales, Queensland and New Zealand.
Awards for ACO Most Outstanding Graduate 2014 were presented to Homma Ebrahimi – University of New South Wales; Luke Higgins – Flinders University; Dr. Ritika Kataria – University of Melbourne and Ronald Nguyen – Queensland University of Technology.
Additionally on the night, ACO Fellowships were awarded to Jessica Chi; Joseph Choi; Jennifer Currie; Michael Hare; Glenn Howell; Ian Kent; Dr. Stephen Vincent; Professor Harry Weisinger, Dr. Anne Weymouth and Dr. Josephine Li.
The Lions Senior Research Fellow Award for 2015 was presented to Shaun Cloherty by Rodney Jackson FACO.
NEW ACO-COT COURSE ENROLMENTS
A new ACO-COT course will commence in September. Enrolments are open from 1 July. For information and an enrolment form visit www.aco.org.au/professional-development or email: acocot@aco.org.au for details.