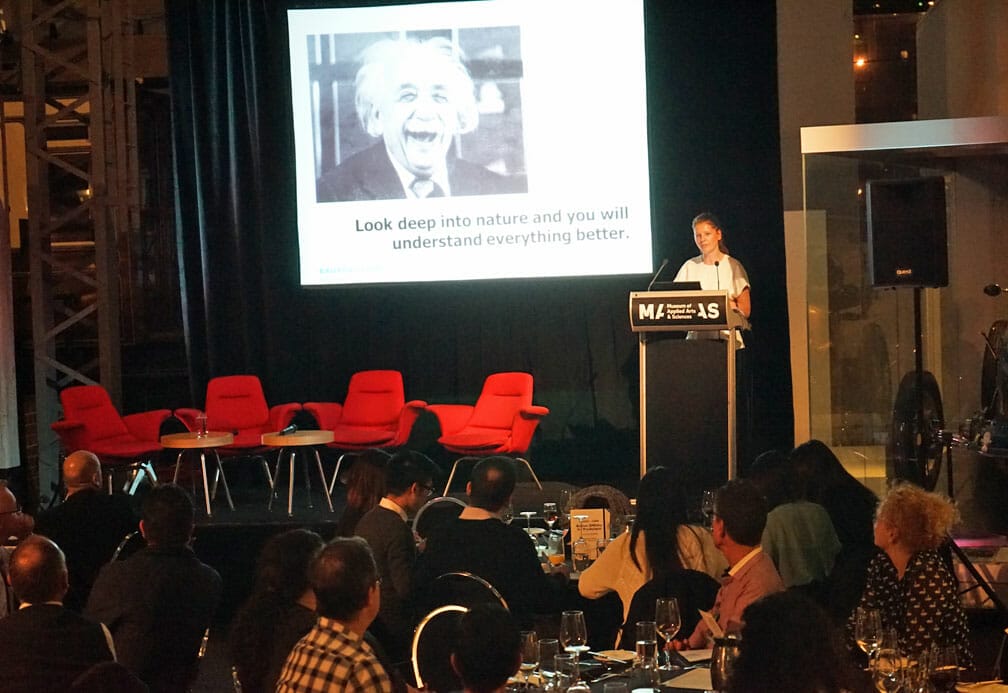 Bausch + Lomb launched its Biotrue OneDay contact lenses for patients with presbyopia at a roadshow for optometrists. Presenting in Sydney, Bausch + Lomb Marketing Manager for Optometry Marit Hannemann reminded optometrists that with an ageing Australian population, the lion's share of their patients were aged between 35 and 64 and in need of vision correction.
Despite people's increasing interest in contact lenses as we grow older, there is "a disconnect" between the increasing need for vision correction as we age and the use of contact lenses to correct vision, says Marit Hannemann, Bausch + Lomb's Marketing Manager for Optometry.
Welcoming guests to an information packed dinner event, Ms. Hannemann said 77 per cent of presbyopes don't know there is an alternative to wearing spectacles. This was understandable, she said, because the technology, especially for daily wear, is relatively young. The only opportunity people had to find out about contact lenses for presbyopes was by speaking to their eye health professional.
Breaking down contact lens sales she said sales of frequent replacement contact lenses (FRL) comprised 60 per cent spheres; 9 per cent presbyopic lenses and 28 percent toric whereas sales of daily contact lenses comprised 83 per cent spheres; 14 per cent toric; 2 per cent presbyopic multifocal lenses. "So that tells me there are possibly not enough solutions available to patients in the daily contact lens market," said Ms. Hannemann.
Encouraging patient education and practice building via contact lens sales, she said, "we have the largest patient base sitting between 36–64 year old; that's 50 per cent of the patients – they rely on you and trust you to recommend the right vision correction means for them; they are highly interested and loyal, and they have the largest disposable income. They're right in front of you, in your databases. You need to have the right solutions to build your practice – both commercially and from a reputation perspective.
Science Behind the Technology
It was up to optometrist Jason Holland to explain the science behind Bausch + Lomb's new Biotrue Oneday contact lens. Mr. Holland runs a glaucoma and advanced dry eye clinic in Queensland and is currently the Director and Treasurer of Optometry Australia Queensland and Northern Territory.
Additionally, he sits on the Optometry Australia National Board. A member of the Cornea and Contact Lens Society, he has a special interest in fitting contact lenses in particular rigid lenses for challenging corneas and ortho-keratology.
Mr. Holland said the science behind the hypergel is ideally placed for a one day wearer because, inspired by the biology of the eye, it combines the lens polymer with Surface Active Macromers which mimic the lipid layer of tear film to resist dehydration.
Described by Bausch + Lomb as a "next generation contact lens material" the hypergel was neither hydrogel nor silicone hydrogel. It retains 98 per cent of moisture throughout the day, ending the day with more moisture than many lenses begin with; with an oxygen flux of 93 per cent, it meets the oxygen levels an open eye needs without the use of silicone and it matches the cornea's 78 per cent water content, which promotes natural comfort. Additionally, the lens reduces solar exposure to the eye with UV block.
Mr. Holland said the lens also "handles well", a feature that is particularly important for presbyopes who have trouble with close up work.
Halting the Drop Out
Speaking of the new lens as a practice building tool, Mr. Holland said Biotrue Oneday was "gold" because the target market was already familiar with contact lenses as a product, and were open to something better than they had previously experienced. They simply needed to have the features and benefits of this new technology described to them.
He said the reasons behind contact lens drop out were:
43 per cent: discomfort
18 per cent: fear of or history of eye infections
12 per cent: expense
10 per cent: inconvenient to wear
8 per cent: handling issues
4 per cent: vision not as good as with glasses.
He explained that when patients expressed dissatisfaction with comfort levels associated with contact lenses it was important to "burrow down" into the factors behind that dissatisfaction because their measure of comfort may not be physical… it may mean they have uncomfortable vision driving home; blurry or fluctuating vision, dryness or tired eyes.
"Presbyopes experience changes across their wearing experience – throughout the day they experience reduction in their lens performance – that blurry fluctuating experience might not be a refraction problem but a wettability problem – so you need to prescribe a lens to suit the person's vision and lifestyle so that it's comfortable at the end of the day," he said.
Additionally it was important to ask questions because, "two out of three people in a survey away from the consulting room experienced discomfort but only about a third are telling us… Only one third of patients who experience blurry or fluctuating vision talk to their doctors about it," said Mr. Holland. "People assume that as vision experts we've chosen the best lenses for them."
He advised practitioners to regularly ask patients how many days of the week they were wearing their contact lenses and to compare this with their previous responses. "If they used to wear them 7/7 and they now wear then 4/7, they're on the slippery slope to opting out."
Mr. Holland said there was an increasing number of people who were opting for intraocular lenses. "A survey clearly showed that the number one reason a presbyope chooses to spent AU$14,000 on IOL was frustration… every time a presbyope sits in your chair you should ask, are there any times in your busy life when you feel frustration with glasses – where they limit you, frustrate you or slow you down. This gives you a starting point to talk about contact lenses," he said.
Multifocal Contact Lens Design
Optometrist Nadia Michaels spoke about the multifocal contact lens design. She said the fitting design of the Biotrue Oneday for presbyopes was exactly the same as its sister product Purevision 2 for presbyopia – with near vision in the centre and add powers in the centre, transitioning into a wide intermediate zone which progresses into an accurate distance power into the periphery of the lens but all within the central 6mm of the contact lens.
Speaking of the challenges of fitting multifocal contact lenses she said, "We've all experienced frustration with fitting multifocal contact lenses, even when following instructions to the letter T. It's also frustrating for the patient… For me it's not just the time factor, it's coming across to the patient like we do not know what we are doing," said Ms. Michaels.
She cited research out of the US and France which found that four out of 10 contact lenses were not successfully fitted by the first or second consult and that three out of 10 patients were never successfully fitted with multifocal contact lenses.
She said that while the frustration was due to not knowing the power of progressive lenses… this could be better understood by looking at power profiling, which looks at how the power of the contact lens changes from the periphery to the centre.
Bausch + Lomb describes its "next generation 3-Zone Progressive designed as "precisely tuned to deliver natural vision near, far and everywhere in between", so that "regardless of the power of your fit… you can expect the most predictable fitting experience, which means less chair time and more satisfied patients".
In a panel discussion at the conclusion of the evening, optometrists Narelle Hine; Whitney Lam and Nadia Michaels, who have each fitted 10 patients with the Biotrue Oneday contact lens agreed that the fittings had presented no problems.
"I've been fitting senior citizens and basically anyone who came through the door aged 45–60 with these lenses; and I didn't need to do much near loading at all… and I didn't have to go through any second (fitting) tutorials… out of my 10 patients, they all thought it was the most comfortable lens when it first went on; all but one were experienced presbyopic lens wearers – they'd been wearing silicone hydrogels," Ms Hine said.
Ms. Lam said fitting was easy, as was getting patients to take the lens off.
"I didn't need to allocate more than 20 minutes to education," she said.
A Practice Grower
Ms. Hines said the lens was a practice grower because it was suited to presbyopes wearing contact lenses who feel they're a bit dry, and even for more advanced presbyopes who find glasses don't always suit their needs, "such as business people who turn into weekend warriors".
She said when patients come in during the day to select frames, she will often fit them with contact lenses to help with the selection process then invite them to "test drive" the lenses back at work for the remainder of the day. "They come back and I'll take them out later in the afternoon and some will say the lenses were interesting, others say they have potential and others say book me, I want them," said Ms. Hines.