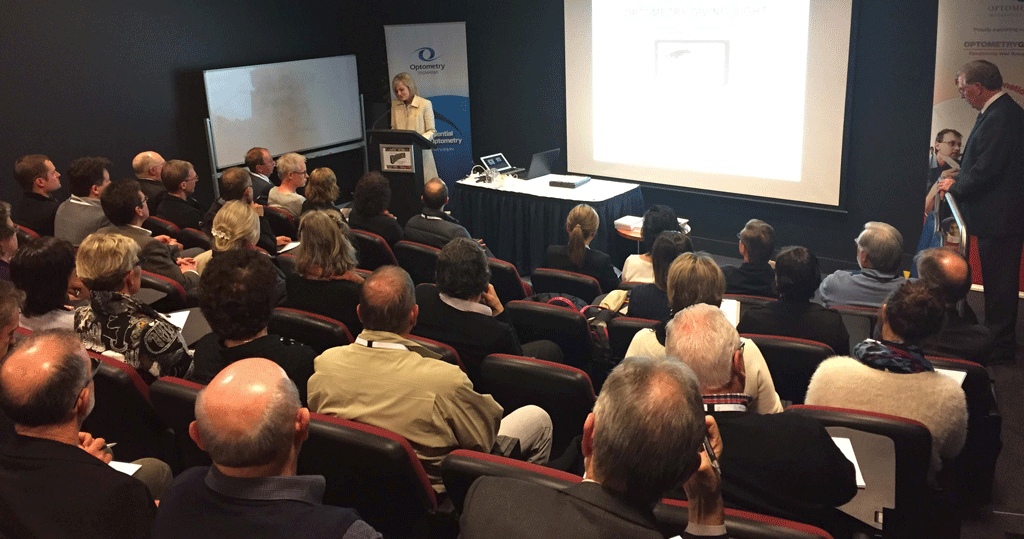 Optometrists from around Australia descended on picturesque Hobart in late August for Optometry Tasmania's annual Tasmanian Lifestyle Conference (TLC). Optometry Tasmania's CEO Geoff Squibb said the event achieved the best attendance since compulsory CPD was introduced in 2011.
"The Old Woolstore was at capacity with over 100 delegates, many of whom came from inter-state," he said.
Mr. Squibb said TLC has developed a reputation for being a boutique conference with strong clinical content, complemented by an enjoyable social program, high quality Tasmanian food and wine and excellent opportunities for delegates to meet exhibitors and try new equipment.
"Highlights among this year's speakers included America's Professor Joe Sowka and Dr. Lori Vollmer. They've presented at TLC four times over the last eight years and are always popular," said Mr. Squibb.
"Another highlight was Sydney behavioural optometrist Liz Jackson, who delivered the annual Keith McCrill lecture on accommodation and convergence in children among other lectures."
Mr. Squibb said delegates were interested to hear from New Zealand's low vision specialist Rodney Stedall who spoke at the dedicated low vision seminar on how optometry practices could incorporate low vision services into practice as well as low vision diagnosis, aids and technologies.
Mr. Squibb said TLC offered 40 CPD points, including 20 therapeutic points, all of which could be acquired at the conference or by going online in the ensuing two weeks. "Our lectures are all available online so that delegates can refer back to the content and complete the assessments. The reason we do this is to reinforce the learning – evidence indicates that this process delivers more retained learning value than clickers," he said.
Strong Exhibitor Presence
Mr. Squibb said delegates had expressed their appreciation for the number of equipment suppliers who had travelled to Tasmania to exhibit at TLC.
"TLC offers plenty of time for delegates to mingle with the exhibitors and try the equipment. Virtually every practice is represented so it is a great way for suppliers who come to TLC to show off their complete range in one spot without having to tour the State. Many exhibitors took the opportunity to visit customers, deliver new equipment and service existing equipment in the lead up to the conference, which of course makes great sense."
Stay tuned for TLC 2016 details.