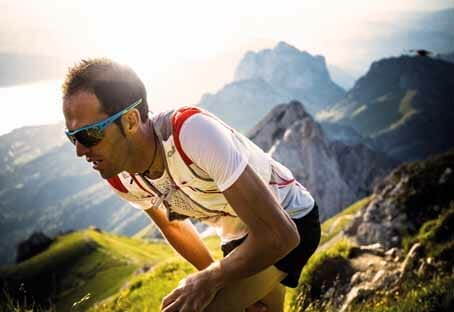 In the glory days of mountaineering, when explorers were scaling as-yet-unconquered peaks, a small French optical company found its niche supplying eye protection for mountaineers, or "glacier glasses"
as they were known.Fast-forward to 2015, and while Julbo has expanded its range, the dedication to the great outdoors is still a passion that's lived by its designers, as senior designer Clément Bonnet-Mathieu told mivision.
Julbo has always had an affinity for the mountains; not surprising when you consider its home – France's Jura region – is regarded as France's premier cross-country skiing area.
A small family business that was started in Morez in 1888, the company originally made optical frames but soon specialised in protection eyewear for people working in the mountains. In 1950, Julbo revolutionised the market with the introduction of the first glacier sunglasses, then in 1970, came the Vermont glacier sunglasses. Mountaineers setting out to conquer the highest peaks in the world could now do so with proper eye protection.
But Julbo did more than simply send its glasses to the highest peaks, it's technical adviser Yannick Seigneur scaled the world's most fearsome peaks – among them Everest, K2 and Makalu – to develop and test the lenses. It's a tradition that continues today, with many team members also being keen athletes.
…we're a family business with very strong relationships among the people who work here…
At the turn of the millennium, firmly established as a benchmark brand for sun protection in extreme conditions, Julbo spread its wings to produce a sun range for children, as well as sun and prescription eyewear for all adventure sports.
Tell us about the origins of Julbo and what makes this brand so special.
Julbo was started by Jules Baud in 1888 in Morez. It originally made optical frames and specialised later in protection eyewear for mountainous conditions. Today, Julbo is owned by Christophe and Matthieu Beaud. Their grandfather had his own eyewear business and their father bought Julbo 30 years ago. Matthieu is an expert in metal-mould manufacturing and injection techniques; he is the Technical Director, Christophe is Julbo's CEO.
The brand has grown in the past 20 years, building its success on its know-how in injection plastic and its ability to listen to its users and build for them technical frames that meet their needs. As well as performance sunglasses and goggles for extreme conditions, Julbo now has a baby range, offering outstanding sun protection for children and makes precision eyewear for a range of different outdoor sports. In 2010, with the launch of its Rx Trem range, wearers of prescription eyewear could participate fully in their chosen sport.
Why choose Julbo over other brands?
Julbo customers want "usage focused" eyewear, including sunglasses, goggles and optical frames with the corresponding technical features. Our customers are want to differentiate themselves by selling technical eyewear.
Tell us about Julbo's design awards.
Julbo has been awarded the Silmo d'Or awards several times: once for its Sport sunglass prescription program Rx Trem, once for its Skydiving (but also for any kind of very active sport) frame called Tensing Flight, once for its Baby optical frame 'Tango' perfectly adapted to little kids' morphology.
Who are the designers of Julbo?
The team is composed of George Muhlematter, the mentor of the team. George has over 40 years of eyewear designing experience. He creates his projects from acetate and passes on his knowledge to his younger colleagues.
I have worked at Julbo for the past 13 years. I'm a passionate alpine skier and snowboarder. I draw my projects on CAD software before turning it into 3D printing. Funnily enough, I came to Julbo after winning a competition that the company organised with my design school. I created a concept of revolutionary protection eyewear and have been with Julbo ever since.
Flavien Saniard is an engineer and designer. He is a long distance trail runner who completed his tertiary education in Western Australia.
Han Dinh joined the team two years ago and is focused on ski helmets and packaging, after a former experience in watches.
All designers work on the sunglasses range, even if each also focuses on a specific other type of product (adult optical frames, ski goggles, ski helmets, kids' optical frames, etc.).
Where does the inspiration come from for Julbo designs?
We're a family business with very strong relationships among the people who work here. We spend a lot of time together and work in teams on important projects, so that there is a little bit of everyone in
each design.
Many of our designers are keen athletes and that helps us to understand better what the needs of an athlete are when wearing eyewear: their head position and angle, their movements are key to find out what eyewear solution is best for them.
Describe the production process. Where is Julbo made?
When Christophe and Matthieu took over the company, Julbo products were 95 per cent made in China. They decided to integrate the different steps of the product development and production process. In 2006, they created a production facility in Romania. This started with five employees – we now have over 150! We also have a mould production facility at our French headquarters, as well as our own Rx Lab in Longchaumois to surface, cut and mount our own correction lenses in our own sport frames.
We have different lens suppliers. The main one is producing the NXT Material. NXT is a unique material (similar to Trivex) which combines a great impact resistance, lightness and the best optical quality. This is manufactured in Italy.
How does your optical range differ from the sun ranges?
Our sunglass range is based on different product "families", that is Mountain, Speed (for Trail running and Mountain Bike), Nautic for water sports, Junior and Travel (for every day usage) and a new 'Collector' range in which we revisit styles from Julbo's history.
The design process for optical starts the same way as for sun. We set target groups (for example, kids starting school) and try to figure out what are their needs in terms of comfort, stability, but also the type (thickness) of lenses they might need to use and of course the relevant material to avoid breakage, injury, etc.
We would not go on a new market segment if we were not able to bring something different from what is already available.
What do you think will be the new next trend in eyewear?
Whilst we are more sport focused than fashion, what is interesting is the "vintage" trend. We re-launched our original glacier glasses in 2014 and it was an enormous success. People like brands that have roots… that are authentic.
The growth of trail running worldwide is very inspiring for us. One member of our team is Andrew Tuckey, a strong trail runner from Australia.
We are also just about to release a brand new ski goggle which can never fog, thanks to a double side axis on which the lens is hooked so that you can open it to increase the ventilation or close it like any other goggle. No such product exists on the market.
Julbo is distributed in Australia by Fluid Distribution + Agency P: 0430 512 989