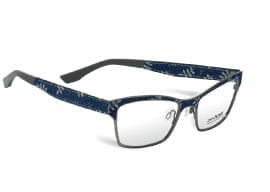 X-Ide's Nespola frame interprets denim: a material that is surfing the crest of a design wave worldwide.
The designers have offered up two versions this season: affixed to the top rim or sewn on the temples. Particularly noteworthy are the types of denim chosen: buyers can choose from plain denim in a selection of colours, a floral printed denim and a glittery denim, which X-ide claims,
is an industry first.
Visit: x-ide.it