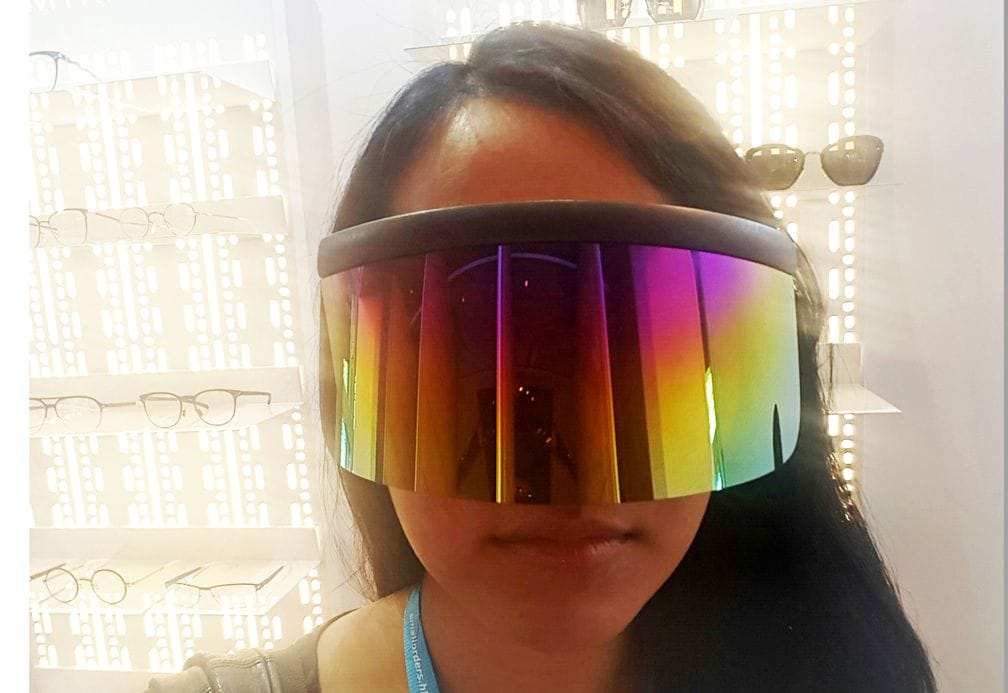 The Hong Kong Optical Fair at the Hong Kong Convention and Exhibition Centre is always massive. Celebrating its 23rd year, the 2015 Fair in November was larger than ever, with 752 exhibitors spanning 25,888 square metres and attracting more than 14,700 buyers. Everything in the optical industry – from parts and accessories, to high end frames, budget frames, frame parts, instruments, even lathe machines – is exhibited under one roof spread over two massive levels.
Hong Kong Optical Fair has flourished. What once felt like a volume driven wholesalers' market, has a much stronger emphasis on higher end, with the entire upper level of the fair dedicated to the 'Brand Name Gallery'. Here, over 220 international industry leaders were showcased, including Kenzo, Masaki Matsushima, Mykita, Oliver Goldsmith and Red Dot Award-winning Seesun. Along with fashion and flair, technology was big in the Brand Name Gallery. A vast array of different frame constructs were exhibited, including various hinge designs with a big push towards screw-less hinges.
Lightweight materials such as carbon fibre, titanimum and stainless steel allowed frames to feel like almost nothing when worn, whereas materials such as horn, wood, precious metals, stones and leather were all used to elevate frames in a market that is increasingly difficult to differentiate. I had a lot of fun playing with all these frames, including the ultra cool visor, "Daisuke" by Mykita in collaboration with Bernhard Willheim (above). Futuristic and space-agey, but it apparently has been doing really well, especially as Lady Gaga has been seen sporting this look.
I enjoyed seeing frames that could be personalised by the customer after purchase with interchangeable temples, or the ability to add jewels and charms. China-based brand U.I Station showcased a funky, innovative frame concept that comprised four lens shapes, with up to 50 different frame fronts, and 50 different temples to choose from. The user could affordably change their look with a simple click – especially useful when expensive prescription lenses are required.
The user could affordably change their look with a simple click – especially useful when expensive prescription lenses are required.
Lower Level
The exhibition's lower level housed exhibitors supplying anything and everything related to the optical business: frames, eyewear accessories, lenses, reading glasses, sporting and professional eyewear; and diagnostic instruments.
I was astounded to discover polarised sunglasses available at 32c a piece. What's the catch? Minimum order quantity (MOQ) of 6,000… of the same colour. That inventory could take a little while to whittle down! MOQ – and attitude – varied hugely from stand to stand. Some were unwilling to entertain conversation unless quantities in the thousands were discussed, others were much more flexible, simply increasing the price per unit as quantities reduced.
I also saw some nifty inventions such as ready-made readers with built-in lights or transition lenses. One I particularly enjoyed was the "makeup ready-made magnifiers", pictured in pink (left), which had one lens that swivelled from eye to eye for use when applying eye-makeup. Not the most fashionable, but very practical.
In the Main Hall, I was impressed by the quality of some products. I found screw-less hinges, similar to that made famous by the likes of ic! berlin, available in great shapes and quality materials. I also found some really interesting frame shapes and designs made from unique materials including horn and hand-carved wood. These were all sans the branding, however at a fraction of the cost of the branded frame prices. My take home was: companies dealing in volume copy the innovation of brand leaders, then mass produce at a fraction of the cost. Not much surprise in that, although what is surprising is how quickly they are catching up.
What Else?
If the gigantic trade fair wasn't enough to tempt (or confuse) you, there was also the opportunity to gain some continuing education points by attending the two-day Hong Kong Optometric Conference that runs alongside Hong Kong Optical Fair, now in its 13th year. This year the theme was "Anterior eye disease and dry eye syndrome". The program looked fantastic and included the likes of Milton Holm and our own John Mountford.
There were also some free-to-attend seminars, focussed on trends in the optical industry. I particularly found interest in "How to leverage the latest industry, retail and consumer trends to grow your business" presented by GfK, a German market research company. They told us frame and lens sales consisted of 75 per cent of the income provided to the optical industry, making the grand size of Hong Kong Optical and other like fairs understandable. They also reported that within frames, the largest growth is in the high and low ends, with a decline in the middle. Unsurprisingly, they recorded the Wayfarer as being the most successful frame shape in the past year. However, of the new frames that had come to market, the fastest growing was the round eye. Another seminar "How technologies drive business: 3D printing and smart glasses," discussed the progress of 3D printing. Like the frame but the bridge is too small? Want a slightly deeper eye size? No problem. Frames can be printed in a variety of materials, including titanium, wood and horn, in a mere 20 minutes now – a huge advance on the eight hours previously required. And it's not just frames – spectacle lenses can also be printed, as can contact lenses and even human tissue – a team in Italy is aiming to print a human eye by 2027! Judging by the packed out attendance at this presentation, and the full-to-the-brim stands displaying Google Glass and 3D printed eyewear, there is huge interest in these new technologies. It will be interesting to see how they will translate for use in our markets.
Timing is Everything
Hong Kong is one of my favourite cities in the world. It is exciting, vibrant, rich and alive. There is always something happening and being the international city that it is, the world is your oyster. My friends that live in Hong Kong joke that Hong Kong has two seasons – it's either stiflingly 'Hot' or 'Not Hot'. Hong Kong Optical is strategically positioned in the transition from the 'Hot' to 'Not Hot' season.
November for me is the most pleasant time in Hong Kong. It's comfortable night and day, and with temperatures in the low 20s, jackets are only required for the purpose of fashion. Many airlines fly direct from Australia to Hong Kong, making the Hong Kong Optical Fair a fantastic option for buyers large and small.
It was great to see some representation from Australia, with brands including Leona Edmiston and Onkler. I chatted to the young Sydney-based designer, Nic Jahns, the brains behind Onkler. He told me that his edgy designs were well received in more fashion-forward markets such as Korea, however unfortunately his brand has not had the same reception at home. Speaking to others at the fair, the consensus was that Australia remains a very conservative market, tending to opt for safer shapes and colours, and that Australians were much less likely to indulge on several pairs of glasses, perceiving optical as a necessity, rather than a luxury. Time (and education) may make the difference.
Jessica Chi is the director of Eyetech Optometrists, an independent speciality contact lens practice in Melbourne. She is the current Victorian and National President of the Cornea and Contact Lens Society, and an invited speaker at meetings throughout Australia and beyond. She is a clinical supervisor at the University of Melbourne, and has served on the continuing education committee for the Australian College of Optometry and the Therapeutics Advisory Board for the Optometry Association of Australia.