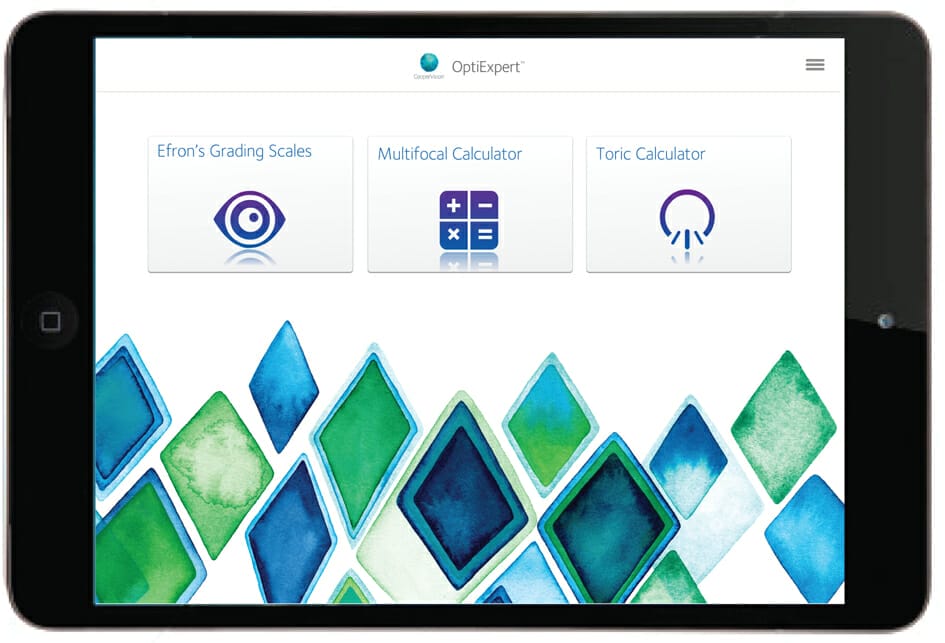 CooperVision has updated its OptiExpert app with multifocal and toric calculators. The free app is available to download for iOS and Android devices and provides initial diagnostic lens suggestions from CooperVision's product families; Avaira, Biofinity, Biomedics, clariti and Proclear.
According to CooperVision, the multifocal calculator helps maximise fitting success and can be useful for eye care professionals who are seeking to transition their presbyopic patients to multifocal contact lenses. The patient's most recent spectacle prescription is entered into the calculator to receive suitable initial diagnostic lens suggestions from CooperVision's range of daily disposable and monthly reusable silicone hydrogel and hydrogel multifocal contact lenses.
The toric calculator provides an efficient way to calculate a suggested initial diagnostic toric contact lens for each patient. The practitioner inputs the patient's most recent spectacle prescription and the app suggests an appropriate toric contact lenses. OptiExpert also takes into consideration back vertex distance adjustment and on-eye orientation while supporting any refinement required, based on the practitioner's observation of the toric axis location marker.
Alongside the multifocal and toric calculators, the app has functionality converting the Efron Grading Scales into an easy-to-use digital tool which is always on-hand. It allows practitioners to grade patients against 16 sets of images and covers the key anterior ocular complications of contact lens wear.
The app also includes the ability to securely store images of the patient's eye condition, facilitating easy comparison to other images on the scale and aiding accurate grading. Practitioners are able to add their own comments following each patient evaluation, allowing a comprehensive record to be compiled of each individual's condition and any treatment prescribed.
To download the app, eye care professionals should speak to their CooperVision Business Development Manager or call Customer Service on 1800 655 480 in Australia or 0800 60 60 60 in New Zealand to obtain the password and then visit the App Store or Google Play Store.