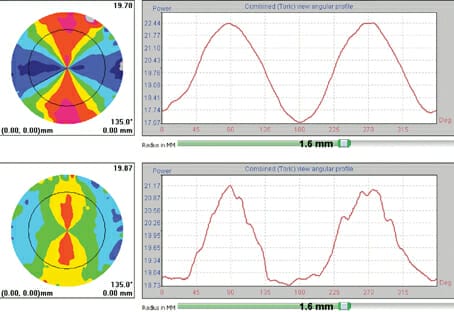 SPECIAL PROMOTION
To make a difference, you have to find a difference. Then embrace it. In cataract surgery, the difference is PreciSAL Toric by MBI. PreciSAL lenses are made from a unique, soft, hydrophobic acrylic material that is precision engineered (tray-polymerised then lathe cut).
It creates a beautifully constructed lens with a crisp, vertically knurled edge around the entire optic and haptics.
The topographic diagram (right) shows clearly the difference in engineering between PreciSAL Toric (top) and other toric lenses. Not only does it have more clearly defined quadrants, providing a greater area of power (up to 94 per cent of the quadrant), it also has greater stability in the capsular bag. We call this AccuplaceTM; technology that allows surgeons to work more accurately and confidently. PreciSAL Toric is available in 0.5 Dioptre increments, with cylinders starting at 1.0D.
Exclusive to IQ Medical: (AUS) 08 8357 8044, iqmedical.com.au
Disclaimer: This is an advertising promotion. The opinions expressed about this product do not necessarily reflect the opinion of Toma Publishing and its subsidiaries.