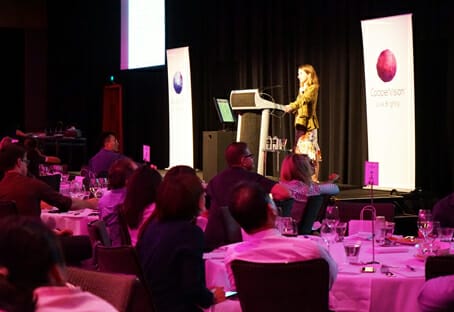 Optometrists have heard from leading academics and practitioners at a six-city CPD lecture series hosted by CooperVision across Australia and New Zealand. In Melbourne, 250 guests heard from Associate Professor Mark Roth while in Sydney Clinical Professor Stephanie Watson from Save Sight Institute spoke to around 350 people about 'Rules for Red Eyes'. In Brisbane, another 150 optometrists turned out to hear Dr Matthew Russell describing imminent and slightly further off new treatments for macular degeneration.
Along with many other types of red eye, Clinical Professor Stephanie Watson spoke about Ocular Cicatricial Pemphigoid (OCP), an uncommon condition which often diagnosed late. "In the early stage its conjunctivitis and so it's often missed as being OCP. She said a classic sign to look for is loss of the plica and went on to describe the escalation of symptoms, which eventually lead to surface failure, keratin and dry eye.
She said OCP has systemic manifestations and needs to be treated with systemic immunosuppressant.
Clinical Professor Watson spoke about herpes simplex, explaining that almost all people carry the herpes virus but only 1 per cent will get a clinical infection with it. She said when talking to patients with symptoms it was important to reassure them by advising of the two types of herpes – type one which occurs above the waist, and number two, below. The most common cause of corneal blindness in developed nation, she said herpes simplex was a significant public health problem because once you've got it, it doesn't go away.
Joe Tanner from CooperVision presented a summary of contact lens prescribing trends and attitudes gathered from a survey conducted among 324 optometrists in October 2015. Mr. Tanner said on average, optometrists saw 8.4 contact lens patients per week in Australia and 9.7 in New Zealand. Around 60 per cent of practitioners indicated that the daily disposable modality was their most commonly prescribed replacement frequency.
Mr. Tanner spoke about increasing numbers of people living with myopia who could potentially receive treatment with contact lenses. He said currently 59.5 per cent of surveyed Australian optometrists and 55.6 per cent of those in New Zealand did not use contact lenses for myopia control. "At the moment many young progressing myopes are not receiving any intervention… Possibly this is optometry's biggest challenge… 1.5 billion people in the world have myopia and the number is growing rapidly."
Mr. Tanner went on to describe the new OptiExpert smartphone app which quickly identifies the first trial lenses for CooperVision's clariti 1 day, Biofinity and Proclear torics and multifocals and also includes the Efron Grading Scales.