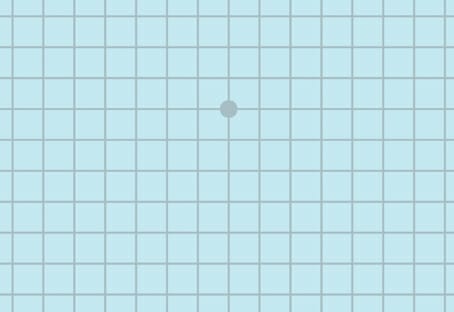 A study of 106 eyes with glaucoma has found that the Amsler grid test – commonly recommended for people diagnosed with or at risk of macular degeneration – may be useful in detecting undiagnosed glaucoma, especially in the moderate to severe stage of the disease.
However, Glaucoma Australia has cautioned that recommending the use of an Amsler Grid to people at risk of glaucoma may come with its own associated risks.
For this study, which was published in Ophthalmology, Amsler grid tests were performed for each eye and were considered 'abnormal' if there was any perceived scotoma with missing or blurry grid lines within the central 10 degrees. Subjects also underwent 10-2 visual field testing, for which an abnormal result was defined as at least three adjacent points at P < 0.01 with at least one point at P < 0.005 in the same hemifield on the pattern deviation plot, according to the study.
Researchers found sensitivity, specificity and positive and negative predictive values of the Amsler grid test were 68, 92, 97 and 46 per cent, respectively. Sensitivity was 40 per cent in eyes with 10-2 mean deviation better than -6 dB, 58 per cent in eyes with 10-2 mean deviation between -12 and -6dB, and 92 per cent in eyes with 10-2 mean deviation worse than -12dB, according to researchers.
Glaucoma Australia suggests people undertake a regular and comprehensive eye test
The Amsler grid scotoma area had the strongest relationship with 10-2 mean deviation followed by 10-2 scotoma extent and 10-2 scotoma mean depth.
In using the 10-2 visual field test as the clinical reference standard, the Amsler grid was found to have excellent specificity of 92 per cent and positive predictive value of 97 per cent.
Risky Approach
This approach would offer the chance to capture some undiagnosed patients who had moderate to severe glaucoma but it runs "the real risk of falsely reassuring many others who have earlier glaucoma", says Geoff Pollard, National Executive Officer of Glaucoma Australia.
"Many more would fall into the latter than the former group and reduce the already low early detection rates in the community.
"Glaucoma Australia suggests people undertake a regular and comprehensive eye test, including an optic nerve check with an eye health professional as the best approach to the prevention of vision loss and blindness."
Dr. Andrew White, an ophthalmologist in private and public practice, and Chair of the Glaucoma Australia Expert Advisory Panel comments, "As per the study it would likely be advanced glaucoma that is detected this way".
"With a presumed 50 per cent of people unaware they have glaucoma not being detected it may be better than nothing, especially for a relatively young asymptomatic person who has a large paracentral scotoma or hemifield loss.
"However, if this becomes a recommendation then a high number of people are likely to NOT see any sort of eye care professional thinking the Amsler is good enough.
"Glaucoma is best treated in its early stages so this is not something we want to see occurring.
"Most scotomas will not be picked up by this method and the best bet is still a White on White HVF or perhaps a FDT as a screen.
"There are some low cost, test at home type computer programs in development that may be available in future but recommending a professional eye check is the best approach