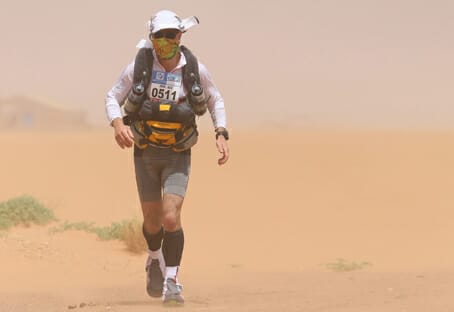 The Marathon des Sables, a 257km run through the Sahara Desert, has been described as 'the toughest footrace on the planet' but that hasn't stopped John Nicola, Managing Director of Melbourne's Optique Line from completing it – not just once but twice.
Mr. Nicola completed this year's marathon in just 42 hours, 26 minutes and seven seconds, placing in the top 25 per cent of his fellow competitors.
In the process he raised over AU$22,000 for the National Vision Research Institute, a division of the Australian College of Optometry.
Speaking to mivision, having recovered from the gruelling event, Mr. Nicola said strategy is everything – from training and preparation through to managing each stage of the event.
Mr. Nicola completed this year's marathon in just 42 hours
"It takes a whole year of training and preparing, as part of this process, training in a heat chamber just prior to the event to acclimatise to the desert environment.It was also important to practice carrying my backpack and to find ways to minimise my pack weight, which included my sleeping bag, sleep mat, clothes, food and water.
"All my planning and preparation worked for the week. The biggest issue always is the feet, especially with the hot desert sand and so many rocks and rocky hills to climb as well as those monstrous sand dunes and flat lunar landscapes… I escaped with only one blister."
When you're out there in the desert, he said, it's important to find people to work with. "You try to latch on to people to talk to – everyone has a story to tell. After a while, they may go faster or drop off and so you latch on to someone else.
"Day four was the longest stage – we had to get through 84km. After 50km, a Canadian gentleman came jogging in from behind and we did the last 30km together, running through the night. We got into camp just before midnight and he thanked me for helping him, but he didn't realise he'd helped me just as much; instead of that stage breaking us down, we broke it down check point by check point. By the two of us working together, we'd managed really well."
Mr. Nicola said the discipline, planning and training that went into preparing to take on the Marathon des Sables has also helped "100 per cent" with his business.
"As every day goes by in the desert, your brain becomes clearer, you get rid of the excess baggage in your life and your focus becomes much sharper. I made a lot of decisions out in the desert about my business and personal life and I came back and implemented many of them straight away."
As for the future, Mr. Nicola says having completed the Marathon Des Sables twice, he won't be running through the desert again.
"When I completed the race four years ago I could see opportunities to improve my training and preparation that would result in better performance. I took those opportunities and this time round, I came back fitter and stronger than I'd been before I left. For the rest of the year I'll take it a little easier and give my body time to recuperate, then I'll reassess my plans for 2017. There is a multitude of events around the world – plenty of options if I want to be crazy and continue down this path," he laughed.