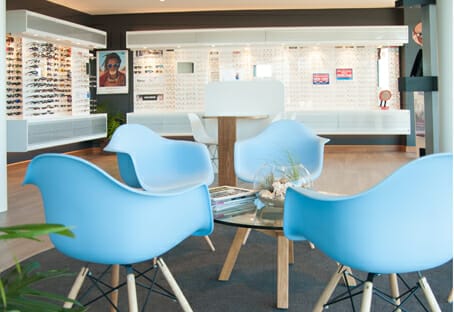 When EyeQ Optometrists introduced its Franchise Associate model to what had been a traditional corporate structure, it challenged the notion of typical, retail-led optometry offerings and provided a welcome point of difference for clinically-focused optometrists. Almost two years on, the Franchise Associate model is thriving.
The philosophy behind the development of EyeQ Optometrists Franchise Associate model is clear: to provide a way for independent, full-scope optometry practices to successfully compete in Australia's congested optical retail environment.
According to EyeQ, a key point of difference in this franchises' offering is the support it gives optometrists to maintain their clinical independence, including encouraging areas of expertise within practice.
That support is customised to the individual needs of Franchisee Associates and extends to a full range of back-end services that frees them up to focus on clinical performance. These services range from buying and merchandising opportunities, right through to personnel management, financial management (including payroll and accounts payable), IT services, practice fit out and design, and national and local area marketing campaigns.
Too many times… I meet clinically outstanding optometrists who are struggling with the day to day burdens of business
Valuing Independence
EyeQ Optometrists Executive Chairman Ray Fortescue is passionate about preserving the long term viability and ideals of independent optometry. His passion is a key driver behind the development of this model. "Too many times in our industry I meet clinically outstanding optometrists who are struggling with the day to day burdens of business, and others who are burning out under imposed KPI pressures," he said.
"Our goal is for EyeQ Optometrists to provide personalised, holistic eye care – for all, for life. This relationship-driven business model is unique in the optometric franchise space and reflects the attitudes of most successful independents," he said. "We created EyeQ to ensure this mode of practice remained viable well into the future. Franchise Associates continue to own their business outright."
Years in the Planning
An Australian-owned, optometrist-led company, EyeQ has been developing its Franchise Associate concept for a number of years. Mr. Fortescue said foremost in the planning was the need to create systems and strategies which allowed practices to be profitable and professionally satisfying for the optometrist and practice staff. Additionally, there was the need to deliver the Franchise Associates a work / life balance often lost in the challenges of private practice.
Testament to the success of achieving those goals is the fact that two of the first Franchise Associates were Optometry Australia State Presidents at the time of starting their EyeQ Franchise: Darrell Baker, Optometry Australia's President in Western Australia who established his EyeQ practice in Karrinyup, Perth and David Foresto President of OA Queensland / NT who joined EyeQ with his practice at Spring Hill, Brisbane.
EyeQ Optometrists Chief Business Development Officer, Lily Wegrzynowski, said optometrists looking toward succession planning found the opportunity to retain their clinical independence particularly appealing. "Many of us are drawn into the profession of optometry out of a passion for taking care of people," said Ms. Wegrzynowski. At EyeQ we understand how important it is for optometrists to know this legacy of trust will be passed on to future generations. That's why we see succession planning as a key component of our Franchise Associate offer."
Showcasing Success
The EyeQ Optometrists Franchise Associate model is structured for optometrists and dispensers at all stages in their career: from greenfield, to conversion, to those looking for assistance with succession planning. The current Franchise Associate mix reflects that diversity.
Adrian Cornale recently decided to strike out on his own, opening a greenfield EyeQ Optometrists practice in the booming regional centre of Port Macquarie. He had worked as both an employee and in partnership for 28 years in the area and had established a high profile.
"For much of my time as an employee and practice partner, I was associated as a foundation member of a well-known national independent optometry group, so I have had good experience regarding the kind of support available to optometrists in group practices," said Mr. Cornale.
"I have also witnessed and experienced first-hand, the big changes that have occurred in optometry with large corporates entering the market as well as the changes with Medicare. With this experience I can understand why many optometrists could be scared and unsure about taking the plunge, as I have, into a business of their own. However, the model offered with EyeQ was the perfect fit for me.
Mr. Cornale said the guidance and support he received from EyeQ made the transition to owning his own practice easier than he'd expected. "The enthusiasm and support of the team proved to me I'd made a great decision – especially after attending the EyeQ Annual National Conference in Sydney and seeing how engaged and supported all practice teams were.
"I am pleased to report that just two months in from opening our doors we are already a thriving practice."
David Hendry, from EyeQ Optometrists in Berowra Heights NSW, took the opportunity to convert his independent ProVision practice to an EyeQ practice when the time came to relocate. "After looking at numerous options and talking with a number of current EyeQ Optometrists I realised that the EyeQ Franchise Associate network could deliver excellent benefits including better stock management and merchandising, and significant back-office support," Mr. Hendry explained.
"These would all be vital given our larger, expanded business. The fact that EyeQ works on proven systems is very reassuring. My wife and I are looking forward to spending less time on after-hours commitments – doing the books and managing the business of optometry.
"I found that the franchise agreement was very fair and appealing. The EyeQ management were held in high regard, and looked on by their franchisees as being very honest.
"Ultimately, my practice will be more attractive to potential employees and enhance succession opportunities. The experience and connections EyeQ are able to bring to this part of the equation is incredibly valuable," Mr. Hendry said.
Practice Manager/Optical Dispenser Chris Weston is another experienced business owner and eyecare professional who recently transitioned to the EyeQ Network.
"I'm incredibly passionate about the EyeQ philosophy," he said. "Our positioning as 'experts in eyecare' reflects our very real focus on excellence in personalised eyecare. That concept has been brought to life in all elements of our marketing, from our loyalty program Eyes for Life, and marketing in practice and online."
EyeQ is a proudly owned Australian Company with employee ownership of over 80 per cent.
The company was founded in 2007 by Peter Rose, (EyeQ Director, prominent NSW optometrist and principal of three EyeQ practices), Mark Flanders, (Principal of Flanders & Smith EyeQ Optometrists Young and Cootamundra), Ray Fortescue (EyeQ Executive Chairman, EyeQ Optometrists Ramsgate, NSW), Natalie Rokic (Mackay, QLD), Tony Ireland (Ulladulla and Batemans Bay, NSW) and Mark Koszek (Ramsgate, NSW)
EyeQ Optometrists' Franchise Associate model launched September 2014
EyeQ Optometrists is led by a team with extensive, current, optometric experience, which allows EyeQ to understand the needs of the independent practitioner and the challenges of practice management.