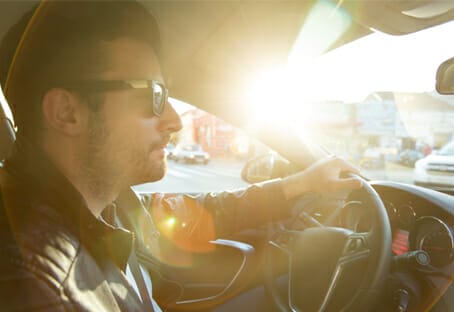 It goes without saying (but we'll say it anyway), good vision is essential for safe driving. Lenses are an essential part of the equation but so too is the frame design. Even a small loss of vision can affect a person's ability to drive safely and react quickly in response to the unexpected.
New research commissioned by Specsavers reveals that as many as two million motorists in Australia – over a quarter (26 per cent) of those who wear prescription glasses – admit to driving a vehicle even though they don't have their glasses with them.1
Alarmingly, more than six million motorists (38 per cent) in total say they have trouble seeing while driving. Difficulties reading road signs from a distance (23 per cent) and straining their eyes while trying to read road maps (11 per cent) were cited as key problems.1
In Australia the top reasons given for driving without clear vision include;1
the currently popular oversized sunglasses with wide arms are not ideal for driving
Forgot or misplaced their glasses (18 per cent)
Thinking that it is ok to drive only a short distance without their glasses (8 per cent)
Having broken their glasses (3 per cent)
These figures show an apparent complacency from Australian drivers towards not only their own, but others' safety on the road. In 2015 19.1 per cent of Australian motorists reported having at least one crash a year2 and as of September this year, there had been 12.9 per cent more deaths in 2016 than 2015.3 According to reports, some of these crashes could have been prevented by simply ensuring all drivers have clear vision when they drive.
Sunglasses Too
It's not only important to encourage patients who need spectacles for driving to put them on. Sunglasses should also be encouraged, for both comfort and to cut out blinding glare that is particularly prevalent when the sun is low in the morning and in the early evening. For those customers who wear spectacles for driving, encourage clip-on lenses or better still, prescription sunglasses.
Given that a strong reason for not driving with vision correction was forgotten / misplaced or broken glasses, it's a good idea to suggest a second pair of sunglasses or prescription sunglasses is kept in the car in case of emergency!
What's Best
With Melbourne optometrist Jim Papas talking driver lenses in our lens feature this month, in this article we'll concentrate on the frame styles that are best for customers who spend time behind the wheel.
Unfortunately for fashion, the currently popular oversized sunglasses with wide arms are not ideal for driving, and in fact, with their wide temples obscuring vision, can be dangerous.
Instead customers should be guided towards eyewear that maximises peripheral vision: Aviators with their flat profile and thin temples are ideal, or conversely, wraparound frames that block glare entering the eyes from the side will provide comfort and great vision while on the road.
Eyewear that is lightweight and sits well on the face without touching the eyelashes, feeling too tight behind the ears or sliding down the nose in response to head movements is also important – the fewer distractions that cause a driver to take their hands off the wheel, the safer we all will be.
It's also a good idea to give some consideration to durability, especially when it comes to finding frames for customers who spend a lot of their time on the road. Truckies, tradies and couriers for example, are likely to spend much of their day putting their glasses on and taking them off, dropping them into the driver's seat and chances, are sitting on them… a flexible frame will minimise the damage and keep your customers safer on the road and moving forward.
References
1. Galaxy research 2015 commissioned by Specsavers
2. www.roymorgan.com/findings/6273-more-cars-fewer-accidents-on-road-201506142255 Accessed August 2016
3. bitre.gov.au/statistics/safety/ Accessed August 2016
Mark Skaife Teams with Specsavers for Safer Roads

In response to alarming statistics revealed in recent studies, Specsavers has partnered with Australian motoring legend, Mark Skaife OAM, to launch a road safety campaign. The campaign calls on all Australian motorists to protect themselves and other road users by ensuring they have clear vision before getting behind the wheel.
Mark, a five time champion of the V8 Supercar Championship and six times a winner at Bathurst 1000, says he knows only too well that good eyesight behind the wheel can be a matter of life and death. With Specsavers behind him, Mark is encouraging all drivers to take responsibility for their vision on the roads, urging drivers to have an eye test every two years and ensure they are wearing the right prescription frames, at all times.
"From my career as a racing driver, I've learned that preparation is key to being in the safest position on the race track and it's no different when it comes to driving on the road," said Mark Skaife. "The importance of drivers having the right prescription glasses with them at all times, both for their own safety and for the safety of other road users cannot be underestimated."

Prada Linea Rossa
The new Prada Linea Rossa collection is all about lightweight materials and slim lines, lending a contemporary touch to the glasses.
Pictured is SPS 05R, a sporty sunglass frame with a pilot-shaped front embellished with a metal double bridge. The distinctive rubber coating, applied at high temperatures via an injection-moulding process, adds to the sporty styling and ensures superior weather resistance.
The rubber details come in shades of black, blue, grey, green and dark chocolate.
Contact: Luxottica Representative

Bolle
Any great driver will tell you that the more you see, the quicker you react. That's why Serengeti's amber-coloured driver's lens adapts to light as it changes, using Photochromic technology to lighten and darken in any driving condition.
This lens is engineered to enhance colours, contrast and accentuate more red, yellow and green colours making it the ultimate driving sunglass.
Contact: Bolle (AUS) 03 8558 1000

Tag Heuer
Tag Heur high definition driving sun lenses have been developed to improve the contrast, to get a better perception of colour and eliminate the glare for
high definition vision. With air silver coating, high performance hard coating and resistant to high impact, they ensure better comfort and anticipation
for a safer drive.
Contact: Logo Australia (AUS) 07 5528 3656

Mauli Jim Frigate
Frigate's rimless frame is designed with a consumer favourite lens, MauiPure—extreme lightweight durability and scratch resistance paired with unmatched PolarizedPlus2 lens technology. Frigate is a modern styled frame perfect for driving and long days in the sun. Its disc hinge allows for Frigate's thin temples to fit perfectly around the face, giving the wearer the highest performing optics available.
Contact: Maui Jim (AUS) 02 9452 5575

Oakley
The Sliver XL with Prizm daily polarised lens with its sleek architecture and sculptural reliefs has an extended lens height for larger head sizes and those who want an expanded field of downward view. The Prizm lenses provide unprecedented control of light transmission resulting in colours precisely tuned to maximise contrast and enhance visibility.
Contact: Oakley (AUS) 03 8598 3100

Specsavers Drive Eyewear
Specsavers polarised prescription sunglasses provide excellent protection for your patients' eyes while driving, reducing 99.9 per cent of horizontal glare and 100 per cent of UV rays. This gives your patients a sharper, detailed and more vibrant view from behind the wheel.
Contact: Specsavers Account Manager
Polaroid
When light reflects off a shiny surface such as sand, water, snow or roads, it travels in many directions. Vertical light is useful to the human eye; it helps us see, making clear colours and contrasts. Horizontal light, however, simply creates glare. Glare reduces visibility and makes it uncomfortable, painful and dangerous to carry on driving, cycling or driving.
Non-polarised lenses make things look darker which can reduce safety on the road. Polarised lenses, on the other hand, block glare reflected off flat surfaces that interferes with vision, to make driving safer. When drivers can see clearly, they react more quickly to everyday driving hazards.
Polarised lenses in bronze, copper and brown are ideal for driving. These colours absorb blue light that the human eye finds difficult and uncomfortable to use. They also make it easier to see traffic and brake lights.
Polaroid Eyewear has designed and manufactured glare free sunglasses with the highest level of UV protection possible and outstanding quality for over 75 years.
With nine functional layers and unsurpassable anti-glare properties, Polaroid lenses can be worn all day every day with style and in safety and comfort.
All Polaroid products are currently distributed by Safilo, and are fitted with innovative UltraSight Plus lenses, which offer glare-free vision, reduced eye fatigue, better scratch resistance and 100 per cent UV 400 protection.
Contact Safilo: 02 9540 0500