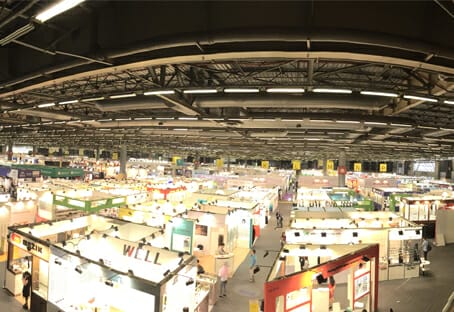 Many signboards and posters reminded visitors and exhibitors that Silmo is bigger than a Paris event, with Silmo Istanbul celebrating its second year in December this year and the launch of Sydney in March 2017.
Silmo statistics are bewildering to us down under: 80,000 sq. metres of exhibits; 950 exhibitors of which 150 are new; and 1,350 brands represented, of which 75 per cent are from beyond the French border. Add to this the 33,791 visitors representing 40 countries with Australia remarkably well represented (at least five home grown exhibitors and over 135 registered Australian visitors, not to mention exhibitor staff or press).
Regrettably, visitor attendance from some Asian countries, was down due to their governments issuing security warnings about travel to Paris. This will undoubtedly prove a benefit to Silmo Sydney.
Walking The Floor
Silmo is a joint venture of the Silmo Association, the French equivalent of Australia's Optical Distributors and Manufacturing Association (ODMA) and Comexposium, one of Europe's leading event organisers. Taking up Halls 5A and 6 of the massive Parc des Expositions, Paris Nord Villepinte, the floor is divided roughly between fashion (70 per cent), health and innovation (20 per cent) and retail services (10 per cent). Chinese and Korean companies were grouped under their national flags but were the only ones to be geographically co-located.
Retro square and small round styles remain on trend as are bold colourful acetates but rimless titanium and stainless steel have taken a hit
Australian Exhibitors
AM Eyewear, founded 14 years ago in Sydney by designer Kumar (Simon) Ponnusamy sells 70 per cent of its product outside Australia with 40 per cent of all sales being optical.
Jono Hennessey Group makes 50 per cent of their sales in Europe, primarily France and Holland. Jonathan Hennessy Sceats and his designer son Jasper were Australia's driving force at Silmo and are very positive about their prospects as a result of this expo.
Sunday Somewhere, started five years ago by Australian designer David Allison, now claims to have its brand in 600 outlets in 30 countries with 75 per cent of its sales outside Australia. Growth in Europe has been so strong they recently opened a sales office in London, staffed by Australians.
Sunshades Eyewear, Australia's largest independent eyewear manufacturer and distributor is moving from strength to strength. CEO Rodney Grunseit said of their AU$50million turnover, 35 per cent was in international markets with Karen Walker and Le Specs being the standout performers. Recently Sunshades partnered with Kering, one of the largest global fashion houses, to distribute their eyewear brands in Australia.
Van Staveren Eyewear, represented by brothers Mark and John Van Staveren, is well into the process of redesigning their business model to include international markets for their home grown brands, VanStaveren and MarcVincent.
Niloca, founded by Colin Remond, was also at Silmo, though with a quieter presence than usual, exhibiting with Rigards.
These companies do us proud on the world stage. It is through strategies like this that locals will thrive against corporate giants in Australia and be able to offer compelling options to the independent optical retailer.
Fashion, Fashion and More Fashion
At its essence Silmo is all about fashion. Of approximately 900 exhibitors there would have been more than 70 per cent frame designers, manufacturers or distributors. Retro square and small round styles remain on trend as are bold colourful acetates but rimless titanium and stainless steel have taken a hit. The line between men's and women's fashion continues to blur.
Wooden frames in various incantations were numerous but one supplier of wooden frames I spoke to stated they were largely a marketing ploy, playing on the environmentally conscious consumer.
Sunglasses almost overtook optical frames with shapes of every imaginable variety. Doubtless the top trend was small round glasses for men and women as well as oversized and hexagonal shapes for women.
Also noted were growing ranges of children's eyewear and specialty sports eyewear.
All up a great experience. If you didn't make it this year then mark up 6–9 October in your diary for next year. Paris is amazing at any time but it is a great time to go with Silmo and the Paris Motor Show in early October.
Michael Jacobs is a mivision columnist and business consultant. He was the former Chief Executive Officer for Eyecare Plus for 10 years until early 2015.