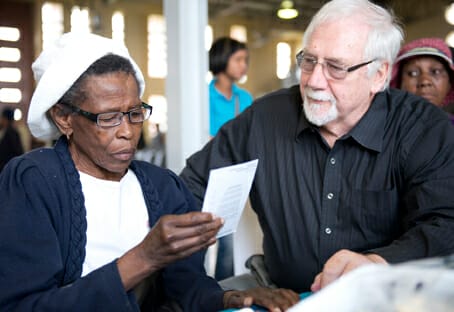 The American Academy of Optometry (AAO) will establish an award to honour the memory and work of Professor Brien Holden, who passed away in July 2015.
The Brien Holden Humanitarian Award will recognise an individual or organisation who has made significant contributions to improve eye care within a country or region. In particular, the award will acknowledge humanitarian efforts in the non-profit/not-for-profit sector that build or support the development of sustainable eye care systems in developing communities.
Kovin Naidoo, CEO of the Brien Holden Vision Institute, said the award was "a wonderful acknowledgement by the Academy, a body that Brien greatly respected and a meeting he enthusiastically attended for around four decades. This award will give important recognition to those people who may not be known globally, but who are making a difference in eye care in their country or region."
A global leader in eye care and vision research, Professor Holden founded the Brien Holden Vision Institute and was a Professor at the School of Optometry and Vision Science at the University of New South Wales in Australia. Professor Holden was an Academy Life Fellow and a Diplomate in the Section on Cornea, Contact Lenses and Refractive Technologies. He was a Presidents Circle member and an avid supporter of the American Optometric Foundation. Among several Academy awards received, Professor Holden was awarded the Academy's Charles F. Prentice Medal and Lecture at Academy 2014 Denver, the Academy's highest honour.
"The American Academy of Optometry is honoured to be given the opportunity to administer this new award that so perfectly reflects Dr. Holden's passion for finding regional and global solutions for vision disparities. This award will help sustain awareness to the continuation of Brien Holden's legacy and humanitarian contributions," said Brett G. Bence, OD, FAAO, Academy President.
The award, established by the Brien Holden Vision Institute and Holden family estate, will be given annually beginning in 2017. Nominations should include two letters of nomination from Academy Fellows and a CV of the nominee. Nominations are due by 1 April 2017 to helenv@aaoptom.org