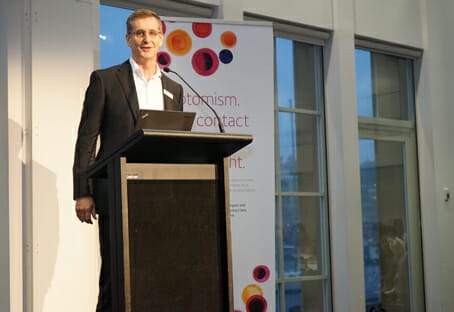 CooperVision has launched what it describes as "the world's only contact lens with digital zone optics". Speaking at the launch of Biofinity Energys in Sydney, Greg Sampson, General Manager of CooperVision told optometrists the lens was new to the company, new to the market and delivered on CooperVision's promise to "help optometrists build a sustainable contact lens business".
Joe Tanner, Professional Services Manager at CooperVision established consumer demand for the contact lens which has been purpose designed for patients who use digital devices at least two hours per day.
He said on average, Australians spend 10 hours a day engaging in digital devices and, as a result of this, eye care issues are clearly emerging. Professional publications have extensively reported on eye strain related to digital device use and consumer media has amplified public awareness and concerns.
He cited a 2015 survey of optometrists which found that 90.3 per cent of Australian and 80.9 per cent of New Zealand practitioners reported an increase in symptoms of eye fatigue or asthenopia due to digital device use. The three main areas of symptomatology were vision related, digital screen related and ocular surface related.
Mr. Tanner described the Biofinity Energys lens as being the same as the Biofinity except that it has been enhanced from the optical design perspective: Biofinity Energys has digital zone optics which consist of multiple front-surface aspheric curves. These aspheric curves are employed across the entire optic zone to distribute power evenly, simulating more positive power in the centre of the lens. This helps ease the accommodative burden without impacting distance vision. Additionally, this new contact lens features the proven Biofinity material locks water molecules inside the lens so the patient's eyes stay moist and comfortable, even when they are staring at a digital screen.
Trial Results
Prior to its official launch to market, Biofinity Energys was trialled by 13 optometrists in Australia and New Zealand who were each asked to fit 20 existing patients who used digital devices for two or more hours a day. The trial ran from October 2016 to 28 February 2017 and interim data from nine of the optometrists who completed a survey at its conclusion was presented. While small, the survey found the majority reported excellent vision, excellent centration and movement, and good comfort. Asked how they would rate the overall performance of Biofinity Energys lenses, five optometrists responded "excellent' and four responded "good". No optometrists reported an average, below average or poor overall impression of the lens.
In a separate study carried out overseas, eight out of 10 wearers agreed that Biofinity Energys lenses with digital zone optics lens design made their eyes feel less tired; eight out of ten reported their eyes didn't feel strained and nine out of ten agreed their lenses made them "feel good".
Minimising Risk of Ocular Infection
The product launch was followed by a presentation by optometrist Dr. Nicole Carnt who spoke about minimising risk and maximising healthy contact lens wear. Dr. Carnt emphasised the importance of encouraging patient compliance – or following an action of treatment – which in terms of contact lenses can be as basic as handwashing (40 – 80 per cent of contact lens wearers do not wash their hands before they apply their lenses). Dr. Carnt said patients are inclined to become less compliant over time if they don't experience the negative consequences of non-compliance.
She said to encourage compliance, patients needed to believe:
• They would be susceptible to developing a condition severe enough to warrant a change of behaviour;
• Changing their behaviour would benefit them; and
• There would not be too many barriers to changing their behaviour.
Dr. Carnt went on to discuss risk factors for ocular disease associated with contact lens wear and communication strategies to help patients minimise the risks by changing behaviour.