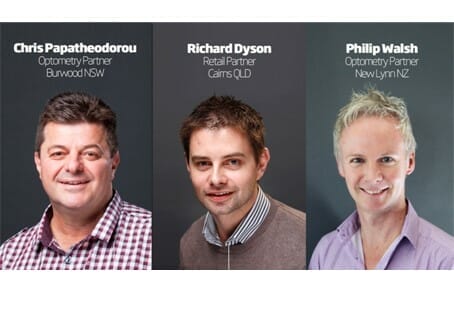 Specsavers in Australia and New Zealand has followed the lead of its parent in the United Kingdom, appointing three of its franchise partners to the board.
Optometrist partners Chris Papatheodorou from Specsavers Burwood in Sydney and Philip Walsh from Specsavers New Lynn in Auckland as well as dispensing partner Richard Dyson from Cairns in Queensland, were officially appointed to the board on Saturday 4 March at Specsavers biennial Partnership Seminar. The three partners have been appointed to the Specsavers Australia and New Zealand Board for a two-year term after which it is understood they will be replaced by three new partners.
Peter Larsen, Optometry Director and a member of the Specsavers Board, said although Specsavers' decision to appoint franchise partners to the board was a first for optics, it was a natural progression for the organisation.
"The Specsavers partnership concept is highly collaborative for a franchise – with a strong working bond between store partners and support office. We have involved store partners in more and more of our core decision-making groups over the past 18 months and that has worked really well, ensuring that the decisions we make are road-tested with and by experienced partners. We felt the time was right to take the practicality of partner involvement in support office and Board decisions to its logical next step, and appoint representatives to the Board. What this means is that our store partners are now represented at the highest level in strategic discussions and whole-of-business decision-making, as well as working through how strategy flows through into business-focussed initiatives."
He said having partners on the Board would also enable the executive to provide and receive direct input and feedback from fellow partners.
"The big picture outcome is you get a partner focussed view at the highest level of decision making in the business. So, as you build and implement the business plan, everyone's got their eyes on the ensuing successes, and everyone can be represented. As we grow this becomes increasingly important."
Mr. Larsen said the three new board members had been appointed because "they have always been vocal, they are successful, they have already shown themselves to be valuable members of our partner representative groups and they're passionate advocates of the Specsavers business, representing their fellow- partners."