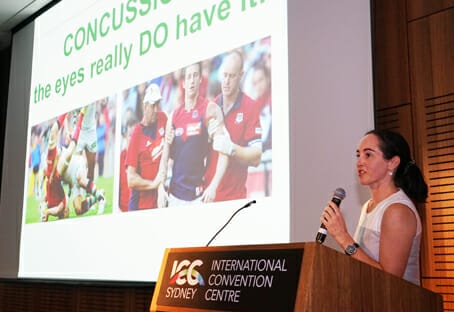 Concussion was high on a packed educational agenda at this year's Super Sunday, which attracted 530 optometrists to Sydney's International Convention Centre on Sunday 12 March, immediately following the first ever Silmo Sydney.
Super Sunday – Optometry NSW/ACT's annual conference – has become known for its 'out of the box' education topics and this year was no different.
While optometrists were treated to a fascinating and useful lecture on depression in 2016, this year they heard about the signs, symptoms, diagnosis and treatment of concussion. Dr. Clare Fraser, Sydney ophthalmologist and co-Director, with Dr. Adrian Cohen, of the not for profit organisation NeckSafe, addressed the audience on this topic which she said was a "big issue" for optometrists who would increasingly be at the frontline of diagnosis.
Dr. Fraser defined concussion as "an impact to the body that is transmitted through the head, resulting in diffuse injury to brain cells". The signs are loss of consciousness, disorientation, incoherent speech, confusion, memory loss and a dazed or vacant stare. The symptoms are typically headache, drowsiness, confusion, visual change and balance problems. She said the visual system is often impacted by concussion because the visual system, both afferent and efferent, takes up around 50 per cent of the brain circuitry.
anyone with acute signs of concussion should be seen by a GP or emergency department within 24 hours
Importantly, Dr. Fraser said not every concussion involves loss of consciousness, and therefore this was not part of the definition of concussion. In fact, she said, 20 per cent of the 60 – 250 people per 100,000 of the population who are hospitalised in Australia each year for mild traumatic brain injury, do not experience loss of consciousness.
Dr. Fraser said equestrians suffered the highest incidence of concussion at 130/100,000 participants, followed by Australian Rules Football (80/100,000) and all rugby codes (50/100,000). Interestingly, she said girls are more prone to traumatic head injury, perhaps because of their weaker neck structure but also due to behavioural issues – girls playing soccer for instance have been observed to close their eyes before heading an approaching ball away.
Dr. Fraser said Australia's rugby code protocol states that a player under the age of 18 who suffers a head knock and is diagnosed with concussion must have two weeks off play. Players over 18 have one week before gradually increasing activity. However she noted that 20 per cent of players still show symptoms of concussion after seven days, indicating that they may be returning to the field too soon.
Dr. Fraser said anyone with acute signs of concussion should be seen by a GP or emergency department within 24 hours. She went on to describe the various methods of testing for and assessing concussion. The King-Devick test of ocular saccades is the easiest test to implement in amateur and school teams and the main vision based test used by the HeadSafe research group at weekly Randwick Rugby team games. It is also the most widely studied of all vision based tests, with over 55 peer-reviewed articles showing it can detect changes in concussion across different sports and different age groups. The Sport Concussion Assessment Tool (SCAT3) was another tool recommended by the international concussion symposium and used by most professional sporting teams. Additionally she spoke about cognitive and balance tests, as well as testing for visual acuity (both near and far); ocular alignment particularly for smooth pursuit, convergence and saccades, pupil and visual fields. Dr. Fraser said convergency deficiency was the symptom of concussion she most commonly saw in her practice.
Read more about concussion in mivision's feature story.
Myopic Retinopathy
Vitreoretinal Surgeon and Medical Retina Specialist, Associate Professor Adrian Fung, spoke to Super Sunday delegates on myopic retinopathy, which has been undergoing an epidemic over the last 60 years, particularly in South East Asia. He said increased time spent outdoors is believed to reduce the progression of myopia in children, as can low dose (0.01 per cent) topical atropine. Myopia can affect the entire eye, and is not a benign disease. It is associated with dome-shaped maculopathy, in which a convexity of the macula is seen on vertical optical coherence tomography (OCT) raster scans but is often missed on horizontal OCT raster scans. Dome-shaped maculopathy presents with subfoveal fluid, and can be confused with central serous chorioretinopathy, which usually occurs in hypermetropic or emmetropic eyes.
Assoc. Prof. Fung said myopic eyes can present with macular haemorrhages that may or may not be associated with underlying choroidal neovascularisation (CNV). Fluorescein angiography can assist in distinguishing these. Myopic CNV is usually very sensitive to intravitreal anti-VEGF therapy. Myopic traction maculopathy is often stable, but may require vitrectomy surgery if associated with foveal detachment or a full thickness macular hole. Myopic retinal detachments often occur in younger phakic patients with inferior atrophic holes and an attached posterior hyaloid. In these patients, scleral buckling is often the operation of choice.
Optometric Archaeology
Optometrist Mark Koszek spoke about optometric archaeology, in the process demonstrating how specific ocular signs correlate with past acute ocular events. Mr. Koszek discussed the differences between the patterns of corneal scarring and the role of keratocytes in the scarring process. He then discussed the anatomy of the iris and the structural changes that occur due to insult and their corresponding signs such as iridodialysis, iris stromal atrophy, heterochromia, synechiae, pigment dispersion and pigment clumping. He correlated lens changes such as glaukomflecken and Vossius ring with their corresponding causes and congenital cataracts with their gestational time of onset. Mr. Koszek discussed the changes the retinal pigment epithelium (RPE) undergoes in insult including hyperplasia, hypertrophy and pigment cell migration and the role RPE cells play in choroidal neovascularisation and retinal detachment. He gave an overview of the anatomy and innervation of the retinal and choroidal blood supplies and the effect of hypertension and diabetes, i.e. haemorrhages, cotton wool spots, exudates and oedema. Mr. Koszek also discussed the various signs of atherosclerosis, including Gunn's, Salus and Bonnet's signs. He discussed chorioretinal atrophy due to toxoplasmosis, presumed ocular histoplasmosis and choroidal infarction from malignant hypertension and giant cell arteritis.
Optical Coherence Tomography
Optometrist Angelica Ly from Centre for Eye Health spoke about the diagnostic imaging technology optical coherence tomography (OCT). She described OCT as an indispensable adjunct of modern day optometric practice used routinely in macular assessment by approximately half of all practising optometrists. Ms. Ly said the technology is non-invasive, fast and reliable, and may ultimately be applied for the earlier detection and better differential diagnosis and management of ocular disease.
She said optometrists learning how to interpret OCT in macular disease may benefit first from a thorough understanding of their own instrument's functionality and limitations. A systematic approach to the interpretation of images is also helpful and extends beyond understanding the anticipated proximity, thickness and reflectivity of retinal layers in a normal eye. Images should be carefully scrutinised for anomalous hyper- or hypo-reflective lesions and atypical morphology (which may be focal or diffuse, or affecting a single or multiple layers including tissues beyond the retina). Evaluation of quantitative findings, including the macular thickness report, may also assist in illuminating artefacts or lesions that could otherwise lead to misinterpretation. Finally, images should be interpreted in the context of the overall clinical picture.
Prescribing Sport and Occupational Lenses
Optometrist Thao Hannaford and dispenser Grant Hannaford presented on prescribing sports and occupational spectacle lenses when contact lenses are not an option. Among many cases, the duo targeted sports shooting, archery, golfing, skiing, water sports cycling and motorbike riding. In an engaging presentation, Ms. Hannaford focussed on the clinical side of the business before Mr. Hannaford went on to speak about prescribing optical appliances. His examples of what not to prescribe for various sports and occupations were informative: don't prescribe tints and blue blockers for pilots as they interfere with them seeing their instruments, metal frames are not suitable for electricians, transitions will not work underneath a motorcyclist's helmet and so. He also suggested creative ways to dispense lenses to help people work and enjoy their sport. Prescribing a double D-seg for pilots, an upside down bifocal for electricians working in cavities and temporal seg bifocal for golfers were just a few.
Super Sensation
Andrew McKinnon, Chief Executive Officer of Optometry NSW/ACT, said Super Sunday once again demonstrated the value of a one day education program with 535 optometrists attending the day and leaving behind "terrific feedback". He said hosting Super Sunday at the tail-end of Silmo had been a positive decision with attendance up by 10 per cent on 2016.
Optometrist Lara Foster from Moss Vale was just one of the visitors who appreciated the format and the fact that the two events were held back to back.
"I love the efficiency and energy of the one day format. I really enjoy the swift turnaround of lectures and the choice that the multi-stream format offers as well as the opportunity to complete so many CPD points in one day," said Ms. Foster. "This year's program had plenty to keep you awake and engaged with ocular emergencies, giant retinal tears, torn corneas and un-thinkable penetrating eye injuries… I found the plenary session on concussion and the measurable and sometimes long lasting ocular manifestations particularly enlightening.
"One of my highlights of the Super Sunday conference is catching up with colleagues. It feels like a reunion, as well as on opportunity to brush up on my knowledge. With Super Sunday 2017 being held in conjunction with SILMO, as well as being a sell-out, there were plenty of fellow optometrists to catch up with."