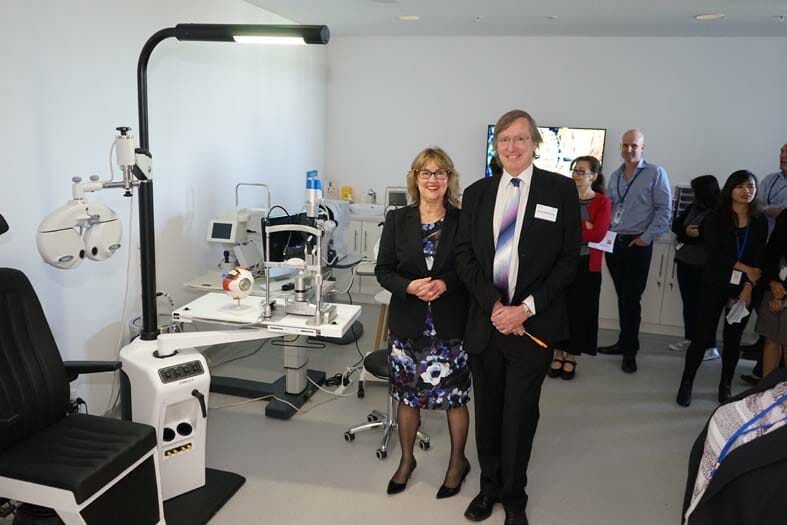 Alcon has opened a state of the art vision clinic and skills training lab in its new headquarters in Macquarie Park, Sydney. The clinic, one of 30 interactive training centres that Alcon has established around the world, will be accessed for training by ophthalmologists, optometrists, registrars, orthoptists and ophthalmic nurses.
Opening the facility, Karen Fowler, Country Business Unit Head of Alcon Australia, said the 30m2 facility offers the eye health community a place to experience the latest eye care technology. It houses a full array of vision diagnostics equipment and contact lens fitting sets for use by optometrists and their teams. Ophthalmologists can access a large wet lab and visit the technical centre to experience the Constellation, Centurion, and a full LensX cataract suite. Within the clinic, walls can moved around or removed to create small and large areas for training sessions.
Ms. Fowler welcomed guests to the new skills facility and spoke about the importance of collaboration, partnerships and continuous education to best meet patient needs.
Guest speakers optometrist Margaret Lam, ophthalmologist Dr. Geoffrey Painter and ophthalmic nurse Kerry Legg welcomed the opening of the facility and spoke about their long term professional relationships with Alcon and the support the company provided to the profession. Speaking of the new skills lab, Dr. Painter said, "We look forward to using the new centre to train the next generation of ophthalmologists".
The vision clinic and skills training lab is to be known as The Focal Point.