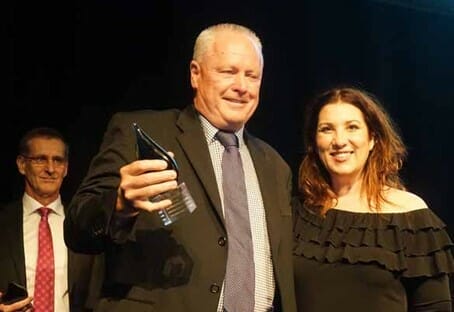 Jack Chapman has celebrated 40 years as an Australian, independently owned optical laboratory. Based in Queensland, the lab has supplied ProVision since it was established and until recently was the only independent laboratory to do so. In 2016, at its conference in Cairns, the ProVision members recognised Jack Chapman with awards for second place in range; second place in quality and first place in service out of all suppliers.
Brendan Burke is the current owner of Jack Chapman. He joined the company in 1983 having completed his trade apprenticeship and worked in dispensing for several years. In 2000 he purchased Jack Chapman in partnership with a long-term director and in 2013, he bought that partner out.
Although he's seen plenty of change over 40 years, Mr. Burke says the challenges being faced today are similar to those that have always been present.
"Many years ago, word was that we were going to be driven out of the market by ready-mades sold through petrol stations and chemists," said Mr. Burke. "Then, when we thought glasses were going to be turned around via one-hour stores, there was pandemonium. It was assumed that radial keratectomy, as a forerunner to LASIK, would make us obsolete…. The current mergers and alignments have been coming for more than a decade and will continue to come. There will be ramifications for all of us. I suppose we have to wait to see what will and won't happen, and to find the new future that we need to embrace.
"There are always concerns about the future, however I believe there are great prospects for success. To many of our customers we are an extension of their business. They trust us and have built great businesses on our support and delivery."
Mr. Burke said one of the most positive changes to the optical laboratory business was the decline of the glass lens market. "In 1984 a photo was published of then Prime Minister Bob Hawke's spectacles being shattered while on his face during a cricket match. Suddenly it became very easy to sell CR 39 lenses."
He said changes to the Australian Safety Standards for hardened glass, and its eventual elimination as a viable product for optical lenses were a Godsend.
"We decided that when our glass generator stopped working it would not be replaced and that was never a problem."
Whereas Jack Chapman used to process lens blanks, then have them coated by casters, the arrival of Freeform technology has, to a great extent, changed the way it does business. Mr. Burke said, "the range of lens designs, coatings, indicies and materials, coupled with the quality and delivery through global supply chain technology is beyond any expectations of the norm of years passed".
The lab now processes traditional lens styles in house and services advanced and freeform products through its corporate partners: Zeiss, Synchrony, Nikon, Essilor, Hoya, Rodenstock and Younger.
Optometrists use the lab to provide fully finished and fitted lenses to their patients' own frames, and to supply frame and lens packages, uncut grind and stock lenses, safety packages, and finished edged lenses via the trace modem system.
"With the freeform era now the norm, and many lenses manufactured offshore, our customers remain loyal to us because of our service and product diversity. We can offer lenses from all the major manufacturers and provide a consistent level of quality, service, finish and communication from one lab, and all in one parcel," said Mr. Burke. "Our supply partners appreciate the two pronged effect they gain by offering marketing, training and support to our lab and our customers for mutual business stability and growth."