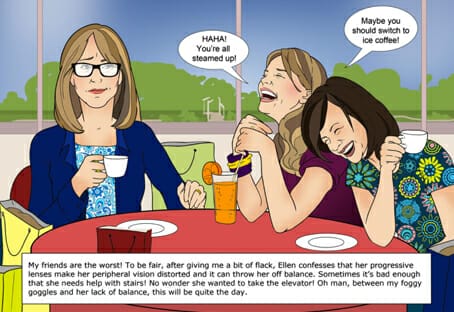 Ageing Eyes Xplained is a new communication tool designed to help your presbyopic patients understand their eye condition and the options available for them.
While correcting presbyopia may seem routine to optometrists, it can be a frustrating and inconvenient life changing event for the patient. Patients often say they don't know what is happening to their eyes. Neither are they aware of the vision correction options beyond 'readers'.
These patients are likely to require the services of an optometric practice for many years to come, so how can we influence them to choose our practice over the competition? Providing exceptional information and communication may be one way.
For patients who have always had excellent vision, the onset of presbyopia is especially significant. It is the first time they have to consider wearing glasses or contact lenses. While they may not look or feel their age, no amount of self-care can change the fact their crystalline lens is ageing. Unless they find a solution to correct their vision, very soon they will not be able to function in a world dominated by smart phones, price tags, food labels and other near tasks.
Through a greater understanding of presbyopia, spectacles and contact lenses, the patient is empowered to ask more questions
Empowering Patients
Patients may find it difficult to find information that they can relate to regarding presbyopia. Many do not even know 'presbyopia' is the term for what they are experiencing.
Todays patients often use digital resources to conduct research regarding their health. However, much of the information found online is not in a patient friendly format and is difficult for patients to understand. This is not uncommon across many different medical conditions.
Human nature is such that we engage far more through story-telling and being able to identify with characters in a story. An emotional experience is likely to increase engagement with medical information and drive behaviour change. This is where the founders of Australian owned company Medicine X realised there was a need to translate medical jargon about a range of conditions into easy-to-understand, digestible information.
Medicine X's goal is for patients of all ages to be able to understand the condition that they have, and the treatment options available. They want to provide a credible, reliable answer to Google searches and empower patients in a new and innovative way by talking to them in their own language, at their own level.
Ageing Eyes Xplained
Together with companies such as Novartis, Medicine X has developed patient friendly, interactive, digital apps on a range of conditions including Type 2 diabetes and diabetic macular oedema. Now, through partnership with Alcon and in collaboration with Optometry Australia and the Cornea and Contact Lens Society of Australia, a new App about presbyopia, Ageing Eyes Xplained, has been developed.
Launched at the Australian Vision Convention on the Gold Coast earlier this year, the Ageing Eyes Xplained App uses patient stories to explain complicated medical topics. It begins with a patient story video. Penny is presbyopic, but throughout her story it is revealed that no eye care professional explained to her what presbyopia is, or gave her vision correction options beyond reading glasses. Penny found her glasses very inconvenient, and requested to try contact lenses but found them too dry and uncomfortable. She then visited an optometrist with a special interest in contact lenses, and a passion for enhanced patient communication. Penny's story then concludes with a very different outcome to her first experience with contact lenses due to the new optometrist finding the right lens for Penny (a water gradient material) and the level of explanation she received regarding presbyopia and her correction options. Penny talks about her journey as a patient and the difference contact lenses have made to her life.
Presbyopia is explained through the interactive swipe-through story book with world-renowned graphic novelists and artists from Marvel comics. The cause of presbyopia, who will experience it and why, together with the options for correction are explained. The benefits of spectacles versus contact lenses are discussed, along with how contact lenses work, and the different types of multifocal lenses available. There are also click through sections or 'hot spots' to provide more information for a patient or an expert. While in development, the content was reviewed by leading optometrists to ensure relevance, credibility and integrity.
Call to Action
The call to action for the patient is, "talk to optometrists about vision correction options". Through a greater understanding of presbyopia, spectacles and contact lenses, the patient is empowered to ask more questions, consider different correction options, and ultimately find a solution that meets their lifestyle needs. The aim is to give patients tools so they become more active in the decision making process, and also seek alternative solutions if just one does not meet their needs.
Ageing Eyes Xplained is accessible across all iOS, android and web platforms (presbyopiaxplained.com.au). A pack containing a web key is also available to optometrists to provide to their patients. The web key is inserted into a computer USB port and the user is taken directly to the Ageing Eyes Xplained website. The pack also contains postcards that can be handed out by the optometrist, directing the patient to the Ageing Eyes Xplained App. As many of today's presbyopes are active on social media, Presbyopia Xplained can also be shared through social media platforms and patients can join the Facebook group Presbyopia Xplained.
Identifying the Need
Through this App, practices can take the opportunity to communicate with their patients, potentially deepening patient loyalty and grow their presbyopic contact lens business.
One successful approach for all patients, including presbyopes, is to offer contact lenses as a part time option to complement their spectacles. Through understanding what patients do for work, how they spend their free time, and what sports or hobbies they are involved in, a lifestyle need can often be identified. Asking the very pertinent question, "are there times when you would rather not wear your glasses?" will often reveal a time when patients would consider wearing contact lenses, even if they do not see themselves as a full time wearer. Patients who require a low add, astigmatism of -0.75 or less, and have average visual expectations, are often those who quickly adapt to multifocal contact lenses. Once a practitioner gains confidence through success in this group, patients with higher adds and more complex visual tasks can be approached.
Emmetropes are frequently the group of patients who struggle with the new burden of spectacles. They want to be spectacle-free, but do not want to compromise their distance vision. Fitting a lens that optimises reading without adversely affecting the distance vision, such as the Alcon Precision Profile lens design, can provide the balance between both prescriptions. This lens design is available across three different materials, enabling the optometrist to choose a modality and material best suited to the patient's lifestyle and ocular needs.
Clever Communication
In summary, Ageing Eyes Xplained is designed to bring benefits to patients, practices and optometrists. Patients will gain a deeper understanding of presbyopia and their options to correct it, which include contact lenses as a part time or full time option. Optometrists can enhance the way they impart clinical information in an engaging and easily digestible way and practices have the opportunity to communicate with patients through social media.
Helen Gleave is Professional Training Manager for Alcon, Australia responsible for training and education programs in contact lenses and contact lens care. She qualified as an optometrist from City University in London and owned a practice focused on contact lenses for 15 years. She has been a clinical investigator for different contact lens manufacturers and a member of their advisory panels.
This article was sponsored by Novartis. Approved: NP4# A21706654100