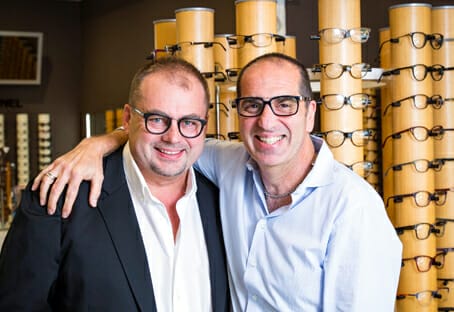 Since October last year, George and Matilda has established 37 practices, across New South Wales, Queensland and Tasmania, and now in in Victoria and Western Australia.
In April 2016 Chris Beer, former Luxottica CEO Asia Pacific, announced the arrival of George and Matilda Eyecare, a new model for eye health in Australia. In discussion with mivision he promised, "a new and compelling proposition for consumers by combining the marketing, systems, technologies and resources of a bigger business, with the personalised service and local trust enjoyed by successful independent optometrists."
Backed by an experienced board, most notably including former CEO of ASX-listed Metcash Andrew Reitzer (Chairman), George and Matilda has already attracted some of the country's leading independent optometrists, among them Margaret Lam, Glen Barker and Michael Angelos.
Mr. Beer, who stepped out of the industry when he resigned from Luxottica in February 2015, said the timing was right to re-emerge with this new concept. "Today we find ourselves in one of the most exciting times in history, the world is changing at speeds that no one could have imagined 20 years ago, let alone five years ago, primarily led by technology and entrepreneurial influencers, challenging the status quo.
despite the challenging economy, the majority of partners have performed "really well" since transitioning to the new ownership model
"There is no doubt the market is becoming increasingly aggressive and this level of competition means successful practices need to constantly adapt and innovate to meet these challenges and opportunities head on.
"The challenge for independent practices is this: they often don't have the time, money or resources to do so."
George and Matilda offer its partner practitioners "the benefits of scale" without forcing them to forego their brand identity (they are welcome to co-brand), comply with a specific approach to consultations or employ particular people.
It's an approach that sits well with Ms. Lam. "As a practice partner, I have full clinical independence, but George and Matilda allows me access to resources to help me capitalise on new opportunities to raise standards, strengthen personal relationships with my patients through cleverly using technology, and grow my practice."
"Fundamentally, growth is achieved with a strong, personalised relationship with our patients, which is the strength of an independent practice. This is backed up by fantastic resources, where we are developing logistics capabilities, HR support and supply chain resources that aim to streamline practice efficiency."
For optometrist Glen Barker, the arrival of George and Matilda Eyecare, with all it offers, could not have come at a better time in his career. "It shares my values of delivering the best quality service to my patients, thereby leaving me comfortable in the knowledge that when I eventually bow out and retire my patients will be well cared for and looked after. They bring extra support and resources, which allow me to focus on simply practicing high quality full scope optometry, enabling us to expand the business together."
Benefits of Scale
Within an intensely competitive environment, driving top line sales and achieving supply chain benefits are key to success. So too is using scale and technology to drive costs down. These are all areas that Mr. Beer is intensely focussed on delivering.
A product ordering, finance and supply chain system automates many processes that up until now have been manual for independent practices, helping save valuable time that can be spent with patients.
Back in June, George and Matilda launched Sherlock: a world-class data analytic and customer relationship management platform (CRM), developed in consultation with KPMG and IBM Watson.
"This is a platform which will help us automate the most time-consuming marketing campaigns, such as recalls, giving our partners valuable time back to spend with customers," explained Mr. Beer. "It will allow us to use data to better understand our customers, creating compelling and tailored campaign and communication messages. "Sherlock will also allow us to measure campaign effectiveness more accurately than ever before – and in doing so continually refine our messaging so our customers receive the most relevant information for their needs in a very personal way."
Ms. Lam said the arrival of Sherlock is exciting. "We are starting to integrate the use of innovative technology that has not been applied in the eye care field integrating CRM and many other programs that are really exciting to be a part of, and that I believe will strengthen independent optometry practices in a new way that sets us apart."
Partnership Arrangements
George and Matilda Eyecare believes the ideal business model is one where "everyone is aligned to the same objectives to create win-win outcomes for all".
To this end, the team that works in the company's support centre, as well as the partners in practice, are shareholders in George and Matilda Eyecare. As such, they are all invested in growing the business of every practice.
Optometry partners are contracted for a minimum of five years, a period that is non-negotiable in an effort to ensure long-term, sustainable partnerships.
"Every practice owner who comes on board is a partner, not an employee. We have been very disciplined in ensuring that everybody comes on board on the same terms and that they are invested in the success of George and Matilda Eyecare. As shareholders, we all have skin in the game and are focused on what we need to do to ensure we deliver outstanding results," said Mr. Beer.
In terms of employees, the partners have the ultimate say on who they want in their practices. However, George and Matilda offers administrative support for hiring and a training and development programme that supports people as they progress in their careers, while also rewarding and incentivising them to be their best.
"Our people are our most important resource," said Mr. Beer. "We are focused on attracting the best talent and being the employee of choice in the optometry industry. We have already had many great people reach out to us looking for opportunities and we are finding that as we have grown rapidly, we have been able to place them in some great roles."
Recognising the value that independent optometrists place on their independence, Mr. Beer says partnership arrangements are customised and personalised.
"We don't believe in one size fits all and this is certainly resonating in the market place. The calibre and variety of partners we have brought on board is testament to that.
Looking Ahead
With 37 practices now in the group, Mr. Beer said he is proud of what has been achieved in a remarkably short time. "We are where we are today because we 100 per cent believe in creating win-win outcomes. This means we can improve not only the lives of our partners, but also their customers.
He said despite the challenging economy, the majority of partners have performed "really well" since transitioning to the new ownership model.
"They see us as a way to accelerate their business and share in the upside together and more customers in a positive way. We do have a few partners that we are helping to improve their performance by coaching and business mentorship, in addition to the platforms we provide.
Optometrist Michael Angelos said the transition has been particularly smooth for his practice. "We found the process of transitioning to George and Matilda Eyecare fluid and seamless and love the support the team gives us. Doing the right thing by my patients is so important to me and George and Matilda Eyecare allows me to do just that, only now with more time and more support."
Later this year, George and Matilda will launch its flagship practice in George Street Sydney, which has been developed with Margaret Lam and leading store experience experts. "This will give an exciting flavour of how we bring the George and Matilda Eyecare brand to life in practices," said Mr. Beer. "We will take some key elements of this customer centric flagship and roll this out across the community, while working with partners to ensure it reflects their own character and individuality."
He said the mission for George and Matilda Eyecare is simple: to bring the benefits of scale to the best independents to level the playing field, so that every Australian has access to the highest quality eye care and vision.
"To do that, we need to be nationwide and establish ourselves a really strong community of independents. We've enjoyed a rapid expansion so far and if anything, it looks as if this will ramp up even more over the next year. We have the systems, talent and infrastructure in place to allow us to achieve this growth fast.
History in the Making
The George & Matilda Eyecare brand has been developed by renowned creative agency Saatchi & Saatchi.
The name George & Matilda was carefully chosen to embody the values and vision of the brand:
'George' represents the name of the first high street in Australia, a street brimming with entrepreneurial spirit and local business values, to symbolise forward thinking and George and Matilda Eyecare's link to modern Australia;
'Matilda', immortalised in one of the nation's favourite songs, has become synonymous with the Australian outback and represents the side of the brand's personality that is trustworthy, friendly and warm.