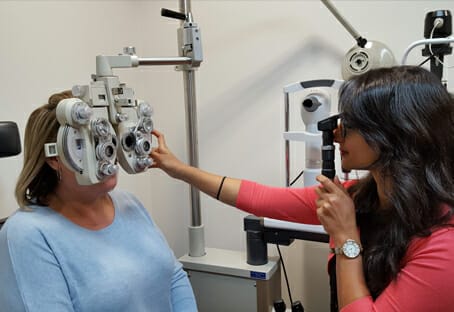 Sitting on the Optometry Board as a junior has given me a sense of satisfaction and personal achievement beyond everyday work. One day we will be the leaders of the organisation. I will be ready to shape our future.
As a young graduate I was excited to consult patients and provide healthcare by using all the knowledge and skill I had obtained at University. It was unnerving yet fulfilling to make an impact on a person's everyday life, simply by giving them the best eye health care I could. In my small 'young optometry graduate' bubble, I thought the only way I could be the best advocate for optometry was by providing top quality eye care.
Over just a few years, practicing under some great mentors, I soon learned there was more to the profession than only seeing patients every day. I changed the way I thought about my day-to-day practise and began questioning the future of my career and the broader profession; where would optometry be in 20-30 years' time? Where did I see myself in 10, 15, or even 20 years from now?"
I thought about working in developing countries or teaching optometry students. I imagined having my own practice, doing some research, coming up with cures for undiscovered eye diseases… perhaps even curing world blindness!
I see hurdles like these as opportunities to change the way optometry is practiced
I recognised that I wouldn't be able to achieve all of that in 10 years – or maybe I could – but I could also see a common thread running through my aspirations: I wanted to give back to my community and the profession… I wanted to provide input and be part of optometry's continued evolution.
When I found out that Optometry Western Australia (OWA) was accepting applications for new board members, I saw my chance. I put myself forward with the aim to learn more about the profession in Australia, find out where the gaps were then help come up with solutions to bridge those gaps.
While being on the board, one of the biggest issues I have learnt about is Medicare. For someone who studied and experienced optometry in New Zealand, where patients have to pay a high fee for our services, the idea of Medicare was great – it makes eye healthcare more accessible to people who cannot afford it. However, the advent of the Medicare freeze made me see the other side of the equation; I became aware of the impact of the freeze on optometry practices, its potential to change to way optometry is practiced and the effect this could have on the public health system.
I see hurdles like these as opportunities to change the way optometry is practiced. Our profession can become solely focussed on making money by selling glasses and ancillary testing or it can become a completely patient-health centred practice in which optometrists charge realistic fees in exchange for their time, expertise and patient based management.
As someone who will be practicing for a long time in the future, I would like to see the value of optometry continuously prosper as opposed to becoming redundant or even replaced by technology. I would like to see the scope of our practice continuously expand so that we can make a positive impact to the public health system. This is something I will be working towards while on the Optometry Western Australia Board.
Early Career Optometry WA
I am lucky enough to be part of the Early Career Optometry WA (ECO WA) board headed by David Hsu and Kiran Sookroo who are also young optometrists. The ECO WA is a group that sits under the OWA umbrella. We are there to support optometry graduates and ease them into the profession and lifestyle. In my role on the ECO WA board, I wish to provide guidance to young optometrists and encourage them to have their say about their profession. I believe that empowering early graduates with knowledge and a voice is very important when it comes to helping them drive their own futures.
I have always thought of optometry as an evolving profession; one that can change the future of eye health and the public health system. Over the past few years, our scope of practice has changed considerably. We are now able to prescribe therapeutic eye drops, we're involved in managing chronic systemic diseases and we are increasingly able to take advantage of major developments in therapeutic contact lenses.
Optometry has gone well beyond just selling a pair of glasses. For me, I like the fact our profession allows me to take the patient into consideration as a whole being rather than just a pair of eyes. It allows me to see how their vision can impact their day-to-day life and even their perception of themselves.
As a young optometrist, who is active on the OWA board and the ECO WA board, I derive a great sense of satisfaction and personal achievement in knowing that I am on the road to helping my profession grow. I encourage you to get involved too – we are working in such a dynamic profession – we need to be prepared to guide the future when our time comes.
Roxanne Medhora completed a Bachelor of Science in Biomedical Science (2010) and a Bachelor of Optometry (with Honours) in 2014, at the University of Auckland in New Zealand. She works for Abernethy Owens Optometrists, one of the largest and longstanding independent practices in Western Australia.