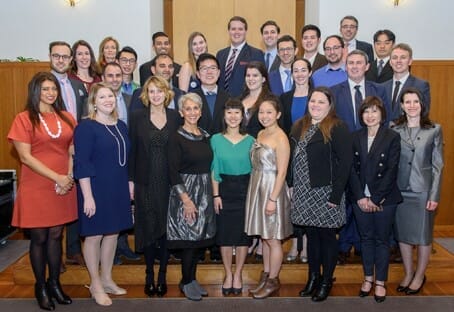 Thirty early-career professionals across optometry, ophthalmology, and low vision and rehabilitation services have been recognised as the Rising Stars in Eye Health and Vision Care at an event held at Parliament House, Canberra.
Organised by Vision2020 in partnership with Guide Dogs Victoria, Optometry Australia, Royal Australian and New Zealand College of Ophthalmologists (RANZCO), and Vision Australia, the event allowed the rising stars to share their vision for the future of the sector, and to discuss the latest advances, technological achievements and developments in eye health and vision care with parliamentarians and policy decision makers.
Speaking of the event, Carla Northam, CEO of Vision 2020 Australia, said, "We are proud to partner with Guide Dogs Victoria, Optometry Australia, the Royal Australian and New Zealand College of Ophthalmologists, and Vision Australia for this event.
"Australia is a world leader in eye health and vision care, and early-career professionals in this field are at the forefront of international efforts to eliminate avoidable blindness and ensure community participation for people who are blind or vision impaired… Early-career professionals represent the future of the sector, and it is important they are given a voice to share the issues they are passionate about."
The Rising Stars were:
Laura Allison, Service Engagement Consultant, Vision Australia
Sally Armstrong, Team Leader, Adult Mobility Services, Guide Dogs Victoria
John-Ross Barresi, Innovation Coordinator, Guide Dogs Victoria
Kate Begly, Policy Advisor, Vision Australia
Tim Carter, Support Coordinator, Guide Dogs Victoria
Dr Mark Chiang, Consultant Ophthalmologist, Lady Cilento Children's Hospital, and Royal Brisbane and Women's Hospital
Vicki de Silvia, Orientation and Mobility Specialist, Guide Dogs Victoria
Associate Professor Clare Fraser, Associate Professor of Neuro-ophthalmology and Ophthalmic Education, University of Sydney, Neuro-ophthalmology Visiting Medical Officer and Consultant
Cassandra Haines, Optometrist, Eyes & Vision Unley
Tori Halsey, Optometrist, Specsavers Hobart
Rachel Henningham, Orientation and Mobility Specialist, Guide Dogs Victoria
Luke Higgins, Associate Lecturer, Flinders University, Clinical Optometrist, Flinders Vision, Low Vision and Rehabilitation Optometrist, Royal Society for the Blind
David Hsu, Optometrist, Specsavers Innaloo
Rohan Hughes, Optometrist, Clarity Optometrists, PhD candidate, Queensland University of Technology
Scott Jacobs, NDIS Lead, Vision Australia
Shazaan Khambiye, Optometrist, OPSM Tasmania
Dr Jane Khan, Consultant Ophthalmologist, Royal Perth Hospital
Wilson Luu, Optometrist, nib Eye Care Centre Rutherford
Darlene McIntosh, Orientation and Mobility Specialist, Guide Dogs Victoria
Courtney McKee, Client Insights and Engagement Consultant, Vision Australia
Drew Sherwin, Optometry Director, Specsavers Australia Fair
Dr Simon Skalicky, Visiting Medical Officer, Royal Victorian Eye and Ear Hospital and Royal Melbourne Hospital, Ophthalmologist, Eye Surgery Associates, Clinical Senior Lecturer
Kiran Sookroo, Optometrist, OPSM Rockingham
Associate Professor Andrew Symons, Head of Department of Ophthalmology, Royal Melbourne Hospital
Jason Tan, Optometrist Partner, Specsavers Benalla
Carina Trinh, Optometrist, Dresden Optics
Associate Professor Andrew White, Head of Department of Ophthalmology, Westmead Hospital
Belinda Wilson, Building Stronger Futures Program Lead, Vision Australia
Katrina Yap, Optometrist, Lakkis Optometry and Kosmac and Clemens Optometrists, Clinical Teaching Instructor, Melbourne University
Dr. Christine Younan, Ophthalmologist, Sydney Eye Hospital and Westmead Hospital
Plans to Increase Efficiency
Speaking to mivision about his hopes and plans as a rising star in eye care, Associate Professor Andrew White said, "My top priority is to increase access to eye care and efficiency of service delivery, not only in a hospital based setting in Western Sydney where I am based, but as a model of care that can be applied anywhere. Doing so would mean the right patient is seen by the right professional at the right time so that the 50 per cent of unrecognised potentially blinding eye disease is seen promptly and at an early stage to ensure better outcomes.
"As my career hopefully continues, I hope to mentor others so that they are empowered to carry on this work in their own way, such that I eventually become unnecessary to the process. In parallel, I hope to continue my laboratory based work to develop a better understanding of glaucoma and better treatments; and to reduce or hopefully eradicate the risk of blindness from this terrible and poorly understood disease.
Optometrist Wilson Luu said being recognised as a rising star was a responsibility and an honour. "At the end of the day, someone needs to be a leader for the profession, to advocate for the population of Australia. I feel very passionate about eye care and being part of a group of advocates for eye care and vision health. It's a situation that aligns with what I value and want to promote – it's a privilege and an honour to be given the opportunity to give back."
Optometrist Carina Trinh agreed and said her journey as a young leader and voice within the sector had been a natural and perhaps unintended progression. "During university I was struggling and I noticed my friends struggling. Having come from supportive schools, we felt quite alone at university… we felt anxious and doubted ourselves. I feel passionate about bringing people together and developing bonds, so I started with little projects like an optometry camp, which I organised in my final year. That attracted a lot of first year students, and today those students have formed a strong bond."
Carina's role as a leader developed further when she was invited to provide a lecturer with feedback on her optometry course. "That led to the Young Optometrists Committee. A few years on, we're now seeing the fruits of our labour –we have just inducted our first new executive committee of young optometrists… I'm not sure for how long I will be a voice for optometry but right now I, very lucky to be in a position where I can make a difference."
Working in Low Vision
As a rising star in the low vision and rehabilitation space, NDIS lead Scott Jacobs, said he is keen to reduce discrimination and improve accessibility to NDIS.
"People who are blind or have low vision can do almost everything that anyone else can as long as you have the right support systems are in place.
"NDIS, for the most part is incredibly positive… it lets people set goals and start thinking about things that will build their capacity in the long run. The NDIS role is about trying to set supports in place early that will eventually reduce the needs for those supports because the participant has built the skills and capacity to manage their life and achieve things on their own, or with the appropriate support… it's about providing the reasonable and necessary supports to live an ordinary life."
Mr. Jacobs said improvements to NDIS are needed, such as improvements to transport services and accessibility of information.
"When you are talking about the importance of choice and control, you need informed decision making, but if you can't access the information (NDIS plans are currently posted to participants in printed versions only) then you can't make those decisions. We're waiting for announcements in the next weeks about changes to this."
With people who are blind or have low vision making up just 2 per cent of the total participants in the NDIS, Mr. Jacobs said Vision Australia was working with Vision2020 to create a clear referral pathway and help optometrists and ophthalmologists better understand and direct their patients. create a clear referral pathway."