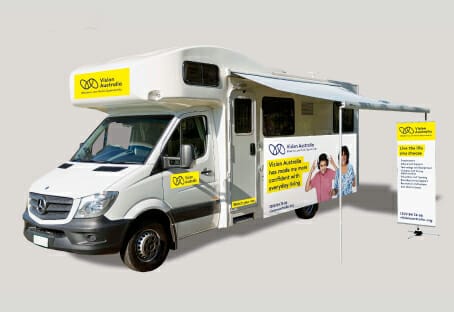 Vision Australia's Vision Van will visit Toowoomba, Queensland, in early September to provide residents with vision loss with a range of advice on, and practical examples of, the support services available.
Karen Knight, Vision Australia General Manager of Queensland Client Services, said the not-for-profit organisation is looking forward to better connecting with the Toowoomba region and its blind and low vision community.
"It's important people who are blind or have low vision understand the wide range of support services available to help them live a full, independent and active life," said Ms. Knight.
Vision Australia staff will be on hand during the visit to provide information on how frontline service providers such as Occupational Therapists, Orientation and Mobility Specialists and Assistive Technology Specialists can support people.
Information and guidance will also be available on what ongoing changes to funding arrangements mean for people who may need to access support services.
Additionally, with an augmented reality system developed by Vision Australia on display, the wider community will have an opportunity to better understand what it's like to live with blindness or low vision. The system mimics the impacts of common eye conditions such as cataracts, glaucoma and macular degeneration.
"It can be hard to explain to a sighted person what it's like to experience vision loss and the augmented reality system is an easy way to explain it to people, be it somebody's family or carer or other healthcare professionals.
The Vision Van will be located in Civic Square, Toowoomba from 9am – 5pm on September 7–9. Contact Vision Australia's Brisbane office on (07) 3727 2345.