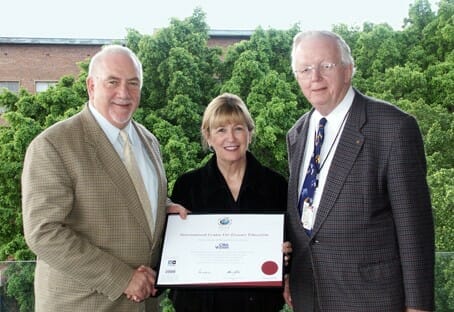 Dorothy Carlborg has retired from the eye care sector having enjoyed a long, highly successful and colourful international career, commencing in 1969 with Johnson and Johnson (JnJ) and concluding in September with the Cornea and Contact Lens Society, where she was the CEO in a voluntary capacity for nine years.
"I started out as an office manager at JnJ in Melbourne and, following a restructure at Head Office in Sydney, was offered the job as Victorian Division Manager for customers ranging from optometrists and ophthalmologists to pediatricians and gynecologists. Then I was promoted to a role in Sydney as a Specialty Representative selling ophthalmic products and contact lens solutions to optometrists and ophthalmologists," she told mivision.
Ms. Carlborg (then Boyer) was offered a sales role when Bausch + Lomb ANZ, started up in Sydney. "It was a fantastic time, in the early days of soft contact lenses that involved training optometrists to fit very thin contact lenses with limited equipment. I showed them how to use the mires on their keratometer to see if the lens was centered and not standing off the cornea."
The role positioned her well for starting Barnes- Hind ANZ together with John McDiarmid.
It was global, strategic, expanding – a really exciting time and a very rewarding position
"Nine years later I was invited to run their UK business which was the beginning of a 20-year international career. While the company was doing well I was offered a 'dream' promotion with Sola Barnes-Hind in California as global head of new product marketing. It was global, strategic, expanding – a really exciting time and a very rewarding position," she said.
In 1991, Dorothy returned to Australia where she joined Alcon as the Divisional Manager for eye care, only to find herself back in America two years later, working in Fort Worth Texas. "I returned to Australia to become CEO ANZ, Asia Pacific and South Africa for Wesley Jessen. It proved to be the most inspiring and rewarding company I had worked for."
Wesley Jessen was eventually acquired by Ciba Vision (owned by Novartis) and Ms. Carlborg was asked to run the joint businesses within ANZ (WJ/Ciba). "Ciba had developed a partnership with Brien Holden Vision Institute that included the first silicone hydrogel contact lens. I had a great team. We went from strength to strength, taking the lead in the silicone hydrogel lens and daily disposable segments.
"One of my career highlights was being invited by Brien Holden to join the panel of the Vision Cooperative Vision Research bid to represent the CL industry, and three years later, to join the Vision CRC three year review panel as an independent member."
Subsequent to this Ms. Carlborg was asked to head up Ciba Vision's sales and marketing operation for the Asia Pacific and Japan. "After this, I was offered the role as head of Abbott Medical Optics ANZ. It was a smaller company and I loved it. I spent a couple of years there before leaving for a well-earned break which lasted just over a year, before returning to AMO ANZ.
"In 2008, I took up a voluntary role with Optometry Giving Sight having been approached by Brien Holden. (I used to introduce myself as the President of his fan club. He was such an amazing person and leader, I, along with many others, would have done anything to support his causes.) At the same time, I was volunteering with the Cornea & Contact Lens Society of Australia, so I decided to leave AMO, and the corporate world and focus on Optometry Giving Sight and the CCLSA. That kept me sufficiently busy." Ms. Carlborg stood down as Chair of the National Committee of Optometry Giving Sight in 2016 after eight years and as CEO of the CCLSA in 2017 after nine years, at the conclusion of a very successful International Cornea & Contact Lense Congress. "It was time for the very talented team to take over and the CCLSA was in great shape," she said.
"The memories that will stay with me are the calibre of people we were able to attract to the CCLSA Board and the dedication and hard work people put in to making it a success. David Stephensen who was VP and Chair of Education for the CCLSA was an amazing contributor and I loved working with him. The Board are all amazing people who volunteer their own time for the cause and I wish them all the very best. So many people to thank but they all know how much I appreciate them."