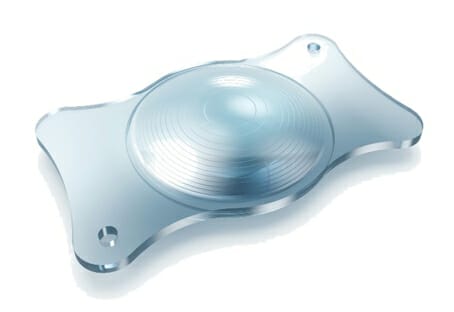 Zeiss has announced the release of a new preloaded Extended Depth (EDoF) of Focus IOL. According to the company, the AT LARA 829MP has been released following around 50,000 optical simulations and represents the latest advancement in cataract technology.
Zeiss stated that pre-clinical testing of AT LARA 829MP suggests it has the largest defocus curve available in an EDoF IOL and induces less visual side effects than multifocal IOLs due to unique Zeiss engineering.
"AT LARA 829MP represents the latest advancement in cataract technology and expands Zeiss' preloaded IOL portfolio to assist our customers in optimally addressing the challenges of surgical cataract and presbyopia correction," said Kylee Hall, Medical Division Manager of Carl Zeiss. She said there is increasing demand for premium intraocular lenses as many patients are not satisfied with having to wear glasses for everyday activities, which is often the result when using a conventional monofocal IOL. "More and more people want to enjoy exceptional visual performance as soon as possible after cataract surgery. We are enabling our customers to provide every single patient with the best visual perception possible. As many activities in our everyday lives require good vision in the intermediate range, AT LARA offers patients a continuous range of functional vision for far too intermediate distances, with reduced risk of undesired halos or glare."
AT LARA 829MP has been successfully introduced into some of the key European markets, including Germany, Italy and Spain. The IOL has already been implanted more than 1,000 times and Ms. Hall reported that initial data points are promising: surgeons report that results look very good and the patients are delighted.
"EDoF IOLs offer exciting options to the patient previously excluded from the multifocal demographic, making limited spectacle dependence a possibility for a large population of patients, particularly attractive to patients that have an active lifestyle."