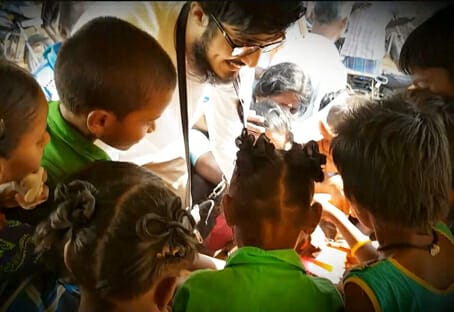 Within a few months of graduating from Deakin University, Khyber Alam found himself managing an OPSM practice in Hobart, Tasmania. Now he's back at Deakin University, pursuing his passion for research.
My first year out from university was a year of clinical and intellectual growth. I started my journey with OPSM in Hobart, Tasmania, in August 2016 and enjoyed every minute of my time there. I am grateful to everyone around me for providing me with a supportive working environment that encouraged me to develop a deeper understanding of optometry and deliver results that were beyond expectations.
That first year was one of laughter, tears, sweet joyful moments and unforgettable memories! It was very rewarding to diagnose conditions and successfully manage them, but at times throughout the year, I found myself in situations that were emotionally challenging.
For example, when recording clinical histories, I had patients inform me of their medical conditions, which included cancer, mental illnesses, rheumatoid arthritis, lupus and diabetes, and how these conditions impacted their lives. It is a curse to be a sensitive person because their pain really saddened me, especially when it was impossible to provide them with instant relief. At times, I wished my eyes could not see, and my heart could not feel… but then again feeling is essential to life: to live is to feel. I believe the very purpose of our existence is to see, to seek, to learn, to acquire, to break, to care, to feel, to weep, to smile, to heal, and to break again… and my job as a healthcare professional is exactly that!
it is my hope that by entering the vast world of research I will be able to find answers to the many questions I have… and then pass them on
Relationship Building
During my time in Tasmania, our practice became the talk of the town and I was lucky enough to be a small part of our success. I was fortunate to build strong personal relationships with my patients, who ranged in age from eight months to 94 years old, some who invited me to dinners. I was even gifted a wooden carved star with my name on it by a lovely 71 year old patient.
I was also able to build great relationships with local GPs, ophthalmologists, school nurses and other healthcare professionals, with whom I co-managed many difficult cases.
As one of my favourite scholars and philosophers – Shafi'ee – has said, "health is a crown that the healthy wears, but only the sick can see it". By providing some relief for patients, many who suffered systemic medical conditions, I was able to reflect on my own well being and stay humble and appreciative.
Removing a foreign body from a young tradie at 5pm and being informed the very next day that he'd slept at ease; managing presbyopic patients and alleviating their symptoms of ocular discomfort and headaches; entertaining little kids as I examined their eyes; referring a patient with serious pathology in a timely manner to the right place for the correct management… these were all moments I cherished as a young clinician.
One memorable patient I reviewed for wet age-related macular degeneration had a stroke in our clinic. He rested his head on my lap while we waited for the medics to arrive and take him to the hospital. His daughter stood beside him, crying for her father while at the same time, smiling with the knowledge that people cared so much for her dad. Unfortunately, he died later on, but his family was so appreciative and visited the clinic to thank the staff for building a personal connection with their father and his family.
Another memorable opportunity was participating in a OneSight mobile clinic, which travelled 1,000km from Mt Isa down to Townsville in March 2017. Accompanying a beautiful group of kind, compassionate eye care professionals through far north Queensland and examining around 1,200 school kids, was a life changing experience. Every child I tested left a mark on my heart.
Moving into Academia
I recently made a move into academia because of my unquenchable thirst for knowledge – I love intellectual challenges and the process of gaining new information. Doing so has also given me the opportunity to work alongside some amazing individuals whose experiences, professionalism and expertise inspire me to aim for the stars.
My areas of interest include neurodegenerative diseases of the retina, public health and paediatrics. My main research focus is on prevention and better management of ocular diseases.
I have an immense love of teaching and so it is my hope that by entering the vast world of research I will be able to find answers to the many questions I have as a healthcare practitioner and then pass them on to others. This will be my way of giving back.
As for the future, without sounding ambiguous, whatever my role may be, I hope and wish to be someone who is of benefit to others. I wish to be in a place of influence and constant learning. Every time I bring someone happiness, my own worries become a distant memory and so I hope the rest of my journey continues in such way…
Khyber Alam graduated from Deakin University as a qualified optometrist in 2016. He is an academic in the Faculty of Health, School of Medicine at Deakin University.