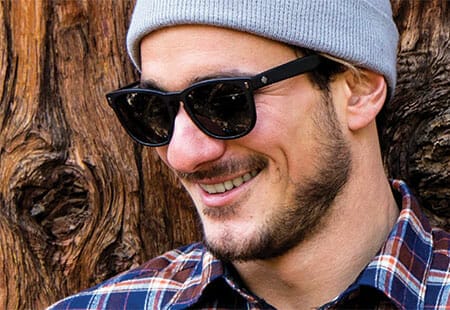 Unconventional, colourful and stylish… the Spy family blends art, science and sport to create sunglasses, goggles and prescription frames for the fun-loving outdoor community.
Spy is not your average sports eyewear design brand. This independent Southern California-based company takes its design cues from the outdoor sports community of which it is a part, and blends them with findings from scientific research in an effort to make its customers "happy".
Yes, one of the key differentiators of this lifestyle brand is its patent-pending 'Happy Lens', which is incorporated into all sunglasses. According to Dana Leshyk, Product Development Director at Spy, "Happy Lens technology harnesses the beneficial aspects of long-wave blue light, while offering protection from short-wave blue light known to damage the eyes. The Happy Lens name comes from independent studies which have shown that long-wave blue light can positively affect a person's mood and alertness."
Leshyk says the Happy Lens is the only therapeutic lens on the market. "The special proprietary lens curve transmits a specific maximised amount of good rays from the sun while still blocking the bad. "Exposure to the 'good' rays has been shown to help align the human body's rhythm with its natural preference for specific colour and wavelengths, creating positive changes that can help harmonise our body and create a positive physiological uplift in mood and alertness. The technology also enhances colour and contrast for increased clarity."
The Happy Lens name comes from independent studies which have shown that long-wave blue light can positively affect a person's mood and alertness
Spy is not alone in designing products to help manage mood by changing light conditions. The theory is simple: sunlight regulates our biological clocks, while reduced sunlight availability leads to hormonal changes that affect sleep and mood. Researchers at more than 15 medical centres around the world have had success over several years, using light therapy to treat patients with clear histories of Seasonal Affective Disorder. Within a week and if not sooner, patients typically experience marked improvement. However, symptoms usually return in about the same amount of time when the lights are withdrawn.1
The Happy Lens is not Spy's first innovation; in fact, the company has been playing with material, function and design to come up with value-added technology since it started out in 1994. "That's when we developed the game-changing Scoop ventilation system to help keep sunglasses and goggles fog-free. We followed with several innovations, including Trident polarisation, and the Lock Steady fingerprint-free lens changing system," said Ms. Leshyk.
Most recently, the brand received the coveted Editor's Choice award from Popular Mechanics for its new Hunt sunglass. Hunt is Spy's most versatile frame yet, and, according to Ms. Leshyk, on point with what their customers have been asking for. Available in a range of lens and frame colours, it "blends critical performance features with a fashion-forward design".
BLENDING FUNCTION WITH FASHION
Blending fashion forward design with functionality to suit active lifestylers is a priority for Spy. "We like to create crossover pieces that can be worn from trail to tavern. "We start with classic shapes, add in some functional face curve, and blend in overmolded rubber for a fit that stays on your head and never gets uncomfortable," said Ms. Leshyk. "With so many options in our lives, everyone needs help streamlining. If you can have one pair of sunglasses to fish in that also looks fashionable, well that's a concept worth moving forward with."
STRONG ON OPTICAL FRAMES TOO
Spy also has a collection of acetate optical frames in varying styles to suit different occasions. "While oversized sunglasses might be good on the ocean, you probably aren't going to want that same style when you go out to dinner with your significant other. So optical frames tend to be smaller, for a more understated look, but they come in all shapes and sizes," said Ms. Leshyk.
Going forward she said you can expect to see a strategic evolution in style and technical design. "Without giving away any secrets, we will continue to innovate with our technologies and push the boundaries for the eyewear industry. With that, we will always be on top of the trends and bringing eyewear to market that people want. Of course, we will always stay true to our DNA, so you can expect it to stand out from the crowd."
Spy is distributed in Australia by CR Surfacing and Sportrade.
Reference
1. www.columbia.edu/~mt12/blt.htm