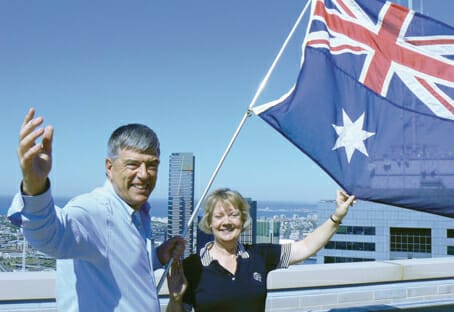 Wednesday 21 February 2018 marked the tenth anniversary of Specsavers opening its first two Australian practices, both in Melbourne. In the year the optometry franchise announced itself to the optometry profession in Australia, it opened its first 100 stores in 100 days, surprising many with the pace of its rollout. By 31 December 2008, just nine months later, a total of 150 stores were open.
Those first 100 stores were made up of a mix of independent optometrists and one or two smaller groups (including local franchise Vision Crest), which converted their practices over to Specsavers with branding, product, shopfit and more. Thereafter the vast majority of practices have been greenfield stores under the 'joint venture partnership' model, which sees Specsavers pair an optometrist partner with a dispensing partner in a jointly owned business. Although the Specsavers launch fund covered the cost of all those initial shopfits (at an average of AU$200,000 per practice), it was the initial investment of $12 million in advertising that really propelled the franchisees' businesses and ushered in a new era of growth for optometry. (IBISWorld forecasts the optical market to be worth $3.2 billion for 2017/18; in 2007 it was not quite worth $900 million.)
At launch, Specsavers' founder Doug Perkins promised to "change the face of optometry" in Australia with a combination of, as he put it, "high quality professional service, fashionable eyewear, affordable prices and no surprises at the till".
Ten years on and the business has grown in all areas. There are currently 324 Specsavers practices throughout Australia, many of which have grown from single consulting room practices to having as many as six rooms. The 'joint venture partnership' model is the mainstay and there are more than 600 store partners participating as business owners – the majority first time business owners.
Last year Specsavers Australian stores collectively recorded sales of more than $860 million and held market share of over 40 per cent of eye care customers. More than three million eye tests were performed in 2017 in Australia and more than four million pairs of glasses were dispensed and dispatched to customers from the franchise's Port Melbourne laboratory. Meanwhile, in the past year the group announced the launch of Specsavers Audiology and it opened its first businesses in Queensland, New South Wales, ACT, Western Australia, South Australia and Victoria. It is promising to open audiology businesses in the majority of its optometry practices over the next five years.